Best 15 cool WordPress themes have been discussed to give your website the coolest and nicest looking designs.
Appealing and beautiful design of every single website is of utmost importance, no matter what the website has been developed for.
In one case it can represent a powerful image of the company; in another case, it can ensure the visitor's great attendance. Generally speaking, a well – designed and nice looking online platform will for sure generate new businesses and new possibilities for every website developer and owner.
Consequently, guaranteeing a cool and exceptional look of the website should be one of the primary issues to deal with.
To ease the bewildering process of finding the right theme to cover the above – mentioned requirements, we are going to represent the best 15 cool WordPress themes you'll ever need for crafting nice looking websites of any type and content. All of them are power packed with handy theme options and elements and are built on user – friendly layout.
This graphically aesthetic, highly adaptable and cross mobile compatible product comes integrated with conveniently developed theme sections and inbuilt elements, as well as is checked for its deep compatibility with lots of widgets, modern plugins and several sliders.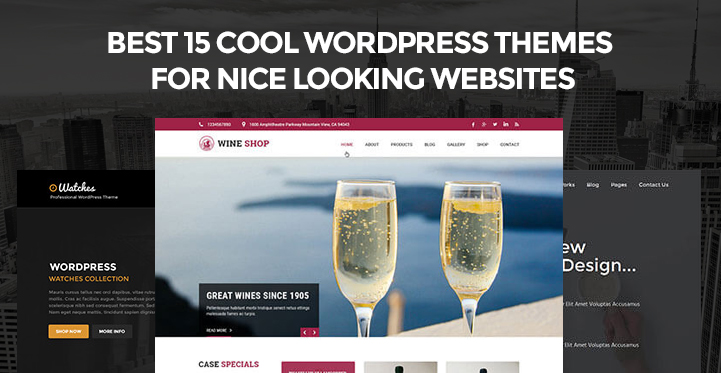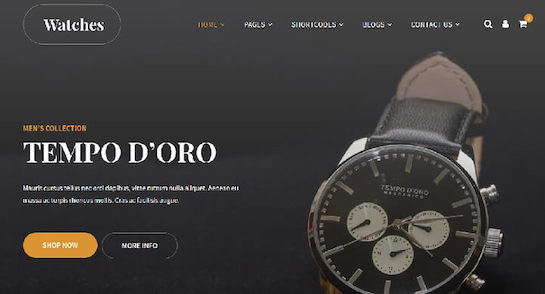 The first modern and one of the cool WordPress themes, which perfectly balances between expressive appearance and great functionality, is Luxury Watch.
Some of its feature includes:
Responsive and mobile friendly
Cross browser compatible
Widget friendly header and footer
Shortcodes plugin compatible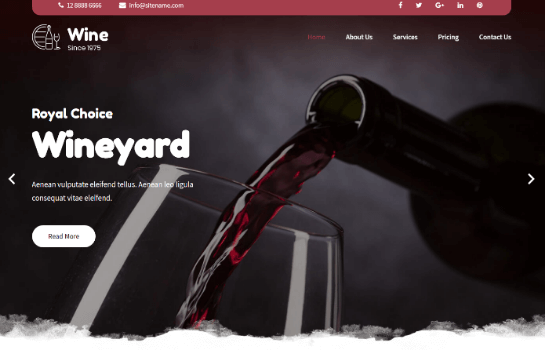 Wine Pro is type – driven wine WordPress product, which will speak to the favor of your website visitor – friendly design and one of the cool WordPress themes.
With this dynamic and susceptible theme you won't have to get stuck into complicated coding and coding combinations to get what you need.
Instead, you may use the proposed easy theme controls and features, including its nice slider, lots of customization options and great functionality of diverse major plugins.
Some of its feature includes:
Clean and modern design
SEO friendly coding
WooCommerce compatible for shop
Translation ready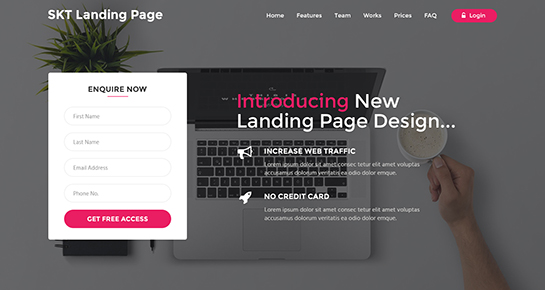 In case your primary goal to provide your websites super look and feel with clean and simple design, at the same time keeping the website incredible functionality and practicality, here is SKT Landing Page at your disposal.
Practice this out of the cool WorddPress themes supported by community, control theme changing options, exercise default slider with corresponding transition controls, etc.
Some of its feature includes:
Easy to use theme options
Minimal in terms of color
Several page templates
Post template control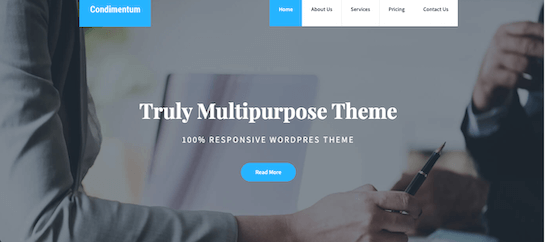 Condimentum is multipurpose and multiconcept platform designed to provide your website with extensively beautiful appearance.
Apart from its external style, the cool WordPress theme is based on strong and stable responsive foundation for easy and flawless mobile and device access.
Moreover, color picker options, overall easy to use theme controls, ready to use, yet changeable Nivo slider and SEO stable coding come available within the theme.
Some of its feature includes:
Multipurpose theme
Lots of white space
Comes with Nivo slider
Team, testimonials and other sections included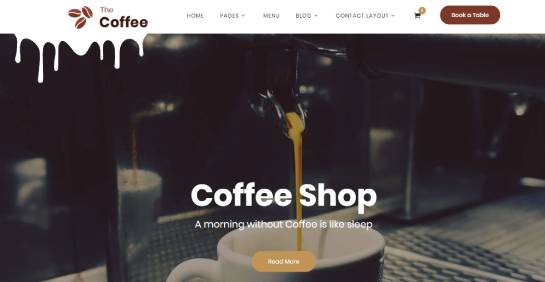 An outstanding and nice –looking WordPress theme to represent any coffee, coffee shop or bar related online presentation is Coffee Shop.
This premium product comes with eye –catching and cool WordPress template and structure, as well as 100% responsiveness enabling easy to access mobile and device usage.
The theme comes included with all the vital theme elements, features and controls, default full screen slider developed for 10 different slides manifestation and a package of numerous Google fonts, icons and shortcodes.
Some of its feature includes:
Google mobile friendly test passed
Fully color and font changing
Comes with 100+ shortcodes
Well documented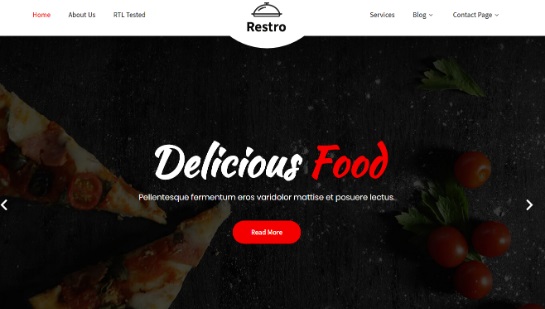 Restro is professionally designed and minutely worked out café and restaurant responsive cool WordPress theme ready to showcase your relevant website in delicious, cool and alluring way.
All you need to do is to utilize the proposed theme key points and characters, fill the gallery section with bright and lively images of your business and enjoy the great results coming ahead.
Some of its feature includes:
Integrated with 650+ Google fonts
Gallery area to display food
Compatible with Contact form 7 plugin
SEO and SMO friendly
In case you are delivering welding services, Welder is an ideal solution for your corresponding activity presentation with the most vivid and nice – looking design.
By the application of this reliable template, you will have many capabilities to create, manage and control your website content with ease, undertake e-commerce activities via WooCommerce plugin and implement any other beneficial processes.
Some of its feature includes:
Easily set up colors
Comes with 580+ icons pack
8+ page templates
Compatible with Nextgen gallery
Toothy keeps utmost correlation between the beautiful design with visually appealing features and extensive functional performance.
This highly versatile and deeply resourceful dentist theme has been checked for its total responsiveness and cross mobile functionality, easy to use and manage theme customization and color changing options, as well as its support for a set of major and required plugins.
Some of its feature includes:
Fully customizable theme
Portfolio friendly
Social media icons integrated
Blog for case studies, awards, press releases etc.
Graphically powerful, aesthetically polished, visually expressive and deeply engaging, BeFit Pro has been crafted to cover any gym, personal trainer, yoga, fitness or any related topic to the maximum effective extent.
This one of the cool WordPress themes, on which you can build any beautiful and strong looking site, features mobile and device friendly design, suitable homepage sections and areas to fill with the necessary content, images, information, contact details, etc., well optimization for SMO and SEO and this is not the whole range of the possibilities of BeFit Pro.
Some of its feature includes:
Animated columns
Services section
Translation ready
Comes with default page templates
We Bake is a convenient bakery website creation and management tool available at present, which for sure will guarantee the website profoundly nice and delicious look.
The default homepage slider will contribute to the enhancement of its visual impression by means of the beautiful images added to the slider.
You may also have access to the website content and change it whenever needed, connect the theme with diverse plugins for the website better results, etc.
Some of its feature includes:
Default slider with slider controls
Default Shop timings widget
Default contact form with captcha
Compatible with latest version of WordPress
Let your hotel website stand out among thousands of other web presentations thanks to its cool external appearance and cutting edge design.
Use this professionally developed WordPress product to showcase your hotel rooms and other suggested content via nicely arranged slider, exercise inbuilt shortcodes to manage the content easily and let the people access the website on mobiles, tablets or other modern devices.
Some of its feature includes:
Rooms section for available rooms
Gallery to showcase different types of services.
Fully compatible with Contact form 7
Animated homepage
Marvin is another cool WordPress theme, which is ready – made to provide excellent functionality and premium design of your website of any size and description.
This nice – looking one page theme includes profile, skills, works, pricing and other fitting sections to be used accordingly, font color changing options and strong HTML5 & CSS3 coding lying on its basis.
Some of its feature includes:
Easy to use framework
vCard download option
Pricing section
Comes with skills section
Nature One Pro is creatively and brightly crafted nature and eco –friendly layout with natural color shades and touched.
The theme is perfectly optimized for mobile and device access, comes with SEO –friendly foundation, CSS 3 animation controls, homepage slider with controllable elements and compatibility with the WordPress latest version.
Some of its feature includes:
Slider with 12 transitions
Contact section with captcha
Several shortcodes
Comes with 600+ Google fonts
If there is an intention to showcase any portfolio or photo collection in the most professional way, do not look for any other theme than this cool WordPress theme and nice – looking Photodock.
Being well suited for photographers, developers and photo enthusiasts, this interactive and brightly styled template appears with the manifestation of recent portfolio content being showcased on the homepage, contact form with captcha availability, lots of shortcodes integration and yet numerous other useful options.
Some of its feature includes:
Responsive and retina ready
Page templates and layout changing options
Fancy gallery area
Coded with HTML5
SKT Tutor is another multipurpose responsive cool WordPress template at your full command and management if you are going to launch any new product, e-book, app, theme or whatever it is.
Apart from its high-quality design, you can also enjoy its user-friendly structure armed with lots of Google fonts and social icons, as well as diverse customization and management options.
Some of its feature includes:
Fully color changing theme
Integrated with 600+ google fonts
Integrated with 580+ social icons
Author area for showcasing about the author
While having a website for your business is a good thing, having a well-designed, eye-catchy website is even better.
With the 15+ Cool WordPress themes we have compiled for you, you can rest assured of succeeding in your business and grabbing the attention of online clients.
It is said that first impressions always last. This statement couldn't be any further from the truth. It is a constant reminder that you need to pay a lot of attention to your website's appearance. The appearance of any niche website is of utmost importance and should never be underestimated.
It is unfortunate that most clients will judge the quality of your work, your personality, and service delivery depending on how you package yourself on your website.
You see, a client's first interaction with you is through your website. If you fail to get it right, here, your business can actually suffer. A website makes it easy for a customer to shop as opposed to physically coming to your shop.
Thus, to help you attract potential clients and retain the existing ones, we have put together a number of Cool WordPress themes that are guaranteed to give your website the coolest and nicest looking designs. Regardless of what your web niche is about, looking drab should not be an option.
A website design should be a representation of the powerful image of the company. It should be a representation of who you are and what you stand for.
A great design of a website should sell for you, provide visitors with all the information needed to make an informed decision and ensure the visitor's great attendance.
If your business only has a physical local location, a website can help you to reach a clientele that is out of your town or country.
When clients are browsing your website for products and services, they are normally intrigued by the design and outlook of the website, the information available and the usability.
A client who has an easy time on your website, either shopping for goods is sure to spread the word which in turn, translates to great sales. Make sure your website has all the information a client would probably need to know.
A cool, well-designed WordPress theme will for sure generate new businesses and new possibilities for every website developer and owner. While that may be the case, you should know that appearance only is not enough and does not guarantee an increase in sales and profits.
You should work hard at marketing your products and services regularly and to a wider market as well as build a relationship with your clients.
The list of Cool WordPress themes discussed here have a friendly aesthetic design and are highly adaptable, power packed with handy theme options and elements, built on the user-friendly layout and compatible with mobile devices.
They are all you will ever need for crafting nice looking websites of any type and content. Therefore, do not just settle for a nice looking website. Pair it up with good content and service delivery.