This time we have scanned the Internet for the best computer service WordPress themes of WordPress origin for computer and gadget, mobile and device repair and maintenance services, IT and web design, software solutions, electronic fixing and other relevant services online.
The impact of the technology on the modern life and lifestyle of people is limitless. We live in a technologically saturated world where dozens of gadgets and samples of technological output make our lives much easier and comfortable than ever before.
And whenever any of them is broken or needs an update, repair or maintenance, hundreds of relevant service providers and professional companies come into play.
Computer service WordPress themes collected in this article are suitable for such professional service provision especially those related to computer and IT world, web design and development, software and program, translation and plugin support, domain and hosting registrations and more.
Each of these computer service WordPress themes is easy to install and handle. It means that you will be able to establish your brand and identity online and flaunt your working style or policy with the right colors and typography, backgrounds and images, etc.
Simply add your logo, contact details, list of services, portfolio items and other necessary details to the prebuilt template and go live with your own customized and premium quality website.
Now, let's check out those computer service WordPress themes from good to best. Happy surfing!
Computer Service WordPress Themes for Computer Maintenance Services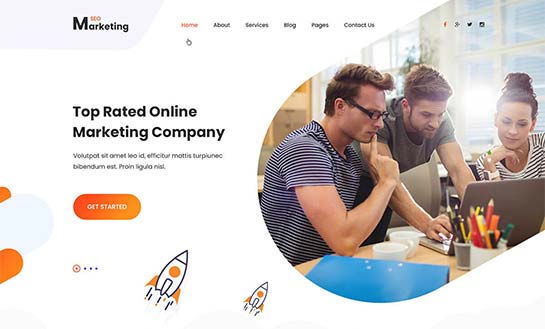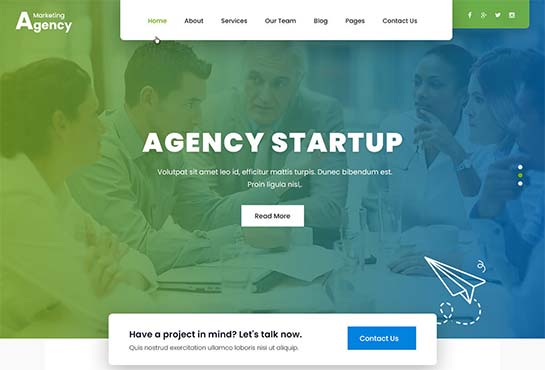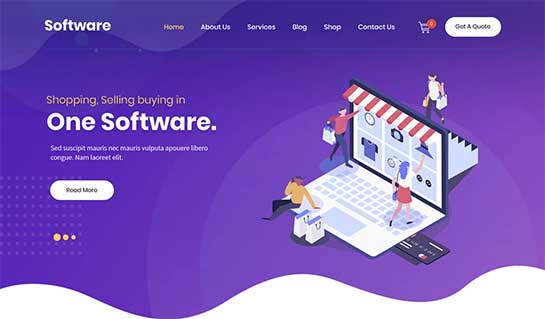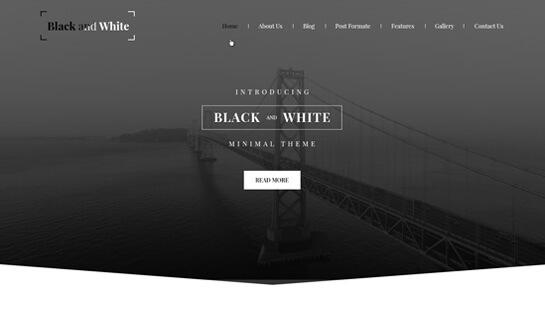 Black and White is elegant and modern looking, very seriously worked out and clearly coded sample among the best computer service WordPress themes authored by WordPress specialists.
Following the latest tips and trends in the modern digital platform, the seasoned experts working on this template have made it to be thoroughly flexible and adaptive with responsive touches and full mobile optimization.
It means that your computer services will be available for all types of mobile users, from desktop to laptop and mobile ones and your content will look legible on every single device.
An avalanche of preloaded fonts, social icons and Google fonts are there for you to choose and style your website the way you need. Hundreds of shortcodes are also available to tweak to the backend of the theme and achieve the needed content setup without touching the codes of the theme.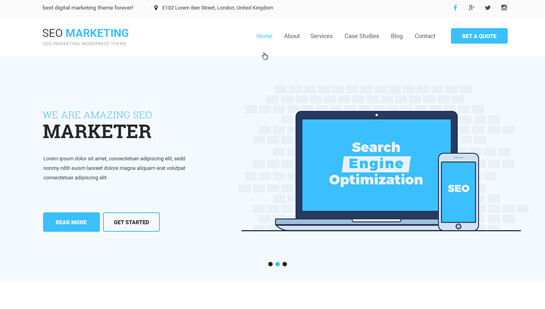 Another elegant and stylish, clear and lustrous template catering to the modern technological world and all its manifestations comes known as SKT SEO.
From web to computer services, and everything in between, can be easily showcased through SKT SEO. Whether you want to market your digital or inbound marketing services and projects, offer computer repair and software services, display the best pieces of your successful projects or sell your digital products online, SKT SEO will turn out to be irreplaceable.
The working principle of SKT SEO is based on the unity of HTML5 and CSS3 touches responsible for resizing, shrinking and redesigning your site as per the resolution of the device used to access your profile.
Robust and dependable, fully polished and crisp, High Tech is one of the serious looking and tech savvy computer service WordPress themes for computer repair services, shops and centers.
On the whole, this template's structure is well thought out and developed to be pretty simple in usage.
With shortcodes and preloaded features at your hand, you will be capable of marketing your PC, iPhone and iPad repair services, software and hardware troubleshooting, virus and malware removal, drive recovery and other computer related services without additional costs.
Blog section is custom built for you to publish your daily posts, press releases, interviews, news, etc. and bring more and more people into your business. The theme is also unbeatable with plugin support, commercial friendly layout, as well as search engine optimization.
SKT Hosting is a working space for all those webmasters and high technology experts who are working on a tight budget and want to achieve more with restricted financial means.
This template is a high quality platform that is offered to its client base at an affordable price so that it is suitable for every kind of business, from startups to medium sized and larger ones.
With fresh look and modern graphical touches, SKT Hosting generates a stunning combination of theme colors and homepage sections.
However, you are free to change them to meet your business objectives or keep your profile serviceable for your audience.
As such, SKT Hosting suggests a truly flexible framework for multipurpose digital usages, from SEO and SMO marketers and specialists to hosting and domain registrars, web developers and designers, programmers and app developers, web service providers and engineers.
With IT Consultant you can reveal the true potential of a powerful website ready to take your popularity to infinity.
This responsive and highly energetic, admin and client optimized and SMO ready layout will change the way your clients communicate with you and order your services.
Give them freedom of scanning your content without any difficulty while navigating through your posts and pages, following links to social media profiles, or filling contact form to get in touch with you.
Reimagine and restyle your profile with colors and fonts, icons and shortcodes at a speed and scale matching your business needs.
SKT StartUp Pro is another computer service website template crafted for startups and digital businesses of small caliber. The excellence of this theme is defined by its error free operation, mobile friendliness, stability in performance and adaptability in customization.
With less time and efforts, you will be able to upload your best images to span the whole of your homepage. Moreover, you can add as many as 10 different slides and controls the way they will be displayed to your website guests.
Retina and HD ready, SKT StartUp Pro has been tested with Contact Form 7 plugin for better contact forms, social sharing and commenting plugins to use the boundless potential of modern social media networks and more.
Creating a website is not an easy task but with the whole world depending on the internet it is required by all small and big business organization to create their online presence.
If you run a computer service business you will have to ensure that you have an online website which not just promotes the services that you provide but at the same time also ensures that the visitors find it easy to operate.
There are a lot of computer Service WordPress themes which are available for the users and picking any one of them is not an easy task.
There are lots of mistakes which are made when one is picking up the themes which they must avoid at all cost. Remember a stitch in time saves nine.
Choosing a theme without proper support: Once you have installed the theme then if you face any problem what would you do? You will need the theme developer to help you answer your queries.

When you are looking at the theme the check for the support that they provide. There should be easy way of communication and an on-going support possibility.

There are also communities which can help you with your queries but always remember that these communities can be an added advantage and not your primary relief.

Excessive built-in plug-ins: It is common that the computer service WordPress themes comes with a lot of plug-ins. In most cases these plug-ins are promoted as something which is an added value to the theme.

But in reality the built-in plugs are more of an headache than any benefit. The major reason behind that is this plug-ins will require updates from time to time.

Now if you have added a plug-in on your own then they are at your discretion for update, but the built-in plug-ins will be dependent on the theme's update.

This way you have no control or power on them. Also, when the third-party plug-ins are so easily available which can be added to the theme later on depending on the wishes of the users then why thing so much and fall in the trap.

Not-mobile-friendly theme: Even though this should not be a thought as every online website owners understand the need of a mobile-friendly website this is still a mistake made by many newbies. When you are talking about today then there is absolutely no point creating a website which is not mobile friendly.

Now, if you are using a theme which does not support the small screen devices then you are at a loss. Even the search engine takes this feature into account.

It is less likely that any new theme on WordPress would be less responsive still the onus is on the users to check for it so that they do not end up creating a website which will not reach to the highest number of users( Mobile users)
The themes available in abundance but that does not guarantee quality outcomes. The users will have to actively seek the right theme and avoid mistakes.