Of thousands of celebration and class reunion WordPress themes you can find in WP repository, many will not be up to your expectations and modern standards.
Therefore, we have spent our time on bringing the best wedding and engagement celebration, meeting and anniversary, family reunion and class reunion WordPress themes for you to consider when it comes to revamping your old dated niche specific site or starting a completely new one with a blank canvas.
Reunion of schoolmates, partners, co workers, family members, friends and relatives is always something to enjoy and celebrate. And while there are hundreds of modern ways to communicate with each other and arrange everything properly, website still remains one of the top choices.
It gives people enough capacity to create all in one solution that can be accessed and reviewed by all the class mates or team and family members to add their remarks, thoughts, events, opinions, confirm attendance and much more.
Because great class reunion WordPress themes aren't just about wonderful designs, but also flexible and customization ready frameworks, reliable coding and user optimization, our templates share all the compulsory elements and touches to be considered as great.
So, to get you started, we are going to explore each of these class reunion WordPress themes one after another to understand their ins and outs you can greatly benefit from. However, whatever your expectations from a website builder ecosystem, we are pretty sure each of theme is going to meet them easily.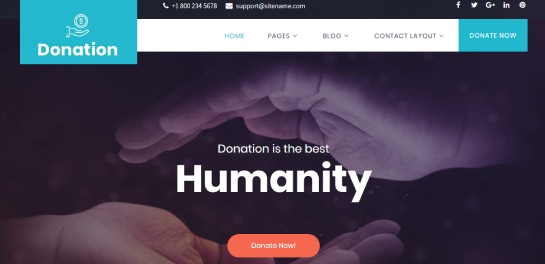 Any kind of website needing to win the attention of people can be built around Donation.
From NGOs and donation campaigns to let their voice heard across as many people as possible to class reunion websites to organize meetings between dozens of old friends and classmates, Donation is custom built to make your workload as a relevant website owner pain free.
Moreover, different associations, departments and communities can also use the potential of Donation and built an easy to use system for their staff with e commerce functions and easy contact form, online payment and money collection methods, etc.
Sidebar and layout options, best font types for having a contemporary looking and eye friendly typography, default homepage slider for announcing the most important meetings and events are all given with Donation.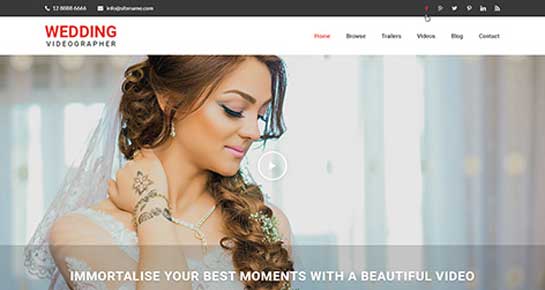 Wedding Videographer is one of the lovely wedding celebration and class reunion WordPress themes that demonstrates a responsive approach to supporting any kind of modern browsers, stable and portable devices.
Great performance and social media friendliness, retina ready graphics and CSS 3 animations, fully configurable and customizable theme parts and sections are guaranteed with Wedding Videographer for enabling you to play with as many features as you may need to create a lovely online atmosphere for you and your friends.
Get the most of this pixel perfect and high quality in performance, modernly designed and multilingual ready framework that is also shortcodes based and plugin optimized for commercial, team management, email subscription, ticket control and review, as well as other purposes, as the case may be.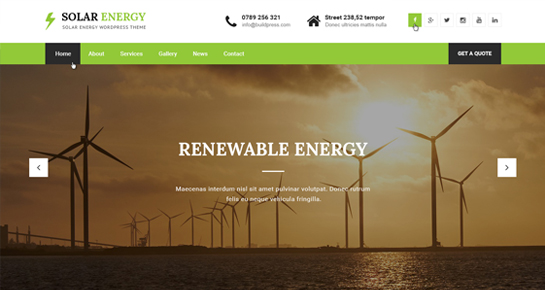 Solar Energy is going to make your reunion efforts results leading. It's a comprehensively worked out and multi profile web mechanism to boost any kind of presence, from personal to business, from commercial to non commercial and everything in between.
It means you have a good chance to spend less time and money on administrative works catering to class reunion or meeting organization, donation and fundraising campaings, niche specific forums and more.
All in all, it shares powerful default working environment with handy tools and elements to make your class reunion or any other relevant website flowing. However, you are not limited to what you are provided with and can enjoy the presence of as many supplementary tools and plugins, as you need.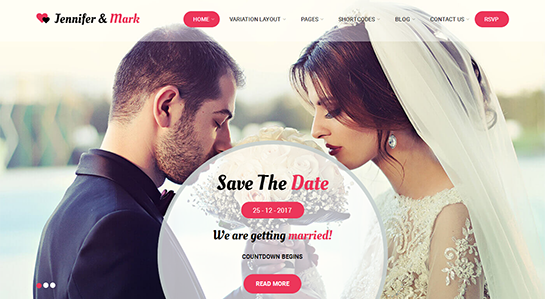 Surprise your family members, colleagues or classmates with your qualities as a web developer and make the process of getting in touch with each other on a regular basis easier. Even if all you have is a strong desire to create something unique yet practical, you are welcome do transform that desire into tangible results with Wedding Rituals.
However, this pro quality theme is not only included in top collections of class reunion WordPress themes, but also can cater to any creative and design art, photography and videography, web development, product listings and online storefront, HelpDesk and ticket management websites and systems as well.
It's boundlessly customizable with fonts, colors, page and post layouts, widget friendly areas management with additional content, contact details, logo, social media links and more.
If you are looking for a ready made and designer styled framework to go live as soon as possible, Complete Pro will be your best choice.
This smartest web establishment tool is going to function as a Swiss army knife in your arsenal to make your online presence smooth and sleek, meaningful and eye catchy, functionally saturated yet error free.
Use this theme for creating online initiation website for schoolmates and graduates to register them and have a guest list for a special event or meeting, schedule the upcoming events and let all the guests to be notified, etc. You can achieve any functional level with Complete Pro whenever you pair your theme with add ons and plugins designed for this or that purpose.
SKT Christmas has been developed to be a good destination for holidays and celebrations, reunions and gatherings, as well as other exciting occasions.
Customer satisfaction is number 1 priority of this theme which means that both you as a webmaster and others as a web user are going to find the most versatile and user optimized web platform to use for event planning and management, fundraising and charity, as well as for other goals.
You don't need to send endless emails with the same questions and wait for responses, spend hours on putting them together for a final view. Just use SKT Christmas as a central contact point, add FAQ section, add event calendar with plugin and even enjoy the time before the reunion.