A handpicked collection of the best chemical industry WordPress themes released by SKT Themes is in the focus of our attention which are all well suited for any kind of factory, chemical industry, oil, gas, chemical production company and organization, chemical laboratory and research websites and blogs.
The contemporary chemical industry is vast and multifarious. And while every single aspect of it should be safe and environmentally regulated, well managed and continually improved to yield better results, the promotion of chemical based products, services and consumer goods is at the top of such businesses' agenda.
With this in our mind, we have already taken the trouble of sorting out the best chemical industry WordPress themes for chemistry specialists, chemists, chemical engineers and manufacturers working around chemical production, processing, manufacturing and sale businesses.
Whether you are engaged in this dynamic sphere dealing with fertilizers, gas and oil components and mixtures, pharmaceuticals, vitamins, soaps or other cosmetic means, you are free to choose any of these chemical industry WordPress themes and use it as per your needs.
With these products, you will never feel inconvenient with the overdose of coding controls and processes, since the complexity of each of the chemical industry WordPress themes you'll find below is reduced to the barest minimum.
They are also as flexible and simple in usage as you may like them to be in order to fulfill your website's creative scenario.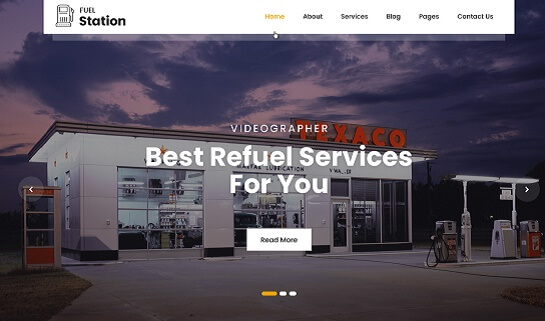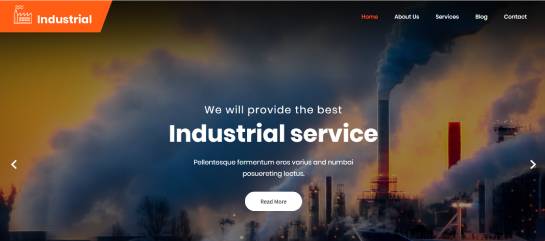 One of the decent chemical industry WordPress themes deliberately worked out for the chemical world and its representatives is called SKT Industrial.
While this businesslike and results driven template is rich with dozens of useful elements and contemporary coding and design touches to draw your general profile, it is also fairly easy and affordable in usage and continual customization.
It's up to you to decide the overall structure and menu listings of your site, content areas with services, about us, contact and more, gallery section for portfolio and other image based materials, etc.
Pre enabled shortcodes are given within the theme to unspeakably simplify your work when it comes to building contact forms and testimonials area.
The first one is intended to serve as a linking bridge between your business and its consumers, and the second one is a great platform for people to assess your services and rank them.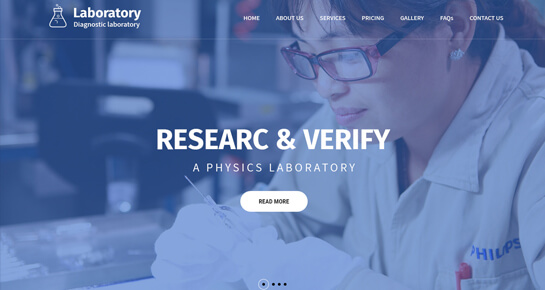 Can you ever imagine that a cost effective website building theme can be thoroughly complete and perfect in every aspect of it?
Laboratory Pro is a great example of how dedicated work of professionals can make anyone the real master of his or her website even without a coding knowledge.
This highly qualified and all purpose template can be a real discovery for the chemical industry and its branches to guarantee their maximum visibility online.
It comes as a mixture of all the compulsory technics and coding as well as new modern design shades to make your profile truly unique but compatible with all types of old and modern browsers.
As such, it comprises totally manageable homepage with page builder or visual composer support whenever needed, numerous pre installed templates to choose from, SEO and SMO, as well as plugin friendly coding.
Accuracy in visual design where every single element is well thought out can be the best way of emphasizing your content and keep the visitor's eye on it.
SKT Sanitization Pro is one of such clear and nicely formatted chemical industry WordPress themes to provide a meaningful balance of creativity and precision to your audience.
Ride the virtual wave with SKT Sanitization Pro and you can easily optimize your new website or refresh the old one with new approaches, colors, fonts, shortcodes application, homepage slider for hosting your high quality images and more.
Like the absolute majority of our templates, SKT Sanitization Pro is also fully commercial ready meaning that you can not only promote your chemical business and offer services, but sell your production and merchandise without additional costs and efforts.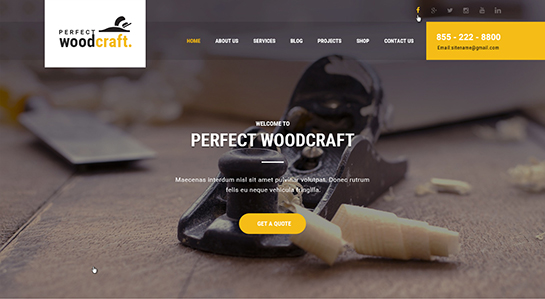 Flexibility, lightning speed and productivity are the best characteristics WoodCraft can be described by.
This responsive and mobile optimized, user and client friendly website toolkit is here to assist you in meeting your business objectives in the most strategic way.
All in all, any industry specialist or owner can leverage the opportunities of WoodCraft on a regular basis and build an enterprise scale profile targeting the right group of users.
In this relation, all the main controls are already done beginning from search engine optimization for the direction of the right traffic to your site up to social media integration for better social proof of your business.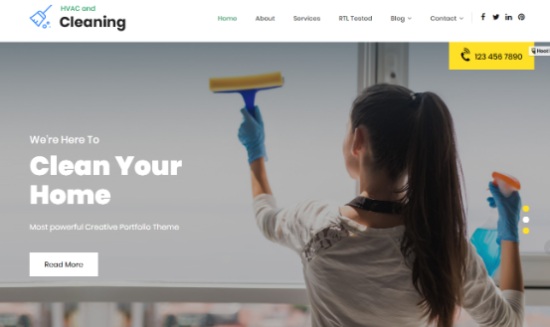 HVAC and Cleaning is the next top rated product among the best and the most frequently used chemical industry WordPress themes.
This pro quality template superbly connects content and images, services and team members to drive more sales and perspectives.
The authors of the theme have prioritized your comfort as a website admin and have done their best to make HVAC and Cleaning as configurable as it can be with a modern Customizer.
Hence, you can model and redesign the default version of the theme, remove certain elements and add new functionality with plugins and shortcodes to match your business model.
Pest Control means lower costs, higher results, better conversion and satisfied clients for whom your website will be available around the clock.
It is surprisingly elastic and customizable, community maintained and constantly updated to be competitive and revenue generating.
Whether you own a small scaled chemical business on a certain locality or run a holding company with international branches, Pest Control shares all the ingredients to take your business higher and make it more client oriented with a serviceable website.
With an avalanche of call to actions ranging from contact forms to social media icons, with 100 % responsive and plugin compliant design, HTML5 and CSS3 coding, Pest Control is for sure worth your attention.