This time we will point you in the direction of the best camping WordPress themes for camping, trekking and hiking organizers and service providers, summer camp, adventure and campsite related websites and blogs.
Camping is one of the modern outdoor activities preferred by thousands of nature and environment lovers, as well as adventurous and active camp lovers.
Practically, all the people love nature and look for the possible ways to get closer to it and spend their free time. However, not all of them have the necessary equipment, skills and knowledge for that.
Here is where professional camping and tour organizers come to the fore.
The idea of creating a camping website and offering diverse relevant services can be a perfect source of income for a wide scale of people, from professional trampers and hitch hikers to the owners of country cottages and private country houses with a large adjourning territory.
Hence, we have collected the most practical camping WordPress themes for such people and organizations, companies and tour managers to communicate their offers and tours to their clients in the most productive fashion.
All of the camping WordPress themes to be discussed in this article are quality assured and time checked. Whether you want to swallow the current design and development trends or want to create something unique, the choice is yours.
With those themes you are free to realize all your plans and develop closer relations with clients and partners without sweating hard.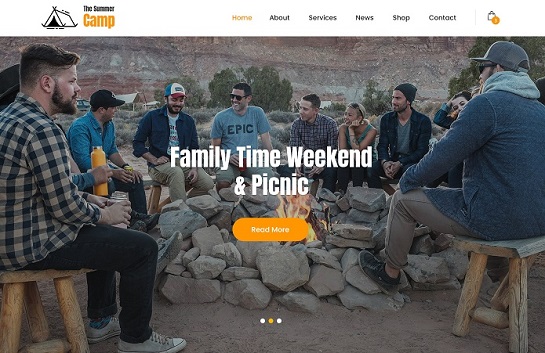 GB Extreme is an SKT Blocks based template that is highly recommended from the camping WordPress themes list. The theme consists of so many beautiful elements that will ensure your website is inviting maximum visitors towards your website. The fresh, clean, and stylish layout will make your website stand out from the crowd.
This theme also goes perfectly with the Canyoning club, kayaking, yachting, rafting, and other boat or tour services.
The theme is also easy to customize and use so you do not face any type of issue in coding. SKT Blocks allows you to create unique yet professional-looking layouts.
As per the latest standards, the theme is designed thus it will surely present a strong and amazing web presence on the web.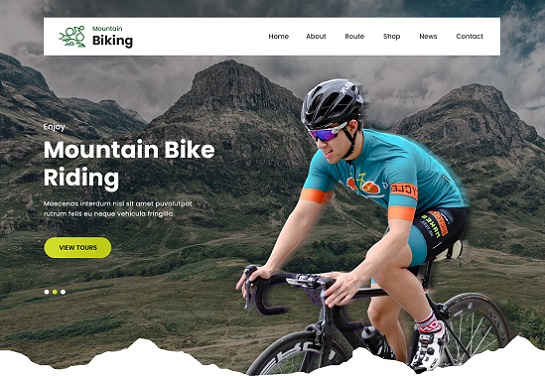 Mountain Biking is a fresh and clean template that looks beautiful on every device and browser. It has an SEO-optimized code that will drive more organic traffic.
The theme is best suitable for canoeing, surfing, tour, and travel website. It is packed with some third-party plugins to help you to increase your website appearance, visibility, and rankings.
You can easily showcase the items related to your mountain biking shop and can sell them efficiently. in just one click the complete demo content can be imported.
To facilitating every inner page of your website the theme comes with the support of drag and drop page builders. It also offers compatibility features with some most useful plugins such as WooCommerce, contact form 7, Yoast SEO, All in one SEO pack, and many more.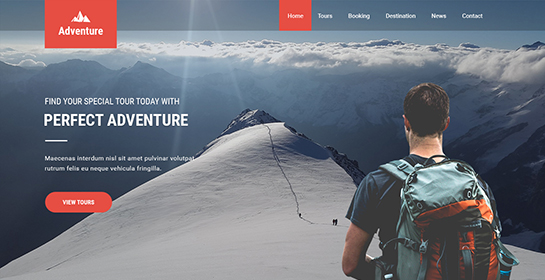 Perfect for summer camping activities, adventure tours and camps, Adventure is a true diamond when it comes to taking your content and bringing it in front of your potential clients or possible business partners.
Having a modern SEO marketing force at your leisure in today's digital spectrum is essential to your site's success. Fortunately, Adventure shares the most stunning SEO friendly platform, especially when paired with useful SEO plugins.
It also comes with immensely versatile and user optimized platform to add your own flavors to the theme, including colors and color combinations, typography and icons deployment across the profile.
Other handy features are customizer based nature for easy updates and changes, post and page sidebar layout choices, events calendar, WooCommerce and translation plugins support, etc.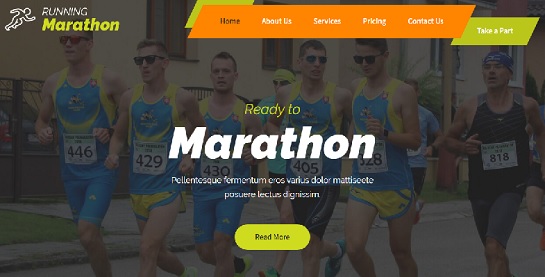 SKT Marathon is one of the fresh faced and lovely nature and environment, eco and gardening, hiking and camping WordPress themes designed to match every single need of the target clients and organizations.
With shortcodes powered framework and fully adjustable layout for constant changes and customizations, SKT Marathon is also responsive and mobile optimized to display pixel perfect content across mobiles and devices.
Use the given sections and parts of the theme to share your business profiles, objective and missions, enthusiastic groups of experts and group members, services and tours, contact details and more.
Blog and page layout controls, fonts and colors management options, social media integration to benefit from the power of the modern social media platforms and much more are included in SKT Marathon to simplify your camping site creation and maintenance online.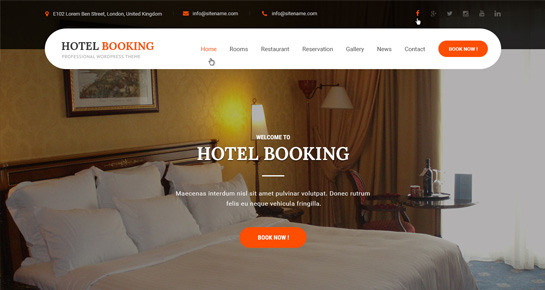 From social and marketing synergy to mobile traffic consumption, Hotel Booking is one of the tourism and hotel, vacation rental and destination, tour and tourism, trekking and camping WordPress themes responsible for creative and unique engagement and the wonderful client journey.
Sleek and clutter free, sharp and bold, Hotel Booking is thoroughly worked out and minutely stylized to bring the most convenient working platform for multipurpose usages.
With Hotel Booking you are going to have a feature rich layout and handy toolkit with page builder compatibility to craft the most outstanding and easy to navigate pages, manageable sidebar layout, widgetized footer and header areas and more.
Standard pages are also loaded with Hotel Booking to make your profile more functional for the users, and more trackable for search engines.
Charm is delivered with nice looking layout and saturated structural framework with dozens of convenient text and imagery content zones and areas.
Multipurpose and fully pliable, this premium quality yet pocket friendly template can support any kind of content, from personal camping blogs to professional tour operators and hiking organizers.
With this theme's authors' eyes on every single modern trend in web design and development, Charm celebrates stunningly customizable and resourceful framework with preloaded homepage slider, shortcodes pack, commenting functionality available with plugins and more.
With search engines rolling out a dynamic ranking factor for device and mobile optimized sites, the theme's responsiveness and mobile friendliness becomes one of the top factors.
In this relation, Charm is coded with responsive touches and cross mobile compatibility to bring more traffic to your site and result in better client engagement.
Is another valuable product among camping WordPress themes that will boost your online visibility.
By the application of this top notch website building tool your online profile will certainly tap into the possibilities of productive online searches thanks to the SEO optimization of the theme.
Moreover, your content will be optimized for mobile usages as well thus letting anyone browse your website while on the go.
Build connection, attract your clients and be in the social conversations with SKT Beach since this template is amazingly social media friendly with the needed social media icons and not only.
The Trip is another lead generation tool to deliver a powerful camping and hiking website or blog that will manage your online presence across different mobiles, portable devices, platforms and search engines.
It is powered by diverse shortcodes and easy to use customizer for adding whatever is needed to your site, from columns and blocks to images, colors, texts, contact forms and more.
Your audience wants to be able to easy navigate through your site and quickly find the needed information.
The Trip grants you with a smoothly navigable platform with easy to use content sections and areas for your services, offers, products and contact info.
With this template you can also expand your site's search presence since the theme is 100 responsive and search engine optimized.
If you are running a professional camping and tour organizing company, then it makes perfect sense for you to check out some of our camping WordPress themes.
The fact remains that a lot of people are interested in getting closer to nature and often participate in nature walks, treks and some even camp for weeks on end.
But they are often ill prepared to meet the challenges that lie ahead. And that's where you come in, and the perfect way to market to this segment is to get your website up and running in no time at all which you should be able to do once you have chosen WordPress as your platform.
With WordPress as the main platform for your site, you do not have to spend hours coding it from scratch as everything is provided to you, on the ready. Of course, you can customize it and use widgets to upload content to your website.
Just remember that when selecting through the various camping WordPress themes, you may want to first confirm if the theme comes preloaded with features that facilitate online booking.
Most customers may want to book their trips in advance and having the right software on site, would be a god send indeed. So check out the various themes and all their features, and choose the one that seems to be a perfect fit for you.
Additionally, you may also want to do a dry run and kind of do a beta test to see which theme fits you better. The website should make it possible for you to feature some of the main camping related tour details right on the front page along with special offers, discounted rates etc.
And once you have got the website up and running, all that's left to do is to optimize it for SEO and to initiate a viable marketing strategy. The website should be attractive enough to help transform the various leads into actual customers.
Just keep in mind that there are lots of professional camping companies so you need to feature a responsive website that can be easily accessed by any device, in order to stand out from the rest. The overall design should be classy enough and at the same time it has to provide the customer with all the required info on the camping trip.
While it is strictly not advisable, you may also want to run website specific Google ads so that you can make some additional money on the side. You can always head over to a professional web development company to help design your website, but WordPress is the best option there is, for developing websites.
Moreover, WordPress comes with free themes for you to choose from along with other premium themes which can cost a bit. The main objective here is to transform those prospective leads into actual customers and for that, your website needs to feature high-end graphics along with a great design and good quality content. So check out the various themes and make your pick.