This time we have spared no effort to put together the most valuable BoilerPlate WordPress themes serviceable for a wide variety of topics and niches.
The Boilerplate is one of the relevant developer tools to deal with a standardized coding of WordPress templates. It's best described as well – managed and professionally – organized, object – oriented coding for giving rise to exclusive and clearly – coded WordPress – powered templates.
The good thing about this technic is that it comes hand in hand both with coding and documentation standards. It means that you don't have to spend much time and track them down one after another.
Hence, if you are searching for a dependable layout to start your next big thing in the digital arena, review our list of BoilerPlate WordPress themes.
They will definitely help you create fast and robust, safe and sound, well – categorized and durable websites of any kind and nature.
Kick – start your digital profile with minimum efforts and having the support of hundreds of developers from the background. Create your future website or revamp the old one with confidence with any of those BoilerPlate WordPress themes.
Enjoy the whole process of the theme activation, installation and customization based on all – in – one theme package.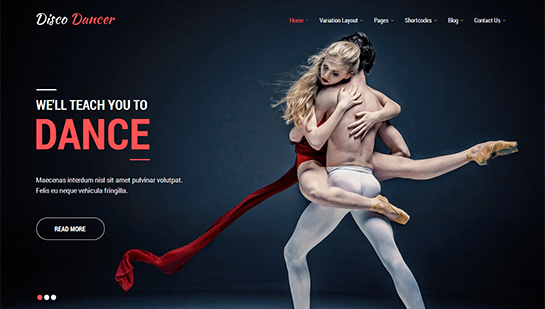 Disco Dancer is one of the energetic and lively BoilerPLate WordPress themes based on powerful coding and streamlined performance.
This template feels unbeatable when it comes to showcasing any content catering to musical and dancing world, events and contests, individual singers and dancers, dance studios and musical bands.
It will enable anyone to go live at a lightning speed and keep the impeccable operation of his website all the time. Inner page templates, widgetized sidebar and homepage slider can be found within the theme.
The theme's responsiveness, as well as cross mobile and browser compatibility have also been checked. Disco Dancer shares extensible nature, meaning that you can add different plugins to it and enjoy extra functionality.
From WooCommerce to bbPress, WPML, Polylang, SEO and shortcodes are compatible with Disco Dancer.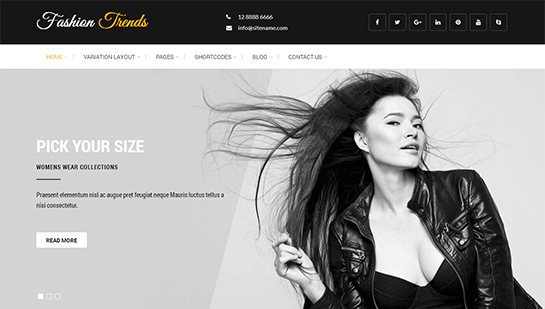 Fashion Trends can be a suitable option for fashion – related people and companies, studios and agencies, fashion journals and event organizers.
This user and admin – optimized and results – driven template tastily unites colorful and creative appearance with pixel – perfect functional basis.
This kind of coherence between form and function is the most preferred one to take your website to a higher level of visitor engagement and boosted web traffic.
Responsiveness and mobile – friendliness, shortcodes based performance and page builder compatibility are just a small fraction of an endless list of the theme features.
Blogging section is given for you to keep your fans hungry for new streams of blog content, as well as gallery section for the best images. The theme is highly optimized for SEO – friendliness as well to rank your site higher in search rankings.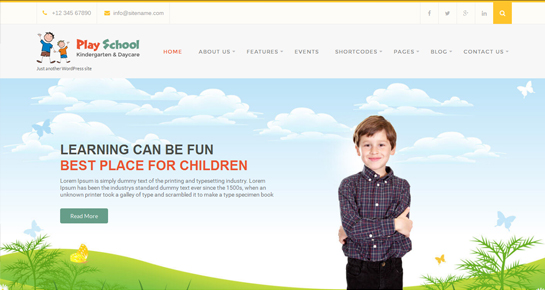 The next zealous and ambitious template included in our list of BoilerPlate WordPress themes is called Play School. It's an education, learning, kid and children – based template to cover a wide scale of relevant niches.
Whether you run your private learning center, kid development center or represent any public school or kindergarten, Play School can be a never – ending success for you.
Well – secured and well – coded, this BoilerPlate- based template will never leave you guesswork as how to deal with the given framework. It means that you don't need to do with a long range of coding procedures to get the desired look and feel of your site.
Instead, you are powered with numerous page and blog layouts, preloaded shortcodes, footer and header options, slider controls and much more.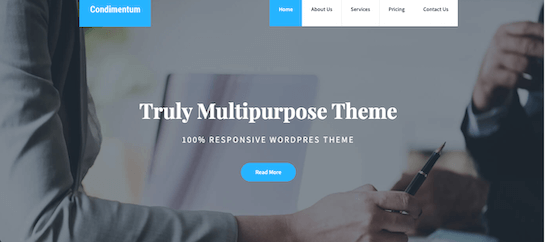 Standing on the forehead of modern competition in the agricultural world will be as easy as a pie for you with Condimentum.
Get one of the latest versions of all – inclusive BoilerPlate WordPress themes and deliver error – free website experience both for desktop and mobile users. As for the coding of the theme, it runs on BoilerPlate HTML5 and CSS3 coding and styling mixture.
Custom – built to considerably make your workflow better, Condimentum grants you with unlimited access to the theme core to make your relevant changes, add images and texts, touches and whatever you may wish.
It celebrates robust platform with accurately deployed sections and other content areas, as well as 100 % responsiveness exercised for the presentable mobile version of your site.
Pet Care and food market statistics show that this industry is driving a huge growth in recent years. That's the reason we have done our best to take into consideration the needs of pet – related business and launched Pet Care for the relevant websites creation and maintenance.
Offer pet care and grooming, walking and training, behavioral consulting and other services, clothing and accessories all in one place and let every single pet owner find the most affordable proposals.
Smooth navigation controls are given, as well as fast loading rate is what makes your site so easy to browse and scan from top to bottom. You may have as many as 20 different sections on the homepage and insert your informative pieces of visual and textual content.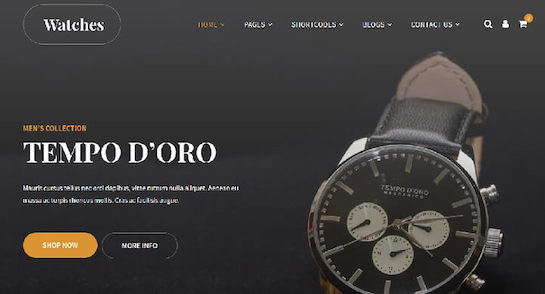 Roll up your sleeves and indulge into the feature – rich framework of Luxury Watch to get your website started easily. In case you are looking for object – oriented BoilerPlate WordPress theme for your specific purposes, Luxury Watch has you covered.
Preloaded with a handy toolbox and ultimate productivity, it comes packed with cross mobile compliant and responsive traits, GPL – licensed operational ground, footer and header areas both widget – friendly, blog and sidebar options, etc.
eCommerce ready nature of the theme together with its translation – readiness is the best walkthrough to commercial activities in the global digital market – place.
Multipurpose and elegant at its core, Luxury Watch is well – thought out to support absolutely any kind of personal or corporate website.
If you are looking to upgrade your old website or planning to launch a new one, then you may want to check out some of our boiler plate WordPress themes and choose the appropriate one.
These boiler plate themes come with pre-built templates and pages so that you do not have to do any coding. Developed by hundreds of developers, these themes are designed for any business and can be tweaked from the header to the footer.
After all, the sole objective here is to increase your customer base and you are going to be able to do that only if you are able to make the right impression and with our Boiler plate WordPress themes, you should be able to do just that.
Once you have selected your theme, you may want to check out the tips posted below, on how to customize and tweak the design on your site.
Bounce rate: If you are planning to re-haul your old website and use one of the boiler plate themes to come up with a new one then the first thing that you need to do is to check out your old site and analyze where you went wrong or you'll end up repeating the same mistake.

The first thing that you need to look at is the bounce rate and sees why many users have opted to move away rather than click through to the other pages on your site.

It could be that the overall design is lousy at best or it could be the content or the pop up ads, but you would definitely have to check it out to get a better idea on what not to do.

Responsive design: It is important that you have a responsive design in place so that your users can locate the information they need, in a matter of few seconds.

More importantly, enhanced user experience generally means that the chances of the user turning into a regular visitor is quite high and should lead to increased traffic and better conversion rate. Make sure that your website features the right information and can be viewed on multiple devices and browsers

Media: Various studies have shown that images and videos have a better impact with prospective leads than text messages.

So you may want to tweak the layout to ensure that your front page displays more than just a few high resolution images. A video is bound to make a better impact with a user than a sales pitch about the product.

This is the age of instant gratification so naturally, users would want all the information on any product or service that they are into but make sure that you do not make the mistake of going overboard since an information overload can turn prospective customers off.
These are some of the reasons as to why you should opt for a boiler plate theme and go in for a complete overhaul; and with your website utilizing WordPress themes, you should be able to make the right impact.