If you are new to the digital arena and are looking to set up your first professional business website – then all you need to do is to check out some of the top platforms and our collection of blue WordPress themes.
Why bother checking out other platforms – so that you can see why some of the top companies have migrated their websites to WordPress on account of its simplicity, ease of use and above all, adaptability.
It is important that you spend some time on research, to scope out your competition and see what you are up against.
What you need to realize that setting up a website on any platform is not necessarily hard or overwhelming; it all comes down to choosing the right theme to base your website on.
The most important criteria that any theme has to meet is that it has to be fast and to that end, review our collection of themes.
Make sure that the theme you select comes with compatibility to third party plugins, since you can then install cache plugins on your website which should help improve its performance.
Check out the various themes listed below, try them out and then select the one that seems to be the right fit for our company.
What are the pros of choosing blue WordPress themes for your business?
Any website that used water blue colored themes looks attractive and eye-catching. These themes are usually recommended as easy to use and understand by anyone.
Blue themes not only give incredible look to your website, but it also grabs the user's attention towards your website without extra effort.
As an audience, you know how much look is important to your website. This is why we are recommending you choose Blue WordPress themes as they are easy to customize, comes with unique icons, popular color combinations as well as powerful to rank on SERPs.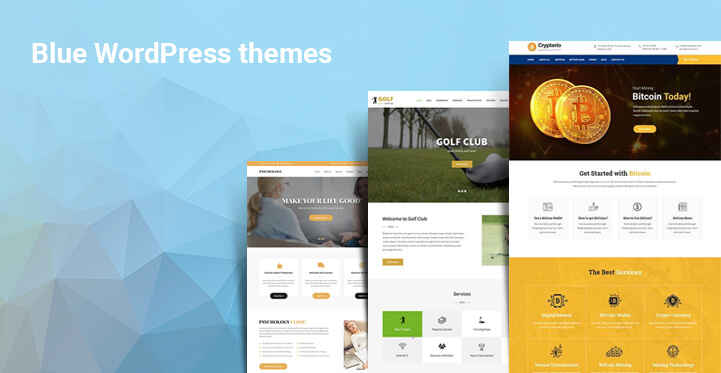 Here in this post, we have rounded up the top Blue WordPress themes for your business. With these themes, you will not comprise anything. Just choose the best that fits your business needs and increase your business growth.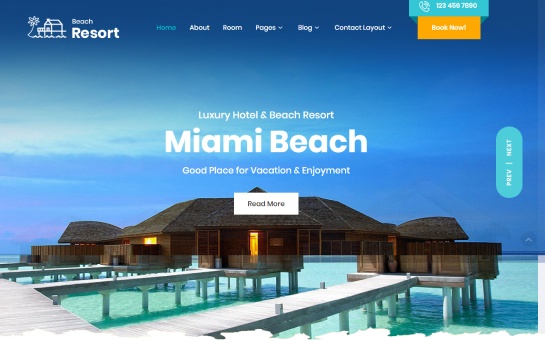 Outstanding Blue WordPress theme! If your business is about restaurants, resorts, pubs, etc. nearby beaches then nothing is best than SKT Beach pro. It is 100% fast to load and responsive theme that fits with every style of website and business.
SKT beach pro is considered a multipurpose theme that helps any kind of industry to get more visitors and conversions. The theme has several pre-loaded shortcodes for column 1 and column 4 boxes for posting.
Also, the theme is multilingual-based on the concept to attract multiple users towards the website. More than that, it includes contact 7 forms with captcha code, so the user will feel safe with your website.
It is Google tested and cross-browser checked theme so it can load quickly on any browser.
Some more features you can receive in the SKT Beach Pro theme are sidebar layouts, 5 types of header-footer, inner pages, integrated with Google fonts, several posts options, and full-documentation.
In short, this theme is best to set up and load. Try this outstanding theme for your business and give a boost to your business to reach more visitors.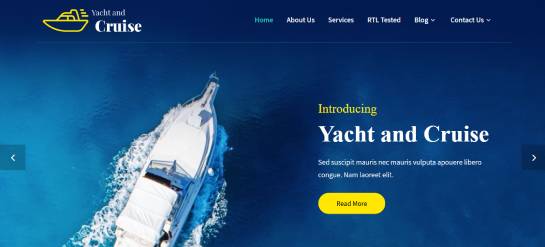 If you are hunting for the best blue WordPress theme then don't miss Yacht and cruise. This theme is specially designed for the business which is based on delivering luxury touring services for the clients.
Therefore, the homepage of this theme is based on various color schemes that naturally attract the audience towards your business offers.
Moreover, the header and footer section has various layouts- choose the best that sounds fits with your business. The sidebar is also available for different pages that mean it makes it possible for the user to navigate your website quickly.
Besides these, Yacht and cruise have various Google fonts and social media icons to support your website easily. It is widgets-friendly and mobile responsive themes that not only help your users to get the most out of your business, but they will recommend you to others.
The other outstanding features you can get with this theme are blog layouts, and easy navigation menu, free installation, documentation, sliders, plugins, and compatibility with every source.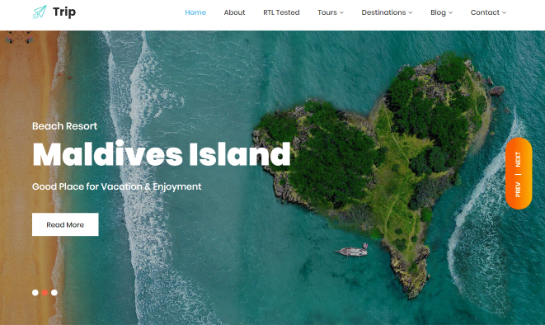 Just look out The Trip-a top-selling Blue WordPress theme for touring, ticketing, and hotel business. This theme is well-designed for the website whose business is about tour and travel operations.
It is an Elementor page builder based theme which is super easy to load and attractive in design. The trip involves several features along with a customization tool that helps in altering your website as per your needs.
Its shortcodes are designed for everyone, so the owner can do its setup itself without the assistance of a technician. The calls to action buttons are great to get the user's attention.
Moreover, the theme involves useful tools and plugins that support your business requirements. So, one can easily get the best out of the website.  
The WooCommerce plugin is great to use here-as it helps to run your online store related to tour and travel essentials as well as tickets. Also, the appointment feature can take your website growth to the next level.
In short, you can say, your user can fulfill all his demands on your website. Hence, The Trip Blue WordPress theme is superb to boost your business growth. Try its demo now!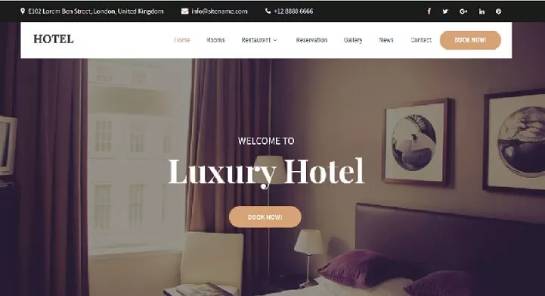 Ele Luxury Hotel is one of the best Blue WordPress themes designed with solid features to make it more elegant and attractive for the audience. This theme is designed with an Elementor page builder that made it easy to use for anyone.
Moreover, the color setting options are included so one can modify the theme as per the user's requirement. Ele Luxury hotel is the theme well-suited for the website related to hotel booking, selling online travel essentials, holiday homes, and guest houses.
This theme is highly compatible with several plugins so one can edit and use this theme as per the choice- its logo, homepage, inner pages, and more.
Each section of the theme is based on shortcodes and you will get full-documentation to set-up each of its sections itself. Its coding structure is based on the latest WordPress standards (version 5.0).  
If you're looking for a theme that is easy to setup and fasts to load on the web then try Ele luxury hotel demo now.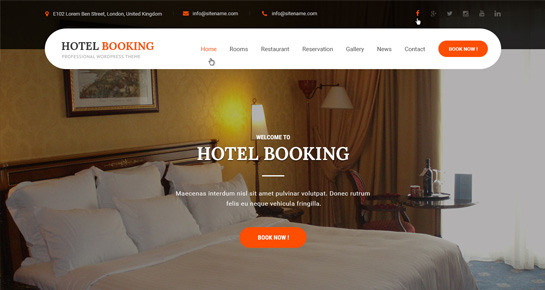 If you need a creative, responsive, and one-stop solution for your business then the hotel booking is the best Blue WordPress theme you can choose.
In this theme, you can find several kinds of features as in 100% responsive, Google fonts, plugins, and many reservation forms that easily connect your users with your website.
Also, it includes contact form 7 plugin, sidebar, and simple sections to setup which will give you good chances to make your users happy.
Hotel booking is a multilingual theme that supports several languages to get users across the globe.
More than that the inbuilt shortcodes are best to support gallery plugin, animations control, etc that give a powerful impact on a user's mind, and you can get the best out of your business. If you want to make your site easy to rank then download it today.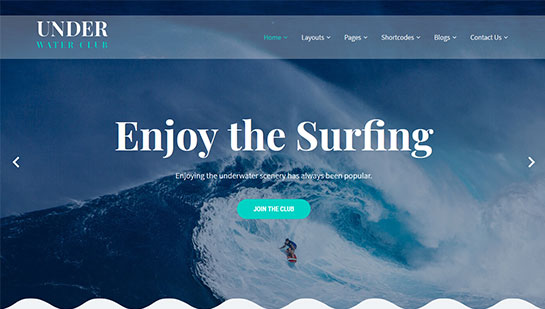 If you like to enjoy water driving and look forward to sell service than you should absolutely make a use of blue WordPress themes i.e. Underwater Pro.
Underwater Pro is created with the blue and white color combination that will feel you like a underwater seen.
This theme supports WooCommerce functionality to make selling via online.
One can sell service like Surfing, Diving, Rafting, Swimming, Snorkelling, Aquarium, etc. also one can show some categories for the courses you can sell just like surfing vacation, family tours, trips, with perfect location and days.
Different types of plugins can be used to enhance the feel and functionality of the website as per your business need.
The 'Crypto currency' is one of the few themes that ranks quite well when it comes to Blue WordPress themes. For starters, it is fast and that's saying a lot; more importantly, the overall design is professional with an elegant layout, and happens to be minimalist as well.
And as it comes with intelligent navigation along with drop down menus, your users should be able to navigate your website with ease.
It comes with a responsive design, along with one that's completely scalable – essentially your users can check out your website without any loss of functionality or resolution.
More importantly, it is easy to use and even a novice should not have any issue in using this theme or even in installing or customizing the same.
The theme is completely customizable and comes with 100+ short codes with varying functionality – you can use the same to alter/ change/ modify any page element with ease.
It also comes with compatibility to third party plugins and the theme has already been pre-tested against quite a few – you can now install cache plugins and offer your users a better, enhanced performance.
As a result, your pages should load faster, and you can even use page builder plugins like Gutenberg, Visual composer, Beaver, Elementor, Divi, Live composer among others to custom develop your other pages.
This is the theme you need for a simplified yet effective approach to web design. It comes with a price tag of $39, with free installation and support.
When it comes to 'SKT Golf' or for that matter any other theme, the functionality matters a lot more than mere aesthetics and to that end, this theme ranks among top twenty amongst the various Blue WordPress themes.
It comes with an interesting design, an elegant layout which makes good use of drop down menus to help facilitate navigation.
It also features a default slider, gallery as well as the requisite header, footer, layout and sidebar options. Moreover, you can customize the inner header to include banner, slider, image or even a CTA to help make your website stand out.
What makes this theme more attractive is the fact that it is both responsive and compatible with external plugins.
So, with this theme, you should be able to provide your customers with enhanced user experience as well as advanced functionality in the form of faster page loading time, social media login and the ability to share content to various social media platforms instantly.
With this theme in place, you can count on better performance, user engagement and as a result, your SEO rankings should improve as well. It comes with a price tag of $39 which is quite reasonable, all things considered.
'Psychology' ranks among the best, when it comes to Blue WordPress themes – no surprises there, for it comes with all the requisite bells and whistles that make it stand out.
For starters, it comes with a classic design with a minimalist appearance, drop down menus, intelligent navigation as well as the fact that it is a multi-purpose theme.
You can use this theme for setting up a professional psychologist website or for any medical or health and wellness related website.
And of course, the theme is 100% responsive and happens to be compatible with external plugins which should enable you to improve its functionality.
It also comes with a blog section with four layout variations as well as the requisite header, footer, sidebar and other layout options, so you get to exercise more control over how your website is displayed to others.
And as the theme is compatible with external plugins, you can set up advanced sliders on your website, upload high resolution video files and share the same with your customers instantaneously.
On the whole, the theme is as good as it gets and moreover, it comes with a reasonable price tag of $39 only.
Granted that you may find the process of selecting the right theme for your business a little overwhelming, but that's not the case here.
Décor, which incidentally ranks among the top ten where Blue WordPress themes are concerned, is 100% responsive and completely customizable.
It also comes with complete documentation as well as built in short codes which you can use to tweak the appearance of your website. You can change and alter most page elements, from the color to the element in question.
It is that easy to customize the website with this theme that even a brand new novice should be able to handle it. The overall design is great and the layout good as well; it also comes with compatibility to woo commerce as well as external plugins.
So you should be able to provide your users with more advanced functions in the form of analytics, calendar organizer, integrated payment gateway and much more.
It also comes with a blog section that updates the list displayed on your front page; this should help you to communicate with your prospective customers better and provide them with regular updates.
The theme comes with a price tag of $39, which is quite reasonable, given all the advanced functionality and user centric widgets.
'My Dog' gets the top billing where Blue WordPress themes are concerned. For starters, it is a multipurpose theme and one that can easily be repurposed for multiple domains.
Moreover, it comes with a slightly dark background along with a minimalist appearance which should make it easy for you to direct your visitors' attention to specific parts of your website.
It also features drop down menus and comes with intuitive features as well as a comprehensive information architecture which should help enhance user experience on your website.
The theme also comes with heater with four layout options, an inner header that can be customized with sliders, images, CTAs as well as banners, footer with layout options and a blog that you can use for communicating with your user base.
It also comes with a flat, structured website and is also 100% responsive which means that your users should be able to access your website even with old browsers, or any device, without loss of functionality or resolution.
The theme is also compatible with third party plugins which means that you can now install Analytics, maps, events, gallery, slideshow just to name a few and provide your users with better user experience.
On the whole, the theme stands out for all the right reasons and so will your website. It comes with a price tag of $39, which is more than reasonable given the extra add-ons.
The 'Horse riding' theme comes with an interesting design along with an outstanding and a simplified layout. It also features a dark background but as the theme is customizable, you can easily change this with the help of built in codes.
It also comes with a CSS3 animated homepage with all the features which should help make your website stand out.
The home page also acts as a landing page and it already comes with a default slider with ten slides, animation and time control which should help you showcase your high resolution images, videos etc.
The theme is as good as it gets, if not better as it is responsive and also compatible with 3rd party plugins.
Essentially, this means that you can optimize your website with the right plugin, install organizer, calendar and even set up a chat plugin for your users to use, to connect with you.
Moreover, as it is also compatible with woo commerce, you can set up an integrated shopping cart, payment gateway and much more. It comes with a price tag of $39 which is quite reasonable, given all the advanced functionality.