The concept of blogs, blogging, and niches related to it has evolved terrifically in the previous decade. This has resulted in the rising demand for the best blog WordPress themes. But, are such themes really worth the time and investment?
When you choose ordinary themes it takes a lot of transformation and efforts to mold them for blogs. But with an exclusively crafted theme, you do not have to worry about any of its aspects.
Not even the SEO as it is also optimized to ensure that you can get the desired results. But, is it possible to get a niche-dedicated theme particularly for blogging? Absolutely yes.
You can find multiple such industry-specific options in this compilation as well.
Page builder even helps you in artistically designing your personal template which will be retina-ready. All the best features are incorporated by default and you can also add other ones from external sources.
It is perfectly responsive across all kinds of devices including mobile phones and with all browsers. Integration of social media handles is possible so that promoting engagement with the users becomes convenient.
When it comes to women-power and feminism the perspective of the world is changing constantly. For a blog that touches different life sections and phases of girls or women, this is an ideal option.
This is because starting from the default template to all the minor and major elements, it has been customized. By default, it will help you generate energy and aura that ensures that complete justice is done to all your words.
Plus all basic functionalities and features that are a must-have for this niche are pre-integrated. This means no additional efforts will be required and also you will have the freedom for full personalization.
Plugins of all kinds can be used as required and shortcodes can also be used to add the desired features. Creating a terrific website that stands out is just one step away when you have Girlie Pro.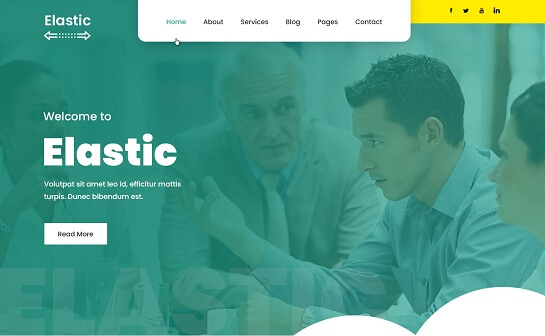 Elastic Pro is a multipurpose theme with tremendous potential to contribute to the development of a stunning website. Due to its impeccable performance and ideal reviews it has been included in this compilation of best blog WordPress themes.
When you decide to use it for creating a blog-based site you do not have to worry about the performance. It offers you complete freedom and a hassle-less approach for all the modifications that you are aiming for.
Moreover, it gives you the freedom to ensure that features of all kinds can be incorporated conveniently. Therefore, all the small and big needs of the audience, potential audience, and that of the ideal site can be met.
This is for the ones who are intending for blog-site related to core subjects like adventure, nature, traveling, etc. When you have the capabilities of writing and expressing subject matters then overall aesthetics matter.
To ensure that you have an elegant, professional, and yet mesmerizing outlook, Charm has been developed. It offers you a full solution to all your personalization needs without hampering the functionality part.
Hence, you have a kick-start for both the integral success parameters i.e. content and performance. Setting up galleries, embedding videos, or connecting guest authors is possible here.
It is even translation-ready and completely responsive across all devices and screens. Such features ensure that you are never limited by the boundaries of technology or geography. Ready to Charm your users with your words? If yes, then kick start your journey here.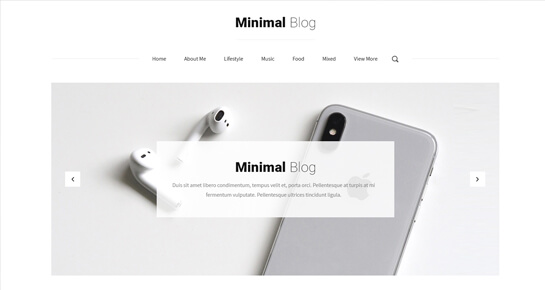 Best blog WordPress themes are those that do complete justice to the niche that you are representing. In addition to that, another essential factor for all blog sites is that they should have an optimum or minimal design.
This is because such structures help in laying the entire focus of the user towards the content. Minimal Blog enables you to do just that by offering full room for customization and personalization.
It is rich with features like one-click demo import, inbuilt sliders, integrated shortcodes, integrated Google Fonts, translation-readiness, etc.
Even if you need some distinct features to meet your requirements then third-party plugins can also be added.
It has been tested for loading speed, SEO-friendliness, and responsiveness across multiple platforms.
With the increasing usage and reliance on e-commerce stores, users are looking out for genuine reviews of the product. The e-commerce space is flooded with millions of products and thousands of vendors.
This often results in multiple incidents of fraud or low-quality products. With Blog and Shop, you can create a versatile and thriving online space. This space can run an e-commerce store featuring any number of products and also feature blogs to suffice the audience's needs.
This incredible combination is possible due to the full compatibility of WooCommerce and full freedom of customization. Starting from the basic template to all the specific elements offered can be conveniently personalized.
Standard pages that are essential for setting up a brand identity are offered by default. Shortcodes are also provided and full compatibility is assured for external plugins.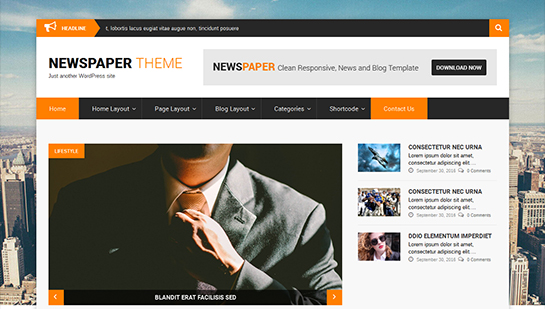 This is the option for individuals who want to filter one of the best blog WordPress themes for news blogs. SKT Newspaper Pro is one of the finest and exclusively crafted themes for news reporting and magazines.
This can enable users to feature all kinds of news, movements, and important announcements easily. The daily updating part which is the trickiest one has been simplified here.
The basic structure is designed such that various categories can be bifurcated easily. You can conveniently transfer the spotlight from one piece to another. All core and basic features that are a must-have for this niche are offered by default.
Additionally, you can also integrate a payment gateway for promoting a subscription-based business model.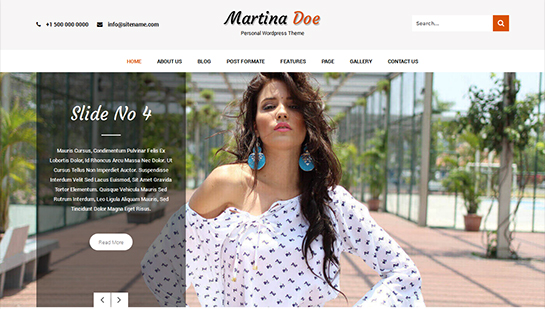 Character is a special inclusion in this outstanding collection of best blog WordPress themes. This is because it is a multipurpose theme and offers terrific features with a stunning template.
Therefore, setting up an online presence with dynamic blogs becomes convenient, simple, and quick. The default template itself is professional and reflects elegance in every inch.
All kinds of modifications and personalization can be executed in the template, structure, layout, and other elements. All these processes do not have any mandatory requirements of technical knowledge or coding.
It is integrated with tons of other features like RTL support, WooCommerce support, Google Font integration, and default slider among others. Any subject, any niche, any matter, can be set up here without worrying about the performance.
The integrated and compressed forms of magazines have evolved with time. The intersection of this niche into blogs is a popular and emerging format.
SKT Magazine Pro is one of the most fascinating and liked option in this compilation of best blog WordPress themes. It is an ideal theme if you intend to use it for the purpose of publication of versatile articles.
For creating and publishing a digital version of your physical magazine all required features and structures are offered here. Modification of different elements including colors, sidebars, sliders, and widgets among others can be customized.
This is a one-stop-shop solution for all your blog related needs. Payment gateway integration for subsection based blogs can also be managed.
To whosoever that says that perfect themes for blogs do not exist are wrong. SKT Perfect is here to ensure that all your desires from a blog based websites can be conceptualized and executed.
It is one of the most powerful websites in this entire collection and undoubtedly beats any competition. It comes with multiple templates that are resembling different niches so that you can conveniently select the best one.
All these templates are retina-ready and completely customizable. You can create as many changes as required to conceptualize and come up with an interesting blog concept.
Tons of features are offered by default and everything else that is required can be added through plugins. Definite results are guaranteed with this perfect theme.
Preparing to launch a lifestyle blog? When finding suitable ones in this collection of best blog WordPress themes there is no better choice than Lifestyle.
It has been crafted exclusively to ensure that the aesthetics and the functionality are in alignment with your content. The only action necessary is to substitute the content from the layout with the actual one.
Doing this will enable you to quickly publish your site. The overall structure and layout have been worked out to specifically to suit this industry. Despite this, there is full room for personalization and modifications of all kinds.
Page builders and customizers are at your rescue for any designing related challenges. You also have complete liberty to use third-party plugins and enhance the features as required.
This theme is by far the strongest and the most powerful in this collection of best blog WordPress themes. It includes 100+ templates relating to distinct industries.
This means that irrespective of the niche that you are writing you will definitely find the right match. The interesting part is that updating the entire template of your blog can become possible whenever required.
Features of all kinds are included here and you can even create a full-fledged e-commerce website. When it comes to functionalities and features it is fully loaded and almost all requirements of your blog will be sufficed.
Not only this but in case any other third-party plugins are required then they can also be added. Full customization is offered along with distinct features.
Are you looking to create blogs related to astrology? If yes, then you have finally landed at one of the best options. The Astrologer is finely crafted and developed to meet the core requirements of Astro-blogging.
The overall structure and layout are sorted and offer the required freedom to add mandatory content. The template is simple yet interesting and perfectly meets the industry standards.
Interestingly all these elements and templates can be modified with the help of a page builder and customizer. In addition to this, you can also decide about adding or removing sections from your blogs.
Integrating social media handles or adding affiliate marketing advertisements or product link is also manageable. Features are sufficiently enough but whenever required additional plugins can be added.
It is evident that masses and specifically youth across the world are dynamically following political activities. Hence, the demand and importance of political blogs are strong.
Eventually considering this, the Political Candidate theme can be used for creating websites for candidates as well as in general. Hence, it has been inevitably included in this collection of best blog WordPress themes.
Everything that is required and essential for crafting a blog that highlights politics at its core is offered by default. The aesthetics are attractive and still can be molded as per the campaign or the subject of the publication.
It is multilingual and translation-ready which offers a strong linguistic grip for blogs and articles. It is completely responsive across all platforms and additionally can be accessed from any browser or screen. Do not hesitate in enhancing the features by adding other plugins.
The most unique and yet elegant option in this entire compilation is vCard. This is a special and terrific multipurpose theme that can perfectly match your blogging needs.
Creating a blog with vCard is choosing simplicity and filling it with the deepest thoughts of your heart. The entire framework and outlook are simplified and kept as natural as possible.
This helps you elegantly putting forward and promoting your fresh blogs. Despite being simple it offers flawless performance and unbeatable loading speed.
Customization in all aspects is possible so that every inch can reflect the emotions that you are conveying. Adding plugins from different sources is possible and it is optimized for search engines.
The last theme in this exclusive compilation of best blog WordPress themes is The Art. Art is what artists are looking for in their personal blogs. It is tender, elegant, calm, and yet soothing in aesthetics.
In terms of functionality, it has all that one asks for in a blog. Attracting a potential target audience becomes convenient with its freedom to customization.