We have scoured the Internet for perfect blank WordPress themes to be an ideal starting point for every web developer or web admin.
WordPress templates which are characterized as naked or blank, are based on BoilerPlate coding and its standards. It's a high – level mechanism aimed at keeping your site and its content streamlined, accurate and well – managed throughout the whole period of your website operation.
All in all, the principal coding standards of such templates include CSS and HTML to contribute to the speedy workflow of the site, as well as its pixel – perfect look and feel.
Moreover, the same "neatness" is obvious in the theme's design and graphics. It is planned to make it easier for the designer or web admin to add specific design touches to it and finalize the look of the target website.
And while there are dozens of blank WordPress themes coded and developed meeting all the above – mentioned criteria, in this article you are going to find only the best of them.
Apart from the strong and durable coding, the blank WordPress themes offered by us are visually compact and well – dressed to provide clear and efficient communication with web visitors.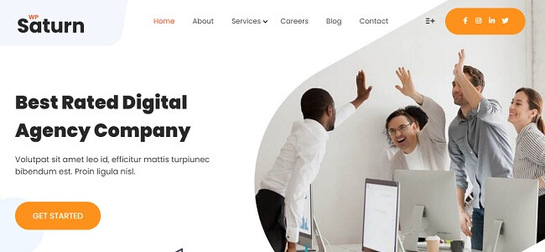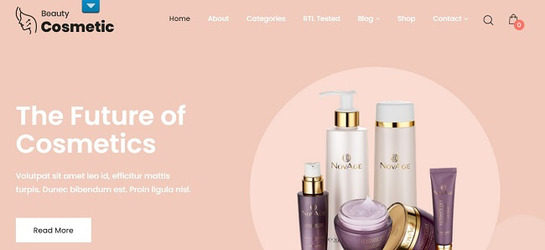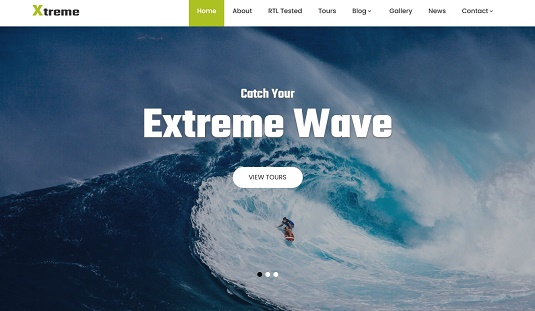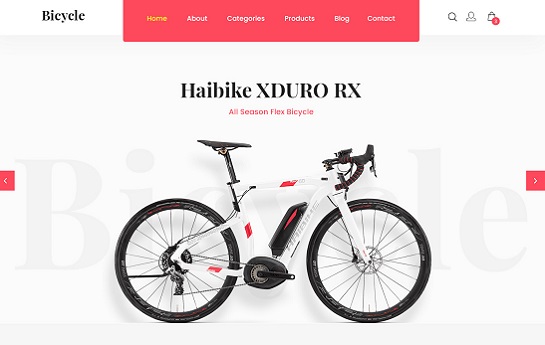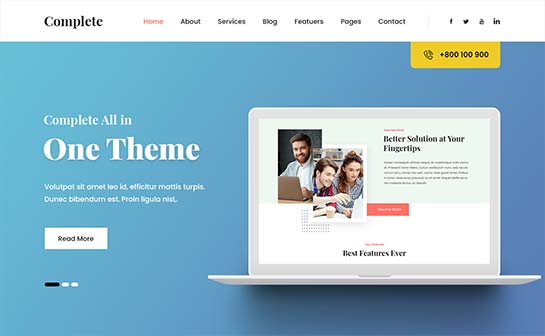 Complete Pro is the diamond of our collection of blank WordPress themes. The authors of this template sweated hard to make it completely versatile and comprehensive, intelligent and highly sophisticated.
There is not a single part or element included in this template that has not passed a thorough survey and has not been updated, if needed. As a result, Complete Pro is the one to surprise you virtual guests with its smooth navigation acting like a map for their online journey.
Moreover, they can access your website from every portable device and from every corner of the world in the blink of an eye. It is powered by a wonderful Customizer to be exercised for altering the given platform the way it is required.
Other noteworthy features of the theme are homepage prebuilt sections together with nice – looking slider, numerous Google fonts and icons, SEO and SMO – friendliness.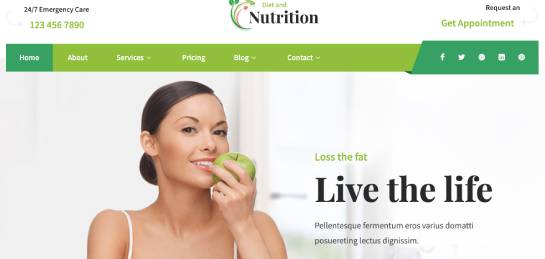 User–friendly and admin – optimized, Diet and Nutrition is ready – made to help you understand all the facets of WordPress ecosystem.
It can be a perfect suit for any food and drink – related website or online initiative, starting from fitness and nutrition sites to restaurants and bars. By the application of this pixel – perfect and eye – catchy template, you don't need to write or re – write any coding in order to change the way your site behaves itself.
However, you are free to use the handy admin panel from the backend of the theme, change its colors and typography, make use of shortocodes and add your images to the homepage full – width slider easily. The theme has also been checked for its stability when it comes to adapting itself to the suggested mobile or screen sizes.
The modern digital world perfectly understands the real merits of flat or material web design styling. Flat Pro as one of the sympathetic blank WordPress themes is decorated with flat graphical interface and lots of white space.
The right combination of colors has been practiced throughout the theme to brand your future website. Anyway, you are licensed to play with colors and add your color preferences to the theme.
Elegant and creative, this responsive and mobile – friendly template is suitable for any corporate or business representation online.
Default slider can be found in the homepage with pause time, animation and other controls, as well as footer, header and sidebar areas for additional content display. There are also tons of shortcodes pre – enabled for you to experience a simple content setup.
The next clean and robust, fresh and tidy website building ecosystem at your leisure is Clean Pro. It comes as a well – received mixture of modern and dynamic, yet clear and uncluttered web design.
The customization options of this top – rated template range from outlining the colors you want to adding the required typography, images, texts, contact details and more.
It has an intuitive interface and admin – centric dashboard. It means that the time you are going to spend on the theme's management and formatting is reduced to the minimum. The theme also includes color picker for the fresh look of your site, prebuilt gallery and contact form, slider with controllable effects and much more.
Please, meet Simple as one of the top – notch blank WordPress themes available at present. Simplicity in web design is the principle effortlessly integrated within this template to make your content stand out with its uniqueness and legibility.
It generates semantically marked up clean coding as well, which means that Simple is a practical candidate as a starter template. Both the structure and foundation of this product are well – optimized for responsiveness, search engine optimization, as well as unbeatable user experience.
There are home, about us, blog, portfolio and other sections all rolled up by a subtle design cover. Minimal amount of colors are assembled for keeping your website polished and glassy. The theme also comes together with available demo version for you to review, as well as professional support.
Shudh Pro is also among the relevant blank WordPress themes meant for those users who appreciate all the charm of clean and minimalistic web design.
Both from visual and coding standpoints, this clean template is stripped of everything but essentials. This kind of structure will definitely speak in favor of your website's speed, quick response time, as well as facile navigation levels.
The theme is general – purpose and hence can cater to a website of any size and denomination. Shudh Pro is packed full of time – consuming and time – sensitive features and elements.
Among them are suitable content zones and areas, homepage beautiful slider with as many slides as you think expedient for your website to share.
If you are planning to set up a website for your business, then you are better off going with a WordPress platform as it is an open resource platform that comes loaded with high functionality and flexibility.
That's why you should check out some of our blank WordPress themes as they have been coded specifically to provide you with a streamlined look, and the templates include CSS and HTML5, which should enable your website to be more responsive and load faster
The issue though with choosing templates is a question of "too many" and often you are left wondering which one to choose, which is why we have prepped a small list to help you sort through the many blank WordPress themes out there.
Free vs. premium: There are many themes out there and naturally, some are free and some are not, and these are the ones usually tagged as premium. So you need to decide which ones to go for and whether they meet your basic requirements. For example, let's just say that you are looking to set up a static web page or a single web page with just a few plugins, then you should be just fine with the free WordPress themes out there.

But if you are planning to devote a lot of time and effort to setting up a professional website, then you would definitely need one with a built-in page builder since you would be adding more content to the site, in due time. In that case, you may want to check out the premium themes.

Cost model: Before selecting a particular theme, it is essential that you do a dry run to see how it all pans out. And it is important that you are aware of the pricing model; some themes may initially list their theme as free but for a specific period, whereas some require a small monthly retainer to be paid and others, a onetime annual fee.

There are also those themes that require a onetime set up cost; these are the usual pricing model that you are bound to come across when selecting the right theme for your website.

Third party plugin support and compatibility: Usually plugins designed by third parties should work on most WordPress websites but you still need to double check the theme in question and find out if it allows for third party plugins.

These plugins may be essential to your website as they can help enhance user experience as well as boost up your SEO rankings. And naturally, you would want to choose a theme that allows for third party plugins and is compatible with all the browsers out there.
These are some of the things that you need to consider when choosing a theme for your website; just make sure that you are choosing the right theme for your website. With the right theme and look, your website should lead to increased traffic and a better conversion rate.