If you are afraid that your technical knowledge or web developing capacity is never enough for creating and running a professional pharmaceutical, medical, industrial or biotechnological website of your own, here are some of the easy to use and control biotechnology company WordPress themes to be the remedy for that fear.
You can use any of them for biotechnologists and microbiologists, biopharmaceutical analysis and pharmaceutical industry, food analysis and scientists, biomedical consultancy and centers, clinical research and bacterial testing, global research and analysis organization and other relevant website creation and further management.
A well equipped and premium quality website is what going to be the biggest payoff of your efforts and investments when it comes to marketing any medical, pharmaceutical or biotechnological business.
And whether your primary objective is to attract more clients and patients, develop new relations with food and chemical or other businesses and companies, sell drugs or bioreactor control systems, offer testing and other services, our biotechnology company WordPress themes will make your digital life much easier and affordable.
The philosophy behind these biotechnology company WordPress themes is to provide the highest level of user convenience while browsing your website and navigating through it.
From responsive and cross mobile compatible touches to HD ready interface and high quality imagery support, easy to read typography with Google friendly fonts and optimal loading time not to waste the user's precious time, everything is minutely discussed, processed and added to these themes for your web visitors to enjoy.
Finally, all of these biotechnology company WordPress themes are reasonably priced which means that a company of any financial condition can afford itself to go online and use hundreds of the benefits of the digital platform without any difficulty.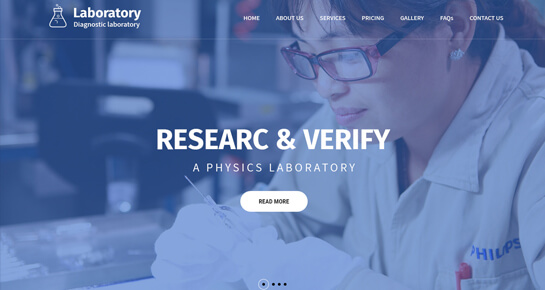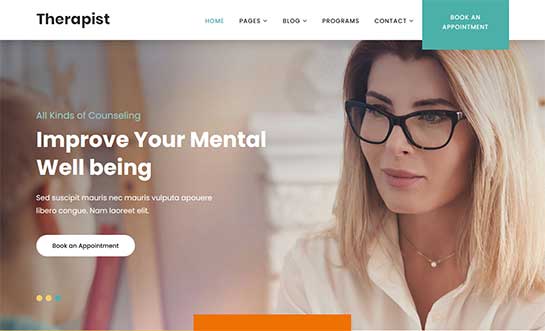 SKT Sanitization Pro is one of the bioscience and biotechnology company WordPress themes that has an award winning status and a huge army of satisfied clients.
You can use this pro template for a variety of niche specific businesses and organizations such as biotechnology vs. Sanitization and organic chemistry, biocatalysis and food analysis, biotechnologist service provision and other material science and medical oriented ones.
Animated homepage with accurately structured sections and areas, as well as default content is preloaded, homepage slider is added right from the start to display important content materials with high quality images and photos, buttons and CTAs are pre enabled to be added throughout your profile for winning more attention and client engagement.
Solar Energy has been developed to cover the needs of serious industrial businesses and undertakings, from solar energy and solar panels producing to pharmaceutical and biotechnological ones.
This responsive and well practiced, frequently updated and improved website builder is a great proof of the fact that you can swim with the sharps in your industry without making a huge investment costing you an arm and leg.
You can achieve maximum results with minimum financial expense and create a website that will match your specific needs, tastes, business objectives and missions with rightly chosen graphical and color combinations, content categorization and translation for international audience, provision of additional content with widgetized areas, etc.
Simplicity in web design can turn out to be the booster of your business success online depending on the nature of whatever you are trying to represent.
As for the biotechnology industry and its fields, It would be better for you to get rid of excessive web elements from the appearance and coding to make your website easier for the target audience to land on, navigate and find the needed information.
In this relation, Simple is one of the clear and hassle free biotechnology company WordPress themes to keep your site consistent in performance and navigation, plugin support and search engine optimization while sharing accurate design aesthetics and compact structure.
However, simplicity and intuitiveness is only one part of the this theme that comes with all inclusive toolkit and admin friendly theme backend for live customization controls, e commerce readiness for running online pharmacy or biotechnology based storefront and benefit from it.
The web content is not the only thing search engine robots scan while ranking your website. Dozens of web qualities starting from responsive and mobile optimized version of the site up to social media integration, speedy and lightweight performance, plugin compatibility and many other features are taken into consideration while giving this or that website or blog an online status.
With this in mind, the developers of SKT Industrial have put all their skills and experience into making it wonderfully SEO optimized with the integration of all the above mentioned qualities to make sure your biotechnological or any other industry based website is going to win the online battle.
Bony has been designed and developed specifically for medical, pharmaceutical and biotechnological company websites and as such comes with appropriate look and design styling.
That awesome appearance is supported also by a durable HTML 5 coding to make your website operation more streamlined and error free around different browsers and portable devices.
Allow users to enjoy their time while being on your web pages and concentrate on the main content you have added to the template. You are free to use different useful sections like home, about, services, contact, as well as blog area for regular updates and news.
SKT Medical Pro is another cleverly coded and ultimately versatile web building environment custom built to quickly fall in line with your specific expectations from a premium website platform.
Whether you want to niche down your website to exclusively a biotechnology or keep it broad with more diversified content, commercial activities and more, SKT Medical Pro will adjust to your preferences within the shortest timespan.
An awesome pack of easy to use shortcodes, color picker for color choices, preloaded Google fonts for setting up the most engaging typography, translation readiness and multilingual plugin support for content translation purposes describe the true potential of SKT Medical Pro.