The ultimate success of your business may rise or fall on the way you present it online. Whether it needs bright and proactive presentation with everything included or a minimalistic style to eliminate everything cluttering, you can find a relevant WordPress template for it.
If you are the one who needs a website of the second nature, that is, clear and minimalistic style based, you are welcome to check our bundle of the best minimalist WordPress themes.
If you are planning to put in the time, financial means and efforts to craft a website, you should be sure the web design you choose is going to engage more clients and make your web content more effectively displayed at the same time. And this is where minimalist web design could help you greatly.
In the past few years different web design styles reigned the digital realm, from flat style and skeumorphism to material design, etc.
All these styles are becoming popular then yield their positions, and only minimalist style seems to be popular forever. In web design, this trend has been practiced for a long time and in a very successful manner, advocating laconism and simplicity.
And this tendency is expected to be popular, as minimalist style has successfully penetrated into all areas of our lives: architecture, publicism, painting, design, etc.
While the advantages of the best minimalist WordPress themes are many, the most striking ones are simplicity in website's look and user interface, removal of all elements, tabs and other details giving the site that cluttered appearance we are all trying to avoid.
This, in its turn, results in a better and much faster website performance, enhanced rankings and search engine positions, boosted traffic, etc.
On the whole, each of the best minimalist WordPress themes we are going to cast a light on soon is custom built to stripe away as much disarray and disorganization as possible thus leaving your website in the most accurate and legible manner.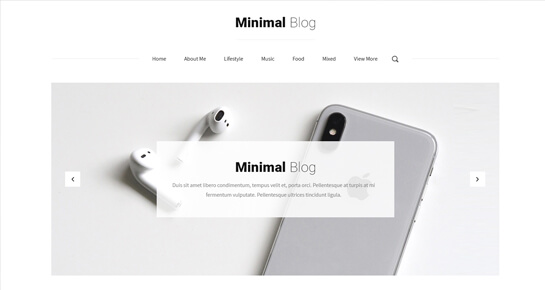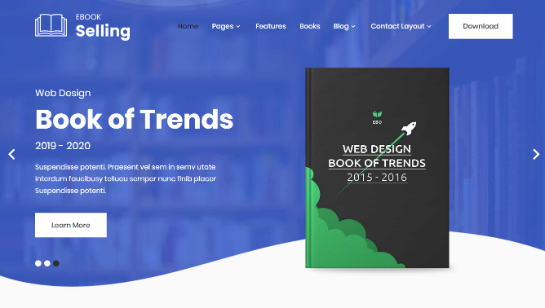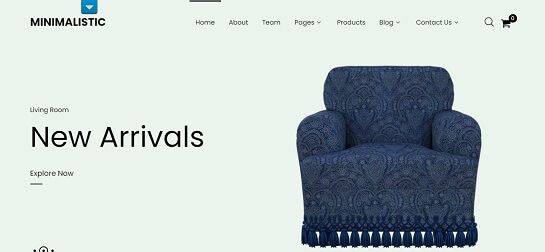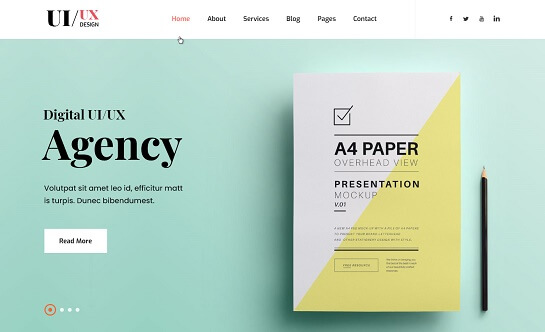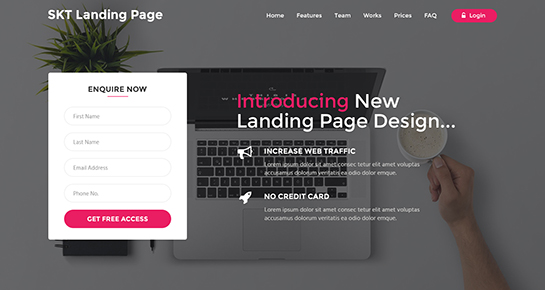 What can be more productive than the combination of a flat minimalistic web design and landing page? SKT Landing Page is one of the best minimalist WordPress themes packed with a wonderful landing page to promote any kind of commercial or another website.
Its lightweight yet eye catchy layout is going to make your website fully responsive and flexible while taking your site throughout different platforms and portable devices and maintaining its pixel perfect look.
This landing page is also ideal for directing the user's attention on any kind of promotional material, services, product, discount or whatever it is. The overall minimalistic and accurate style of it makes it also easier to exercise the color gamut and elements arrangement the way you prefer.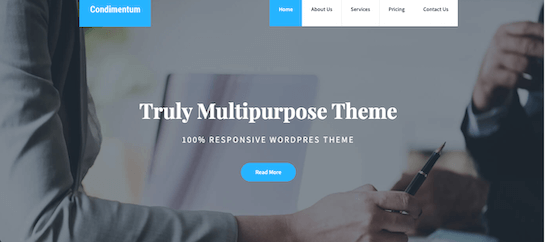 Condimentum is serious looking and business checked website template celebrating minimal flat design and thus ensuring your site's visual excellence and functional agility.
By using a general lightweight space, the theme authors have intended to make the site's navigation quick and hassle free, as well as be sure the website visitor's eye is drawn toward what is represented on the page in the form of important content.
The theme is also well prepared for winning reasonable SEO status with higher ranks as well as is cross plugin compatible so that you can add, remove or configure as many plugins and extensions as the nature of your website requires at the given moment.
If you are inspired by classic web designs, Black and White will not leave you indifferent. Multipurpose and multi faced.
Black and White can cater to a website or blog of any nature or denomination, thus giving you ultimate freedom to use its default classy and minimal look as per your preferences, tastes, needs and custom base requirements.
It may seem that creating the bets minimalist WordPress themes is fairly easy. Bu the truth is quite opposite, as the theme developers have to work with only few elements and result in a perfect output.
Therefore, you can be sure the developers of Black and White Pro are true professionals who are ready to assist you in your web building and management wherever needed.
Both startups and experts working in the digital spectrum can greatly benefit from the minimalistic style of SKT SEO.
Everything is kept simple and light in appearance, but it does not mean there is anything important this modern and well coded template lacks.
From responsive HTML 5 based coding to CSS 3 animations, preloaded shortcodes and Google fonts, page building and other plugins compatibility to multilingual readiness, SKT SEO shares all the important capacities and extensible functionality you can work on.
Shudh Pro is also one of the most reliable and best minimalist WordPress themes anyone can take advantage of.
From accountants and financial experts to portfolio owners, handymen and craftsmen, interior designers and architects, online storefront owners or handmade product creators, anyone will find Shudh Pro something affordable and worth trying.
In a nutshell, this minimalistic web design solution is going to work not only for straightforward businesses, but also for creative and animated ones. The thing is that you can bring your imaginative world into reality with Shudh Pro that is fully customization ready and comes with any kind of visual and textual support.
Simplicity and neat look are the pillars of minimalist web design. In this relation, Simple corresponds to our expectations of minimal web design trends and applications.
Whether you need a simple platform to manage a personal website or give rise to a business one with e commerce functionality and perfect customer care, Simple will justify your anticipation.
Packed with essential tools and features, HD and retina ready for the highest quality content support, Simple is going to make it much easier for your web surfers to get around your site and quickly find, review, compare and even buy whatever they have been looking for.