The importance of being able to do your business online has shown its true potential in the pandemic period. Hence, for all kinds of business out there it has become extremely essential to set up a website.
So what happens to be one of the most important aspects of website creation? It is finding a responsive and powerful theme from the entire collection of basic WordPress themes. Is this task easy? Not at all.
Given your niche and target audience, it takes tremendous effort to find one theme that stands up to your requirements.
To reduce your burden our experts have sorted the best themes and compiled them in this read. List out your requirements and match them here, so that you can create a stunning website.
Complete Pro is amongst the widely used and fastest loading multipurpose themes that you can opt for. It can be used for versatile websites related to business, e-commerce, manufacturing, IT, service-based, and others.
Even if you are thinking to develop a blogging site then also Complete Pro can be a wise choice. In terms of default aesthetics, it is professional, elegant, and clean.
But, it comes with the potential to modify all its elements as per your distinct requirements. The customizer and page builder will assist you in ensuring that all kinds of changes can be executed swiftly.
It is 100% responsive and has been tested across multiple browsers and devices. Moreover, by default, it is loaded with hundreds of features to make your task easier.
Top Basic WordPress Themes 2023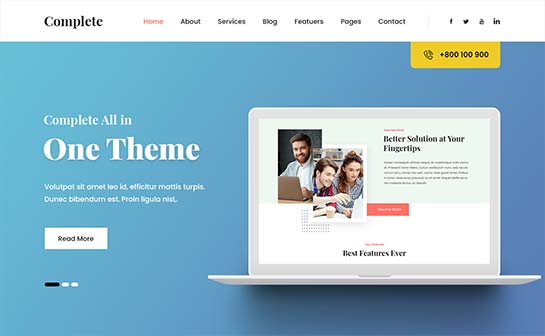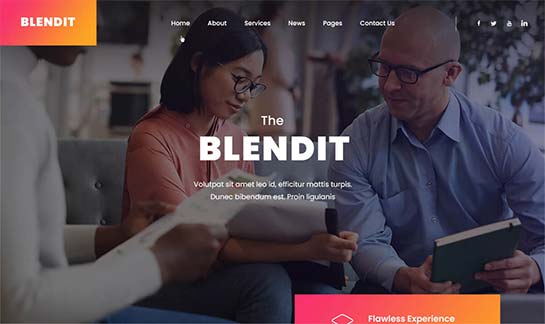 Blendit is another multipurpose option in this compilation of the best basic WordPress themes. The overall background of the theme is based on white color which makes the first impression professional and soothing.
But, at the same time, the core elements and text boxes are filled with a vibrant color combination of bright colors. This helps in not only setting up a unique design but also makes the overall look dynamic.
Given its potential with the features like multilingual support, WooCommerce support, and one-click demo import you can create any website.
Depending upon the basic requirements of your site, you can easily personalize any segment that is required.
Additionally, if needed you can also design an HD-ready template by starting the entire process from scratch.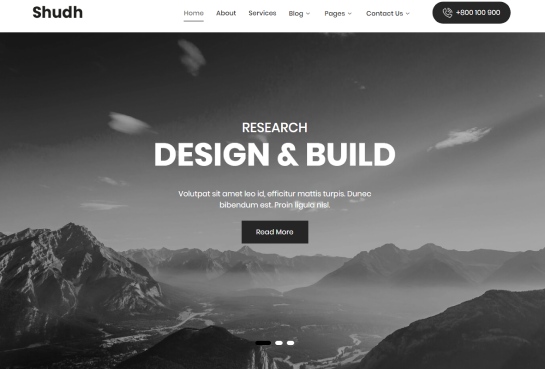 Shudh Pro is one of its kind finely crafted theme that can be used by startups, artists, corporates, and businesses. Its designing aspect combined with powerful features separates it from the others.
The inbuilt template is retina-ready and is open to all kinds of modification as demanded by your niche. The use of colors has been kept limited in the aesthetics part but it can also be customized.
All the images that are used in the inbuilt format in all sections are copyright-free images. This means that all these images can be directly used on the site.
It comes with multiple menu options and an inbuilt slider. Google Font is integrated by default so that you can make the most of your site through the best font selection.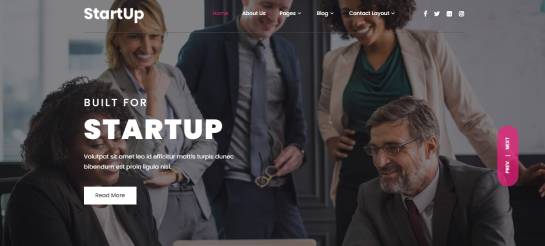 In the buzzing world of startups, it becomes essential that your startup has a thriving website. This can be easily possible with the help of SKT Start-up Pro which is a truly magnificent theme.
Just like all other basic WordPress themes, it offers powerful performance and a structural framework. In addition to that, it is dedicatedly developed with features, design, and structure to address distinct requirements of the startups.
Standard pages like about us, contact, error 404, etc. have been included by default.
The customization and personalization are possible with zero restriction and without any requirements of coding. In case you are stuck with anything at any stage then full support is offered by the developers for one year.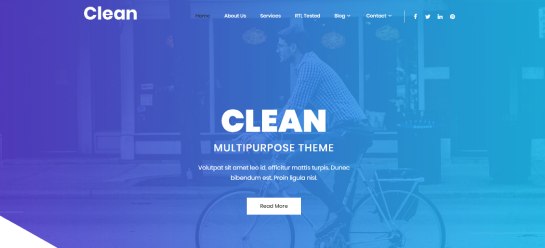 Clean Pro is amongst the simplest yet functionally powerful basic WordPress themes. The user interface is easy to understand and the navigation has also been kept simple.
This helps the audience to easily navigate and explore all your products/services. The default template is retina-ready and comes with the possibilities of customization.
The images used are copyright-free and you also get to make a selection for the menu options. Setting up sections or removing default pages can also be easily managed.
By default, all major features are provided but you can also add other features through plugins. Shortcodes will also help you in adding the desired features.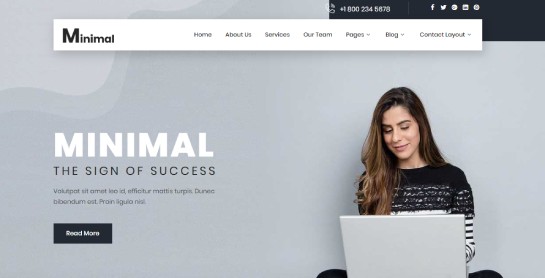 Naturo is a classic theme that has been crafted with unique aesthetics which are professional and yet elegant. Any startup, business, or corporate can create a terrific website using it.
The overall design is done in contrast shade of bright colors on the clean white background representation. The layout has been managed terrifically so that content of all kinds related to services, products, or activities can be easily included.
Moreover, there are zero limitations on the type of content that you can add. Adding and removing segments or setting up a blog on the same website is also possible.
It is SEO-friendly, page builder-friendly, and comes with color support and font-based icon support.
Condimentum offers much more than what basic WordPress themes offer. It is a truly multipurpose theme that is not limited to a professional look or minimal designing.
It comes with vibrant and colorful aesthetics that are elegant enough to make it look wow. Corporates, multinational companies, startups, and emerging businesses can use it to set up a stunning online space.
It offers peculiar features like CDN support, Jetpack support, WooCommerce compatibility, PSD On Demand, etc.
Also, there are no restrictions on adding features from third-party applications or from shortcodes. Integrating your website with payment gateways to accept payments is possible and is also easy.
You can modify, customize, and even redevelop an entire segment as demanded by your target audience. This theme is an answer to a professional website that is 100% elegant and responsive.
Simple is for all the users out there who are looking to win the hearts of their audience with a minimal design. It is a fully responsive website that offers cross-browser and cross-device compatibility for an enlarged experience.
Moreover, modification and customization of all kinds are manageable with the help of the page builder and customizer. Hence, without any efforts of starting from scratch, you can develop a smart and professional website.
Industries, Digital Marketing agencies, Startups, or any other firms can rely on it for SEO-friendly webspace. Adding your achievements, client testimonials, and future goals is possible.
Moreover, you also get your hands on comprehensive theme documentation that can help you tackle all challenges.
The quest for basic WordPress themes is always limited to certain features as desired by a peculiar project. But, with SKT Parallax Me Pro the scenario is completely different.
Irrespective of your basic needs this theme offers a truly feasible and flexible path to create a stunning website. It can be for your business, startup, restaurant, marketing agency, etc.
The best part is that at present you can create a site with limited details as it is open to expansion. At any point in the future when you feel the need to add services, products, or information then you can do so.
By default, it offers strong and powerful features so that you can remain on the cutting edge of competition.
This is an elegant, modern, stylish, and truly professional multipurpose WordPress theme. It is suitable for creating a website related to a product, service, business, startup, or even for a blog.
The default template is HD-ready and has a peculiar layout that helps you in settling up with your content. The page builder and customizer enables you to swiftly make all the changes and personalize the smallest element as required.
You can completely control the slider settings and also choose from different menu options. The installation is simple and given the versatility of the inbuilt templates, it will be easy to edit and launch.
You can also select it for the demographic-based target audience as it is multilingual and also offers RTL support.
Flat Pro is one of the finest and widely popular options in this compilation of the best basic WordPress themes. The overall aesthetics in terms of background, font, and font color has been kept simple.
The actual magic is created by a versatile shade of color used in different segments. This helps in easily diverting the attention of the target audience towards the most important segment.
Any user even with a limited or zero experience of websites can conveniently set it up and also modify the same. It has been tested for cross-device and cross-browser responsiveness and also comes integrated with Google Fonts.
Flat Pro is your answer to setting up an online space for your innovative products/services.
An SEO-friendly and efficient website can help local businesses progress and grow. A website gives your business the power to remain the talk of the town for your products and services at all times of the year.
Hence, to address the peculiar professional and functionality requirements of local businesses this theme has been created. What makes it best is that its template, layout, structure, and other elements have been crafted after thorough research.
This makes it one of the widely accepted choices from this compilation of basic WordPress themes. It is translation-ready and offers multilingual support.
Additionally, it is also compatible with WooCommerce so that you can conveniently set up an online store as well.
Spirited Pro falls into a specific category of basic WordPress themes that are distinctly for the custom web-designed sites. It is a flexible theme that can be utilized by all sections and especially by corporate businesses and industries.
Keeping in mind the requirement of the target audience the design has been kept professional and simple. The templates are completely customizable and yet retina-ready.
It comes loaded with tons of features and functionalities that help in the efficient performance of the site.
Comprehensive theme documentation helps you tackle all the challenges. Lastly, it is fully responsive and offers default integration of Google Fonts.
Elastic Pro is amongst the most powerful themes available for creating any kind of website. Irrespective of the amount of data that your site would have or the traffic that you will host, this will be a perfect choice.
Elastic Pro is filled with tons of features that can be used to create websites of different niches without any functionality or responsiveness errors. The templates are retina-ready and are compatible with all kinds of customizations.
It is compatible with all kinds of third-party plugins which can be added as required. It also offers a Blog Post sidebar and WooCommerce sidebar which ensures that the maximum potential of the site can be utilized.
Lastly, full support is offered by the developers for one year along with comprehensive theme documentation.
Gravida is amongst the finely crafted basic WordPress themes. For anyone who wants to create strong brand recognition in the online space, Gravida is the theme. It is super flexible and comes with HD-ready customizable template.
All changes can be easily executed through the customizer and page builder. Color skins, background color, and fonts can also be modified. For convenience in modification, Google Fonts have been integrated by default.
The demo template will help you set up your site without the efforts of starting everything from scratch. A separate section for pictures, galleries, blogs, services, etc. can be easily created.
You can not only create a website quickly but also receive all the required help from the developers.
Black and White is a serene and one of its kind exclusively designed theme that is loaded with powerful features. Just as the name indicates the overall aesthetics have been smartly developed and the layout has also been synced accordingly.
It is super flexible and also open for modifications of all kinds as desired by the project. There are no restrictions in adding segments or pages and the same applies to the type of content as well.
It also supports essential and important features like WooCommerce and one-click demo import. You can conveniently add important plugins to enhance functionality.
SKT Landing Page is one of the finest basic WordPress themes that you can use to create a stunning website. Whether you are creating a dedicated website or for an established firm, all essential features are available by default.
Moreover, to ensure that you have a grip over adding new features, inbuilt shortcodes are also offered. When it comes to modification and customization there is no restriction at all.
It also offers WooCommerce compatibility so that you can swiftly set up an online store. All kinds of addition, removal, and customization are easily manageable.
A customized website that is specifically developed as per the choices of the target audience is more likely to succeed.
Creative Agency is an out-of-the-box theme that is helping organizations and institutes across the world to set up a magnificent website.
The inbuilt template is stunning and impressive but it is also open for modification as required by the industry. Moreover, there are peculiar features as well that enables the firm or an individual to stand out from the crowd.
Any kind of additional third-party plugins that enhances the website performance or features can be conveniently added. There are no requirements at all for any kind of coding or technical knowledge to execute or implement any changes.
Lastly, it supports the latest version of WordPress and is responsive across all devices and browsers.
There are multiple niches and industries that inevitably require a website but with minimal design. SKT White Pro is the best option for addressing all the minute requirements.
The basic inbuilt template is impressive and has a mesmerizing layout. All kinds of modifications in terms of structure, layout, colors, fonts, and every other element is possible.
It is RTL-ready, retina-ready, translation-ready, and has been optimized for speed. Google Fonts are integrated by default so that you have a wide range of options for fonts.
HTML knowledge is not required for executing any changes and it is simple to handle from the backend.
It is fully documented and support is provided by developers for one year. Moreover, theme documentation is provided that helps out in resolving all kinds of issues.
The last and one of the most fascinating options in this compilation of basic WordPress themes is SKT Black Pro. The entire aesthetics in the core are designed in attractive black color.
The other highlighting and key segments are shaded with bright colors that attract the user's attention. The overall layout has been kept impressive and with different blocks so that all kinds of content can be easily added.
A slider is offered by default so that every important detail, achievement, and offer can be highlighted. Depending upon the website niche and industry a blog or an online store can be easily set up.
Lastly, all subtle requirements are addressable and third-party plugins can be added without any issues.