An amazing collection of bar and pub WordPress themes for bar and pub websites.
These bar and pub WordPress themes are suitable for all kinds of restaurants and cafes, bistros and pubs, tavern and wine houses, gin palaces, porterhouses and other food – centric businesses to give rise to their drool – inducing online profiles.
Today's competition between food and drink – related businesses is fierce, and you are either in the top – positions or you are behind.
And whether you are about to boost your deliverables and enlarge market – base or want to start your restaurant, bar, bistro or pub from scratch, modern digital platform with its boundless applicable channels is right there for you to effectively market online.
In this relation having a client – centric and responsive website with smooth navigation must be a top – priority for any suchlike business since it all the aggressive marketing strategies heavily rely on the website to anchor them.
Hence if you are planning to grow your bar or restaurant or other relevant business in an organic process ready to respond the client's needs and expectations from your, our list of bar and pub WordPress themes is specifically for you to delve into.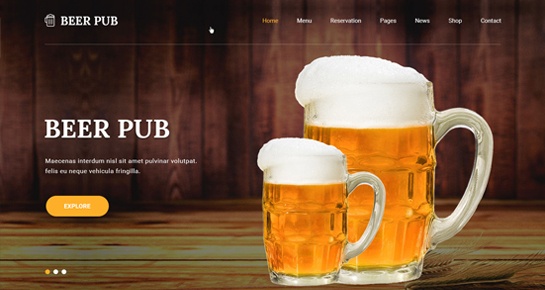 Beer and Pub is a WordPress theme created to help pubs and beer houses to create a website for their business with easiest method.
It comes with eye catching and elegant homepage layout that will help you to display updated information on beer and pubs. It uses page builder that save tons of time and efforts.
Because the page is developed with page builder it works seamlessly on every mobile and computer screen. Thus all the features are tested on cross browser platforms and it works better.
The template is also compatible with lots of plugin so that you can add your dream functionality within few seconds.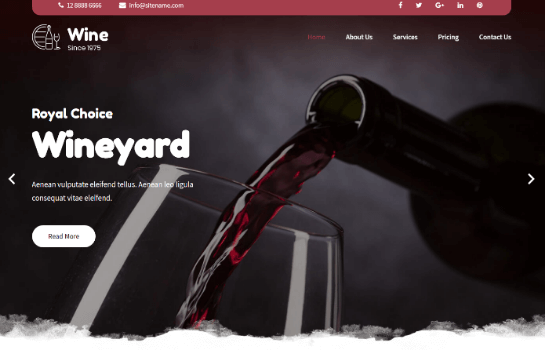 Wine Pro is a Bar and Pub WordPress theme that is a reliable and best solution for creating pubs and bars website. it has a professional homepage design that will allow you to add so many whiskey bars and whiskey bottles to sell them.
The template is effortless to work with. Very easy to apply changes and to customize the inner pages page builder is there which makes a personalization works effortless.
In addition to this it has enough functionality that is required to setup complete dynamic website. We would recommend this template for coffee shops, cafes, restaurants, hotels and other local businesses. Because of beautiful animations the user will have better user and shopping experience.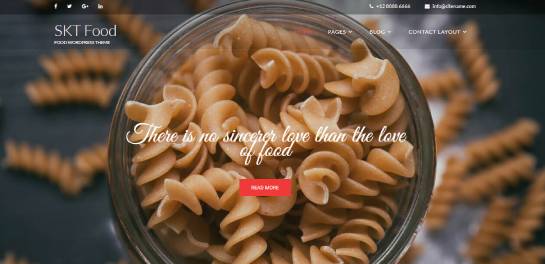 SKT Food is amazingly thought – out and professionally stylized, visually engaging and structurally accurate template ready to serve the needs of any pub or bar, restaurant or café and capture the natural charm and true hospitality of your business. This website building solution comes with prebuilt structure and alluring visualization.
However, you are the main owner of SKT Food with a never – ending authorization of managing and customizing your website to keep its flow concentrated on your purposes and aims.
Thus, you are powered to choose your favorite color touches and make them valid to sweep all diner – outs off their feet and persuade them to visit your physical locality
The bar and pub WordPress theme also has blog availability to run your personal food or drink, recipe or cooking blog and update your posts in a recent fashion for your readers to enjoy your online attendance.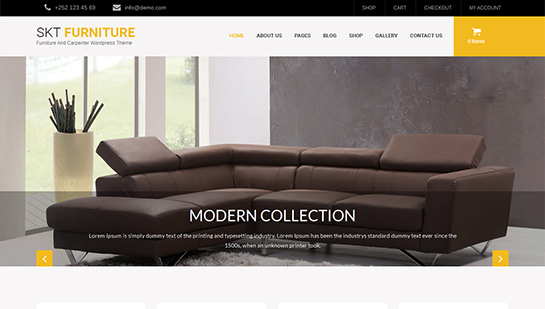 Ready to exude your pub or bar whimsical style, Furniture Pro is one of the most bar and pub WordPress themes to take care of the online face of your food and drink – centric business in an effort to keep up with ever – changing customer worlds and to satisfy all their claims.
This higly competent and integrative, visually elegant and enthralling website builder is nurtured with a cost – effective character.
It means that you are going to save your financial means and pay a totally reasonable price in order to make Furniture Pro the basis of your future website.
Equipped with handy tools and controllable elements, this template comes bundled with WooCommerce compatibility for commercial purposes, more than 580 font – based icons and more than 100 shortcodes to practice whenever needed, responsive and SEO – compliant nature and yet much more to be provided by this template.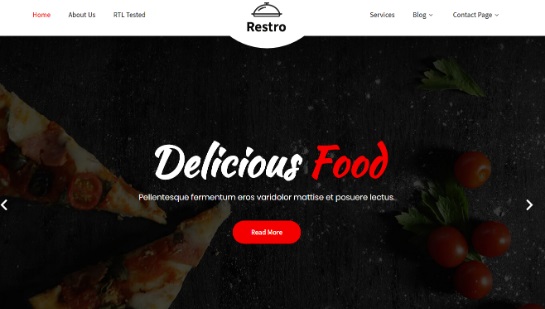 Meet beautiful and inherently credible Restro as another top rated sample among bar and pub WordPress themes. Fresh – faced and dynamic, sophisticated and well – laid out.
WordPress – powered Restro is custom – built to underpin your efforts in any initiative without coming out of your comfort zone.
Otherwise stated, you can put your ongoing or final touches to the given framework from behind the scenes without any difficulty or error or without the need to hire professionals to act upon.
Resilient and fully responsive, it is ready to cover any restaruant, cafe, bistro, pub, tavern, hotel, coffee shop or suchlike presentations with minimum endeavors.
Home, about us, our menu, gallery and other sections are at your disposal to share your informative content with your audience, blog section to keep your profile up to date, etc.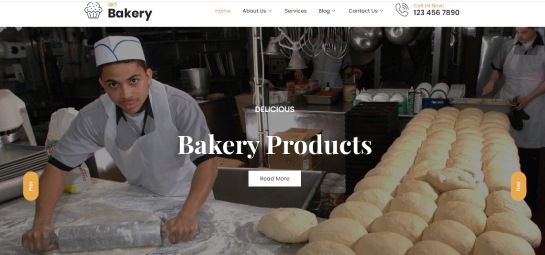 Balanced between presentable visualization and high – end inner functionality, We Bake is a theme that is available in the current marketplace of cost – conscious templates built and polished to unmistakably proceed with all your instructions and exceed all your expectations.
All in all, if you are inclined to establish long – lasting communication ties with all your potential visitors and clients, look no further than We Bake.
This template is ready to effortlessly exemplify all the hospitality and client – oriented approach of your pub or bar and give all your website visitors a feeling of comfort.
Take the initiative in your hand and offer your menu items, special offers and other services in an attention – grabbing and appetizing way with We Bake. Build your premium -quality website and make it responsive across all the platforms and devices.
Coffee Shop as one of the top bar and pub WordPress themes is structured and updated to deliver persistence and precision no matter what kind of content you are going to showcase.
Multipurpose at its core, this template never feels clueless when it comes to proudly exposing your restaurant or pub in an effective fashion, yet with minimum costs and work to be done on it.
Hence you are powered to exercise all the available home sections, such as home, about, price, gallery and contact to add your much – needed content and let all your web surfers navigate through your posts smoothly.
Bound to impress all your present and future clients and customers, Coffee Shop is also plugin compatible, as well as totally responsive and mobile – friendly.
Framed to wonderfully comply with all the modern requirements prioritized by WordPress community, responsive and cross mobile compatible, Furnish is the one to get your restaurant or café, pub or bar shining in the online domain letting all your web visitors catch a glimpse of it as soon as they land on your profile.
This well – projected and processed theme of SKT production fosters self – reliance based on self – hosted approach.
Moreover, the theme has been trained to be totally controllable for every web admin without getting his hands dirty in complex coding procedures.