Agriculture WordPress themes have been listed here for your reference
A top – notch selection of the best agriculture WordPress themes to be a clear forethought leading to touchable deliverables for farmers, ranchers, landscapers, gardeners, organic food industry, as well as anyone dealing with agriculture and nature – related activities.
Rapidly changing consumer behavior in the contemporary digital platform continually compels businesses to leverage their potential and reveal it via the online channels to reach more visibility and be accessible to the consumer market.
This is also true for the agricultural sector with lots of new technical and marketing solutions to monetize the respective business.
Hence, whether you are marketing your agricultural goods and services domestically or internationally, having an environmental – friendly and niche – specific website with presentable look and informative content matters the most when it comes to customer engagement into your business.
In this relation we have kicked around some of the agriculture WordPress themes of SKT Production that are strong enough to survive irrespective of the heavy content to be loaded or constant customization and management options to be carried out for the best results.
Moreover, all of the offered templates are based on a durable foundation that is a tough nut to crack, therefore you can be sure that your website and its content will be secured from any attacks and hacks.
Farming is an agriculture WordPress theme that will faster adapt all variants of changes. You can use any page builder to edit the website as per your business requirement.
This template has come up with lots of features and awesome layout design that will give you lots of advantages in terms of SEO.
Farming is included with beginner friendly design that will never ask you to code for any functionality just adds tools for establishing the functionality you want. You can take a help of complete documentation, you will have fun while personalizing website. Unique demo is downloadable.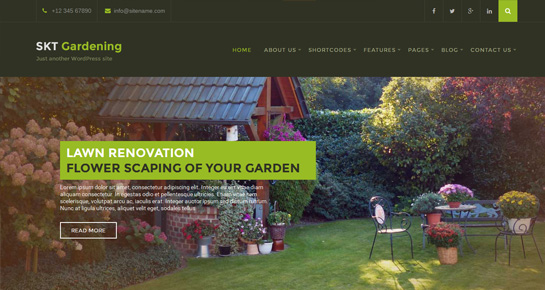 Meet SKT Gardening as one of the most valuable agriculture Wordpress themes for farmers and cultivators, gardeners, agricultural or organic farming business representatives and service providers to satisfy their market needs on a continual basis.
The essential points that govern this wonderful website builder are amazing user interface to accelerate your workflow, entirely lightweight coding to avoid from heavy loading, nature – friendly overall appearance with dominant green color, 100% responsiveness across all modern portable devices and mobiles
SEO – friendliness of SKT Gardening has also been ensured to lead quantifiable results via search rankings, as well as plugin compatibility has been tested with SEO plugins, qTranslate X and other language – based extensions, WooCommerce plugin for running an online store and selling your organic and healthy products, etc.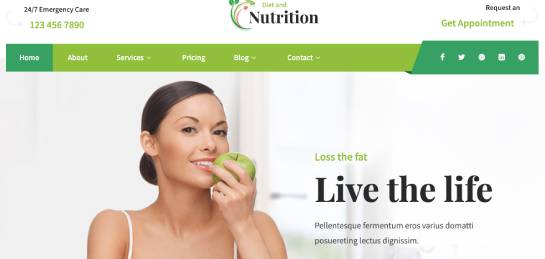 Diet and Nutrition with its fresh – faced, yet clean and accurate design, user and customer – centric operational framework shares all the capabilities of being your digital success formula. Keeping an eye on your digital empire is for sure of primary importance all the time.
With this template you are capable of monitoring your agriculture – related pages and customize them accordingly whenever you may think it's reasonable.
This premium – quality and totally accomplished template loading as a homogeneous mixture of simplicity and precision, totally understandable admin dashboard and functionally saturation, cross mobile and device compliant performance and precisely – formatted theme sections and parts makes complicated procedures and tasks as easy as pie.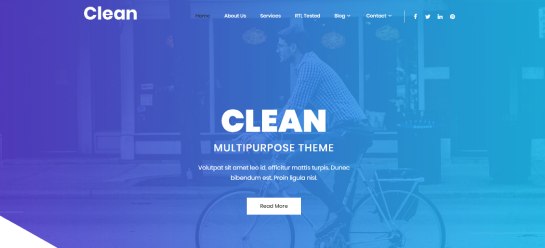 All the advantages of going clean and minimalistic have been profoundly used in Clean Pro to provide every website admin with enough white space to highlight the core points of hit agricultural business and its expertise.
Removing all the less desirable shadows and traits and leaving nice – looking slider on the homepage will grant you with a top – quality site around to get your content and images more streamlined and to the point.
Clean Pro is another preferable sample in our list of the top and best agriculture WordPress themes that seamlessly makes the transition of your website to all the major mobile and device screen dimensions for the impeccable look and feel, as well as comes bundled with handy toolbox to control the website from behind the scenes easily, yet effectively with some simple clicks.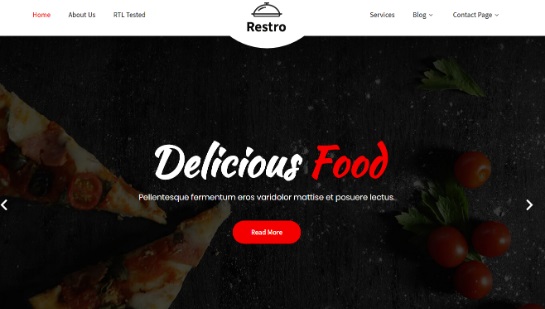 With ready to go platform adjusted to your agricultural – centric needs and business objectives, yet with less maintenance required in the future, Restro is a perfect solution for any farming, food and drink – related web presentations, as well as for governmental and private institutions supporting rural and agricultural development.
Share all your relevant information through your posts and pages, categorize it to celebrate easy to search and find approach, get in touch with your potential clients and benefit from your digital profile to the highest extent with Restro.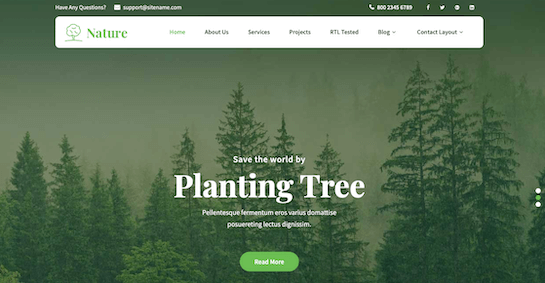 In order to enter straightway into digital communicative relationships with all partners, clients and purchasers, Nature One Pro has long proven itself as another credible template in the repository of agriculture WordPress themes to give rise to a nature and farming – centric website that will be unparalleled in readability and safety.
Stylized with lively and bright, fresh and pure color combination to generate the smell of the nature across your website, as well as unbeatable across the majority of low – powered devices and gadgets, Nature One Pro affords you all the top – class website controls and qualities without any buzz across coding and other complex processes to experience on your way to perfection.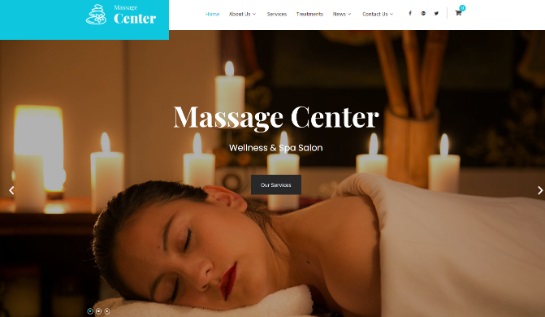 Massage Center has been scrupulously processed and proudly released by the professionals at SKT Themes to facilitate your website creation and customization processes. Inherent simplicity and user – friendliness of the theme layout transform website management and configuration into a trial even non – techy admin can handle.
From affordable and cost – conscious price in the relevant marketplace to completeness in all its exhibitions, as well as by keeping a tough correlation between feature – rich toolbox and lightweight performance guaranteed smooth and error – free navigation and browsing experience of each website visitor, Massage Center makes the most when it comes to communicating your message to your clients and customers instantly.
Well – designed to tailor to your needs and requirements, Go Fishing is ready – made to improve your communication ties with your audience.
All the spheres and branches of agriculture, as well as other related industries, among them farming, gardening, landscaping, health and nutrition, fruit and vegetable growing, organic food and medicine, fishery and others can be showcased in the most alluring and customer.
Focused manner to promote your business online, as well as let your company or business profile easily tracked by the qualified search engines.