We have enjoyed our time scouring the Internet for the best agency WordPress themes and are going to shed light on them in this article.
This top rated and high quality template can be the best start for your digital or marketing, business and financial, as well as other creative and corporate agencies, as well as portfolio based businesses.
In case you want to take your marketing and advertising, client engagement directed efforts into infinity, a serious looking website is where your success journey starts from. It is going to be the fair reflection of your identity or business nature aimed at generating more leads and prospects.
We are here to help you master the technique of building the best agency websites with the assistance of the best agency WordPress themes.
If we try to summarize their true nature in a few words, we have to stress the fact that all of them have gone through the profound checks and updates to meet the needs of the rapidly evolving digital arena and the demanding modern customers at the same time.
The truth is that each of those agency WordPress themes is never challenging for you to grasp it in its entirety and discover its true character. All of them are pretty affordable both in purchasing and usage while giving you thousands of customization controls.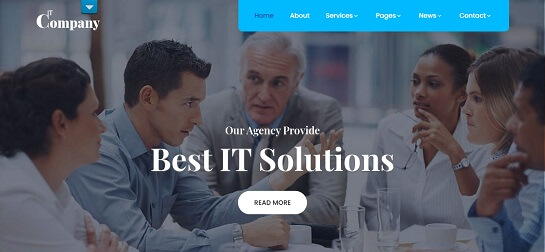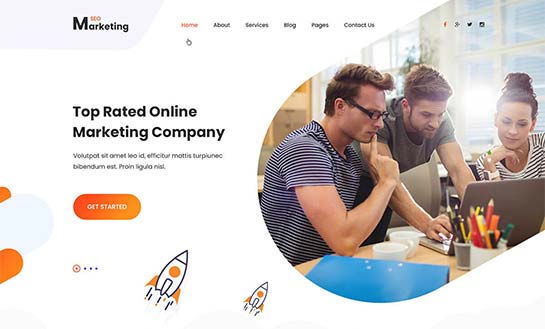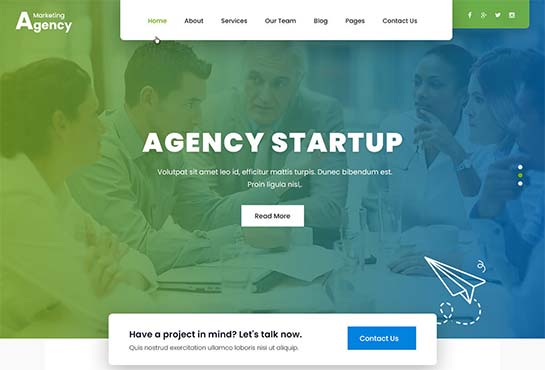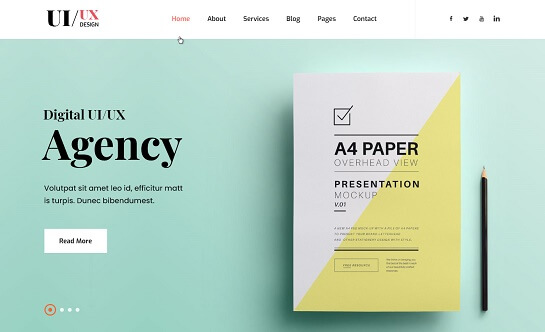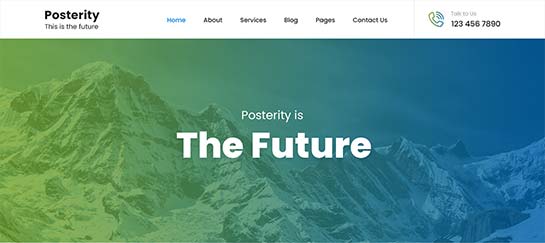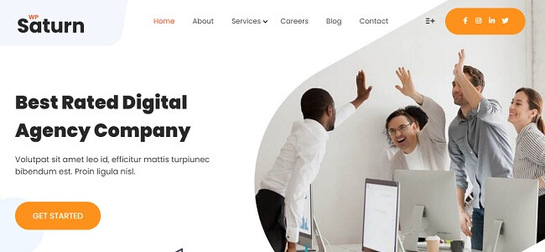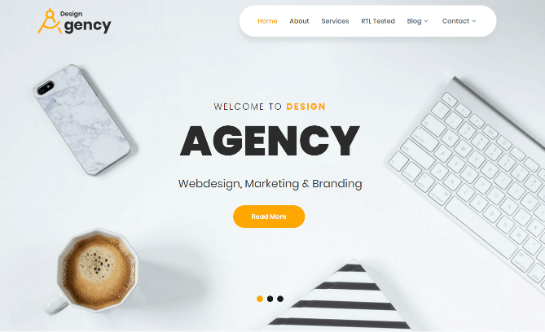 Design Agency Pro is one of the magnificent agency WordPress themes you can ever find in the current marketplace of WordPress powered products.
Whether you want to add creativity and beautiful shades to your old dated website or create a completely new digital face for your agency, Design Agency Pro is an option in either case.
Visually dynamic and entertaining, this template will let you get ready for a site building and customizing experience with 0 coding and design knowledge.
By the application of Design Agency Pro you have constant access to colors and fonts to create any kind of combinations, homepage slider to add the best and high quality images and portfolio items.
Ele Agency is meant for ambitious bosses and agency managers, private portfolio owners and contractors, financial agencies and consultants to get their sites up and running easily.
With this professionally designed and clearly coded website builder, your future website is going to be more efficient and results driven since it will be deeply responsive and SEO friendly.
It means that you can expect more web visitors coming both from mobiles and other portable devices, as well as via search engine inquiries.
The theme's unique structure with convenient content areas makes it simple for you to add your own content, including agency profile, its members, services, contact details, etc.
SKT Pathway PRO is the next trustworthy template among agency WordPress themes that is built upon durable and firm basis. This elegant and clutter free template will seamlessly go with anything you desire, be it your marketing or SEO agency, portfolio or photography website, business profile or whatever it is.
Dozens of useful elements and controls are included in SKT Pathway PRO to give you a head start in your digital experience.
It means that you can create and enjoy thousands of rockets and combinations when it comes to the theme colors, fonts, icons, content deployment, plugins to be added to the default template, and more.
Complete Pro is all inclusive and unimaginably superb template that totally eliminates the need of hiring professionals to adjust it as per your needs or business policy.
In terms of finances, this template is also relatively affordable yet packed with premium quality features and elements. It's a multipurpose and fully saturated template to host a website of any kind, size or nature, without any kind of exceptions.
Thus, this responsive and admin optimized template is what you need to enjoy boundless functionality of your agency or corporate website. Based on modern coding and styling principles, it comes powered by HTML5 and CSS3, Customizer at its core for quick updates in content, ecommerce and translation readiness.
Responsive layout, cross mobile and browser compatibility, custom post and page layouts, font and color managements and much more are wrapped up in Clean Pro as one of the best agency WordPress themes.
The visual excellence of this template is also one of the best tools you can exercise to make your content appealing and easy to perceive at the same time.
Lots of shortcodes can be found in the theme for gallery, contact form and more, as well as footer, header and sidebar areas all widget friendly. Animated boxes can be added to the theme for better content dissemination, as well as practical plugins for adding the required functionality or systems to the site.
Girlie has a thing for elegant and subtle design, added to the theme specifically for the needs and tastes of women and girls. As such, this template is the best for modeling agencies, girl bosses to showcase their talents via portfolio items, make up and nail studios, stylists and others.
It is stylized and decorated to capture and entertain your web visitors while they are scanning your content and offers, services and staff.
This creative and modern looking template is also well optimized for mobile and device usages and shares plugin compatible nature to run online shop, enable social sharing functionality, etc.
SKT Panaroma Pro is the last website building candidate among the most practical agency WordPress themes for creative and digital, image and portfolio based agencies and centers.
The theme's no fuss, hassle free and clear personality is ready to demonstrate the best pieces of your portfolio, projects and more in a slides spanning the whole of the homepage.
Ready to craft any kind of digital face, SKT Panaroma Pro comes with color and opacity changing options, more than 100 available shortcodes, SMO and SEO friendliness.
If you're planning on entering the world of marketing and advertising, which needs a whole lot of engagement with various types of clients, you need something worthy enough to meet all your requirements.
If you want your business to very successful from the start, you need a strong tool that will help you every bit on the way.
This website will reflect greatly on your overall identity and business, and thus it will help in creating more reach towards larger audience base, and more customers. That's why you need Agency WordPress Themes beside you, to do all kinds of heavy lifting for you.
In order to build success on your new website, the website needs to be very much dynamic, with various kinds of checks and updates, to help you stay with the latest trends and such, and thereby make all your work very much easy and straightforward.
This will help you concentrate on the other avenues of your business, so that success could come much faster. These Agency WordPress Themes will not only help you build your perfect websites at an affordable rate, but also enrich them with huge levels of customisation too.
For starters, with Agency WordPress Themes, adding varying levels of customisation that will make your website look creative and visually magnificent, moving away from that age old look of your website.
It helps you to create an entertaining and dynamic website, along with high quality photos or images and homepage sliders, to give your customers a good first hand experience. You don't need any kind of coding or designing skills to do any of these.
Coming to other types of businesses, like financial agencies or consultants, who also want to set up their websites – these businesses need efficiency and are always driven by ultimate results. In order to cater to that use, Agency WordPress Themes is the way to go.
Your website will be optimised for usage both with mobile and other portable devices, so that you don't lose any customer.
Apart from that, with the introduction of SEO or Search Engine Optimisation, there will be more chances for you to capture the market, because more customers will know about you, your website and what you do.
Not only that, with various premium features and functions, and options for all kinds of website building, Agency WordPress Themes, just makes the whole work very easy, to be honest.
From making your content very attractive and compelling to the required customers, to easily customise the whole website to your needs – you can have options for anything. The whole process will be totally hassle free.
Agency WordPress Themes also comes with SMO or Social Media Optimisation too, so that your website can also reach out to the social media audience too.
There is also support for various types of plugins too, so that you don't miss out on anything. With all these huge set of features, building your new agency website with Agency WordPress Themes makes a lot of sense.