The best pieces of adventure WordPress themes for all the tour operators and adventure sports
Hiking and travel agencies, eco – tour businesses, travel journals and for all the stakeholders in the relevant field these adventure WordPress themes are suitable.
WordPress content management ecosystem has taken every care to categorise its adventure WordPress themes to be the best in the marketplace with their inclination to simplicity and relevance for all those non – professional tour and travel website admins.
Thus, those products deem to be must – have tools for all the target agencies and companies to promote their business online, be the best guidance for their clients to find the awesome spotlights to visit, and on the whole, exercise all the possible tactics to lead to more bookings.
In order to build mutually beneficial cooperation with partners and communication with the current and potential customers you'll for sure need one of the below.
Specified adventure WordPress themes with clear and precise structural tip and boundless prebuilt forms and features to buckle down to work and reach out to your target audience irrespective of the location and time – zone of your website viewers.
Adventure is the most famous template among the list of best adventure WordPress themes because it is specially designed for travel bloggers and individuals to explore their journey and a travel experience they had.
This template is supported with a beautiful gallery and portfolio section that can be used to share and funding journeys. This template is compatible with the slideshow feature and coherent with the revolution slider plugin.
The adventure also comes with the support of Google Map integration to guide website visitors with direction. Also, it comes handy with social media plugins to share your journey with your followers.
Every element presented in this template is beautifully coded. With beautiful color and fonts option, you can make your homepage beautiful and astonishing.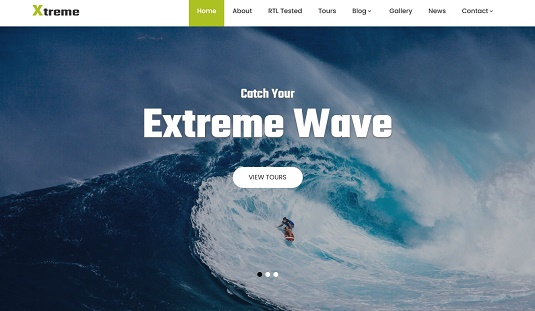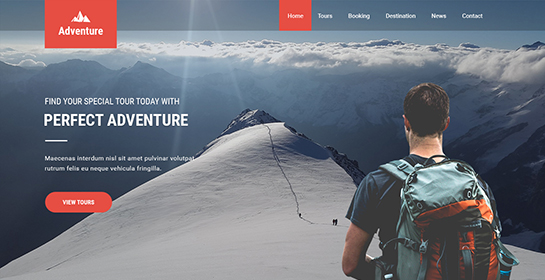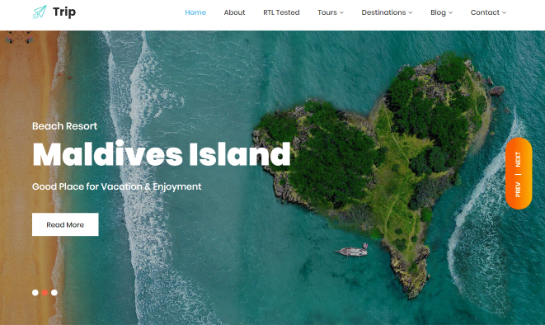 Scale the collective intelligence and potential of for displaying all your tours, packages, services, special offers, etc in the effective fashion by means of The Trip the travel WordPress theme as a premium quality template, tailor – made to satisfy all the needs of every adventure travel industry, blog or magazine.
All your high – quality information with the respective promotional pricing can be showcased in the theme sections, so that the website readers can view the whole content and find the best package or service for him.
For the more perspective outlook, The Trip is integrated with responsive web design solution and easy to use admin dashboard to control the web pages from backend and have their preview before they become activated.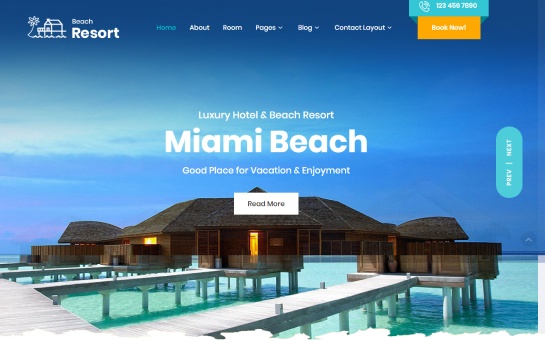 From interesting and alluring design and graphical shades to simple and lightweight, yet advanced and truly flexible platform in compliance with all the major standards of the current digital reality, SKT Beach is the next out of the many adventure WordPress themes that will be a joy to purchase and play with.
The neatly constructed and polished framework of the theme is an ideal tool for inserting all the tours and social packages in the ranked and classified format instead of spreading them into the mix and causing search – related troubles for your clients and customers.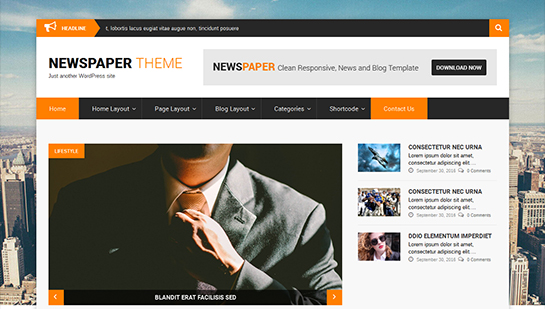 SKT NewsPapaer Pro is creatively crafted and made WordPress template suitable for any kind of creative tour and tour operator, adventure traveling and hiking, hotel and apartment websites, travel journals and magazines, as well as for other individual or corporate undertakings.
This exceptional WordPress – related tour web maker comes with tons of original, yet essential features and essentials, including cross mobile compliant coding, so that your content will be accessible for the people on – the – go.
Color changing variations to change the overall look and color gamut of the web pages, lots of shortcodes inclusion to manipulate with your theme with little effort and without writing a single line of code and this is only a little part of the theme arsenal to be practiced by the webmaster.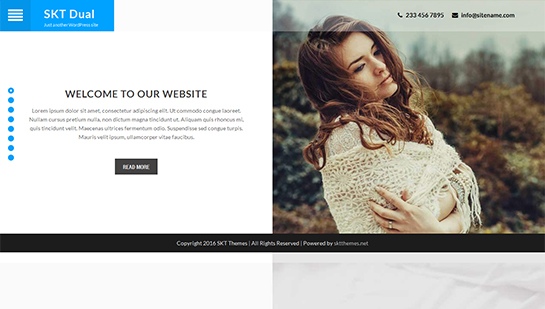 The next user and customer – specified, easy to use and follow, smooth and sleek, inherently complete and plugin – compliant of the many adventure WordPress themes to streamline your tour agency or journal workflow is SKT Dual.
This amazingly convenient and functionally saturated website building and management tool will let every single website representative to add and remove, stress out or hide whatever is needed in his website without getting his hands messy with codes and coding combinations.
SKT Dual is a product that leverages elegant and stylish outlook with the most customizable operational environment to form a strong unity to take out your website from an experimental stage and take it to more advanced level of popularity and customer conversion.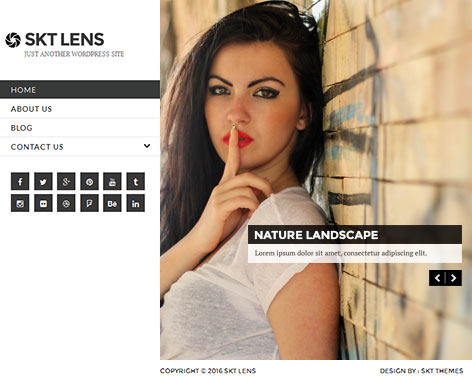 In case your primary concern is to provide your thousands of clients with top – notch user experience and persuade them to use your tour and travel – related services.
SKE Lens Pro pretends to be an awesome assistance to you, that will build up a website of a lifetime, so that you don't feel to run something outdated or of low performance.
Display your adventure and extraordinary tour services in the most customized and cozy way, offer the best directions, destinations and residences, provide the website visitors with all your contact details, give links to your social profiles in diverse networking systems.
So that the latter can choose the fitting way to get connected and receive a satisfying customer support from you.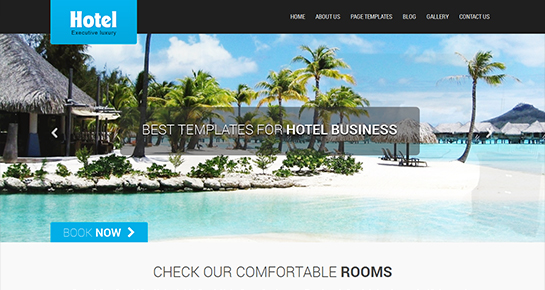 With polished and pliable, user and admin friendly adventure WordPress themes in the form of Stay Here you will have the validity and all the chances to render your passionate work style and tour planning and hospitality experience in the relevant tourism field.
Being a skilled WordPress master or experienced developer is not a precondition in order to understand this template in its core and project the final appearance and feel of your dream adventure website on your own.
Stay Here has been fully checked out by thousands of active installs to celebrate mobile – friendly and device – supportive framework, Contact Form 7 compatibility to create the most practical contact and reservation form, e – commerce practicable nature and much more.
SKT Full Width Pro is not only about convenience and adaptability. In total, it proves itself as a smash alliance of modernity and creativity offering exceptional visualization, as well as super professionalism and sophistication offering lots of drag and drop building tools.
This handy toolbox is specifically convenient not only for adventure tour operators and agencies, but also for adventure photography and magazines to showcase your high – resolution images and photos as background images.
Share the affordable and the most desirable packages with your customers and make use of tons of advantages of this modern product, which is constantly in an effort to keep up with rapidly developing digital platform, and which has already assimilated all the practical channels of speedy consumer adoption of the current online platform.
The progress in the website world is interesting to see. The world is running at a fast pace and to match the needs every business is required to own an online presence which will help them reach out to the millions of people out there.
The WordPress themes have been a very simple to use and accessible platform which makes the website creation an easy job.
The world of adventure sports and activities has been no different. The people who are a part of this business often feel the need to share the outstanding activities in the medium suitable for transfer that adrenaline rush even if virtually.
Sounds a little impossible right but they say that media content has that power, with powerful worlds and quality images/ videos the same content can be transferred to the viewers with higher impact.
The WordPress content management has created a strong ecosystem which has made significant efforts to create themes which will be suitable for business related to adventure. This could include travels agencies, journals, bloggers etc.
The world of adventure is increasing and many people are now out on seeking new challenges. The whole customer size is not just related to the young generation, many people from the older generation are now open to new experiences.
This shows that the whole world is ready for a change. This being said the business now seeks new opportunities to make the customer base grow. This can easily be done with the help of adventure WordPress themes.
The process of website creation which earlier took months and would involve a lot of costs has been simplified. The adventure WordPress themes are ready to use themes which have all the added functionalities.
They come with a huge flexibility that means that the users can easily create the website within a day. These websites can have all the features that the creator wants.
The inbuilt features are amazing but if there is a need then added features can be included with the help of plug-ins. These plug-ins are a great source of additional functionality and the adventure WordPress themes are highly compatible with them.
The users can use the plug-ins from WordPress or can include the plug-ins by a third party. The customization and compatibility are the two things which make the WordPress a stronger platform.
Since it is common that every business requires very specific features WordPress has made an effort to create themes which are very niche specific. The users can then look for these themes and build on them. The question that most users have is around the SEO- which is well taken care of with WordPress.
Since no website can operate without a great SEO the WordPress themes are created with such functions that allow the website to enjoy the higher ranking status on the search engines.
The codes are written by professionals which are simple and powerful so that the websites are easy to run and highly accessible. The users of WordPress most often look at the functions and choose to stay on the platform.