Finding the perfect WordPress theme for different business areas may be daunting, especially for the visually impaired. Also, it is very crucial to keep visitors interested in your website and support the expansion of your business.
Here is the list of 15 accessibility ready WordPress themes that the Visually Impaired can use for their business. These themes are available for different businesses, so it will be really helpful for a wide range of visually impaired audience.
With amazing and professional looks, SKT CoachPress is nothing but the best theme for the websites of public speakers, motivational speakers, non-profit organizations, etc. Whether you are a beginner or a pro, this word press theme is suitable for everyone.
This WordPress has multiple functions and concepts. With no slowing or lagging down issues, the SKT CoachPress theme is highly adaptable and multi-purposeful.
Also, the SKT CoachPress is available in an attractive color coding for the ease of users; a search bar is included on the theme's homepage. In this theme, WooCommerce and Email plugins are also present.
Easy customization of the widgets provided by this theme
Users can get a full, ready-made website solution with this WordPress theme.
This theme engages the audience with an amazing animation effect
SKT WordPress theme is RTL-compliant.
GB T-Shirt is one of the finest accessibility ready WordPress themes, and as the name itself suggests, this WordPress theme is best for a cloth shop or boutique shop owner.
With this theme, there is a CTA button and a feature for replacing contact numbers with skype IDs or email IDs. This WordPress theme is multilingual-friendly, so visitors can convert your website into the languages of their choice.
Different features have been incorporated into this theme, which also helps in creating your website effortlessly. You can easily upload the JS/CSS file without entering any code.
The functionality of this theme has been improved by Gutenberg.
This word press theme has four amazing homepages and a retina-ready feature.
GB T-Shirt has a custom header style option and a slideshow banner effect.
This theme is compatible with WPML Plugins.
Being versatile, the SKT Infotech WordPress theme is excellent for web development service providers, professional web developers, teams, and architects. This theme has been incorporated with Gutenberg, and different devices like tablets, PCs, etc., can view this theme.
In this WordPress theme, JSS, CSS, and PHP files are combined to retain the effectiveness of your website.
As one of the best accessibility ready WordPress themes, SKT Infotech also has a customizable dashboard, multiple payment options, a color picker function, and many other functions that make the user experience extremely comfortable.
This WordPress theme is RTL-Compliant.
SKT Infotech has shortcodes, widgets, high-quality features, and Google map integration.
This SEO-friendly theme makes it easy for users to find your website.
Tables may be added easily and quickly.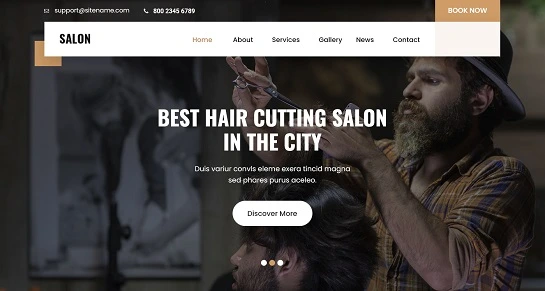 A multipurpose and multifunctionality theme, the GB Salon WordPress theme is best for salons, spa centers, hair stylists, and other businesses supporting the skincare and haircare industry. It is a translation ready and an RTL-Complaint WordPress theme, so the users have a good experience.
Users can also use functions like top qualities audio, video, images, text, animations, color options, tables, etc., on this theme. Users can also use the feature of the WooCommerce plugin, where they can create a separate page to sell their beauty products.
This WordPress theme supports adjustments and has a useful dashboard.
It is simple to change the inner banner of the pages.
This WordPress theme also has SMO and SEO plugins.
It is possible to build a blog and combine it with the WordPress theme.
Being one of the popular accessibility ready WordPress themes, Agri Farm is great for agriculture farms, flower businesses, fertilizer businesses, poultry farming, forestry, tea leaf plantations, cultivation, and other niches.
This theme has complete documentation, and therefore the execution process with this WordPress theme is easy and quick. Being an agriculture field WordPress theme, it is compatible with page builders like with page builder plugins such as Visual Composer, Divi, and Elementor.
This WordPress theme is supported by WooCommerce, because of which any user can easily set up an online store.
There are more than 100 shortcodes inserted in this theme
There is the availability of 4 layout variations in this theme.
This theme has a free installation.
The website can be made to load incredibly quickly by using cache plugins.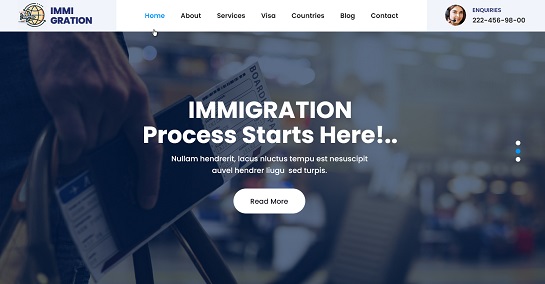 Being in the list of accessibility ready WordPress themes, the SKT Immigration theme is a powerful theme for visa counseling businesses, city portal websites, immigration service providers, and governmental organizations assisting immigration needs.
Gutenberg page builders have also been used to maintain the proper functionality of this theme. This theme's homepage has CSS3 animations that will help you draw more visitors to your website.
To code this SKT Immigration WordPress theme, CSS3 and HTML5 were used.
The theme possesses HD-ready and retina-ready features.
High-resolution images and videos can get uploaded on this theme easily.
SKT Immigration WordPress theme is RTL-Complaint.
This theme is also compatible with the membership and forum plugins.
If you belong to companies that deal with Ayurveda, nutrition, edibles, groceries, medications, medicines, herbs, Unani, meditation, reiki, etc., then the GB Ayurveda WordPress theme is best for you. This will help these businesses to create a dynamic template.
The theme used in this WordPress theme is cross-browser compatible and therefore is compatible with nearly all browser types, including Opera and Google Chrome. There are also booking and appointment plugins so clients can choose a service from their zone.
Gutenberg has also been used in this theme for a better user experience.
This theme also has customizable features and designs.
There is a Bottom to Up icon in GB Ayurveda.
With this theme, the custom post type is accessible via shortcodes.
GB Podcast WordPress theme is best suited to people who belong to podcasters, marketers, advertising agencies, artists, vocalists, freelancers, and many more fields. Being one of the most effective accessibility ready WordPress themes, there is complete documentation and easy execution in it.
For beginners, there is demo content that is present on this theme so that they do not face any problems while using this WordPress. There are more than 2000 icons present on this theme, and the theme is completely compatible with these different themes.
The PHP scripts in the GB Podcast WordPress theme maintain this website's efficacy.
GB Podcast is RTO-Complaint and SEO-friendly WordPress theme.
You can customize animation, background, etc. things in this theme.
Top-quality media files can be easily added to this theme
This WordPress theme works with 404 error pages.
If you are into spiritual business or if you are promoting Tao or Taoism, then the SKT Taoism WordPress theme is best for you. This WordPress theme is versatile and dynamic, with various color options where every color can be changed effortlessly.
Users who are using SKT Taoism will have support for 1 year. SKT Taoism WordPress theme is RTL-Complaint, and more than 1500 icons and more than 1300 Google fonts have been inserted into this WordPress theme.
Demo content is included with SKT Taoism to ensure a seamless execution procedure.
This WordPress theme is compatible with Newsletter and Mailchimp.
This WordPress theme offers five different possibilities.
This WordPress theme is compatible with general widgets, ad widgets, etc.
The inner banner of this theme is editable.
This is one of the best accessibility ready WordPress themes, and as the name suggests, it is for anyone who wants to sell shoes to their customers or if you own a leather business.
For beginners, there will be expert guidance so they will not face any problems using this WordPress theme. This theme is also SEO and search engine friendly, and to check the compatibility of this press, it has been tested with Mail Chimp and Newsletter.
This WordPress theme has easy execution as the theme offers full documentation.
The availability of practically all options on the homepage has made managing.
This WordPress theme's header and footer sections are widget-friendly.
This theme is compatible with a variety of icons.
More than 2000 icons have already been made available.
For working professionals in the skin care industry or people who work in offering skin care products, solutions, or services, GB Skin Care Pro is best for them. Also, sliders such as Accordion and Cyclone work flawlessly with this WordPress theme. This is one of the finest accessibility ready WordPress themes.
Because of the variety of features, clients will find using your services and products much simpler. The GB Skincare theme comes with more than 1300 Google fonts.
This WordPress theme can be updated with only one click
This WordPress theme loads quickly, and all its components are of the highest caliber.
HD-ready and Retina-ready WordPress theme.
There are six menu options, services, a blog, and an about section.
Going with what the name suggests, the GB Insurance WordPress theme is made so that it fulfills the requirements and needs of insurance agencies, insurers, insurance agents, and other financial agents.
There are 6 menu options, namely contact page, blog, pages, services, about, and home on the homepage of the theme. Also, because Gutenberg enhanced the entire website, this Agency theme's pages are all powerful and aesthetically pleasing.
And the entire layout of the online store can be edited using Gutenberg.
Guidance is present on the theme if any user faces any difficulty
There is an availability of more than 1300 Google fonts.
Many shortcodes are available on the WordPress theme for customization.
The theme is also WooCommerce compatible.
If you are in fast food businesses, restaurants, bakeries, and other food-related business websites, then the GB Sandwich WordPress theme is best-suitable for you. It is highly dynamic and versatile, so this WordPress theme can be used effortlessly.
There are plenty of color options available on this theme, and it also offers a variety of customizable colors. Being one of the best accessibility ready WordPress themes, GB Sandwich is RTL-Complaint, and the gallery plugin works best with the GB Sandwich theme.
More than 2000 icons have been incorporated into this GB Sandwich WordPress theme.
All the animation effects are removable.
Google translate widget, Polylang plugin, and WPML multilingual plugin are compatible.
This theme also has 1300+ Google fonts and theme check codex standards.
This WordPress theme is mainly for those who are into the business of plant-selling or any other business associated with greenery. Like many other WordPress themes, this theme also comes with six menu options, pages, about, blog, and services.
Because of Gutenberg's enhancement, this agency theme's pages are all incredibly attractive and effective, thanks to Gutenberg's enhancements. Plugins like BuddyPress, bbPress, forms, events, etc., which are from the best plugins, are compatible with GB Plants pro WordPress theme.
Every change you make to the layouts, widgets, text, and other elements are accepted.
High-quality media files can be easily uploaded to your website
With GB Plants, accordion and cyclone sliders work.
This theme also includes a 404 error page.
SKT Specialist is a WordPress theme specially designed for tax advisors and the finance industry work. This theme looks at every facet of the financial industry, including financial institutions, insurance providers, brokerages, legal services providers, and investment firms.
SKT Specialist can be used as a ready-to-use theme by anyone who uses accounting business. And from the backend of the CMS, you can alter the color. For a better experience, you can also add the Slider Revolution plugin and Visual Composer plugin.
In this WordPress theme, Different color palettes make up the theme.
You can build your website from the start without the help of shortcodes
The website may be easily updated with new content
These pages can be edited using Elementor and the WordPress page builder.
Conclusion:
The 15 accessibility ready WordPress themes mentioned above for the Visually Impaired has various features that are completely free. WordPress theme for different business niche has been mentioned for the Visually Impaired, which can be helpful for them to grow their business