WordPress themes are an essential tool for anyone looking to create a website that caters to the plumbing industry. The themes are specifically designed to meet the needs of plumbers, plumbing contractors, and other professionals in the field.
Its user-friendly interface and customizable features allow users to create a unique and professional-looking website that effectively showcases their services and products. The theme comes with a range of pre-built templates and widgets that make adding important information such as contact details, service descriptions, and pricing plans easy.
Moreover, it is fully responsive, meaning that it can be accessed on any device without compromising functionality or design. This makes it an ideal choice for businesses looking to reach out to customers on the go. Overall, the plumbing parts WordPress themes are an indispensable tool for anyone looking to establish a strong online presence in the plumbing industry.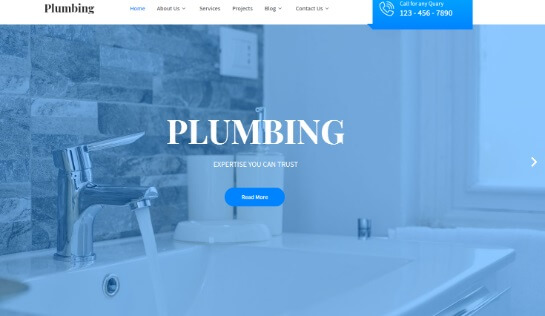 Free plumbing services This WordPress theme was developed specifically for enterprises in the plumbing, repair, pipe mending, sewage, and other drainage industries. The website template is an excellent choice for a company that specializes in heating and drainage, plumbing, and contractors, as well as for organizations that cater to individuals.
Elements may be used in the construction of the website if a page builder such as Elementor is utilized. The SKT Plumbing plugin is fully compatible with all variations and editions of WordPress.
The website template is an excellent choice for a company that specializes in heating and drainage, plumbing contractors, as well as for organizations that serve to individuals.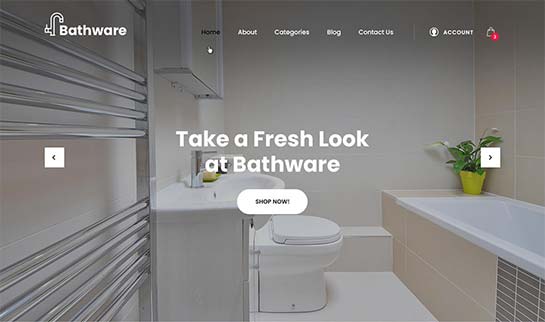 SKT Bathware is a WordPress theme that was developed specifically for the purpose of targeting businesses that are in some way connected to bathrooms, such as those who sell bathroom fittings, bathroom retailers, bathroom accessories, premium bathroom service providers, trendy rest-room designers, and so on.
When using SKT Bathware, the procedure of developing a website will be carried out in a more relaxed manner. Products, such as bathroom fixtures, plumbing systems, sanitary ware, sinks, bathtubs, shower units, bathroom fitments, toilet bowls, and many more, are simple to sell thanks to WooCommerce integration.
Products include these and many more. The Bathware WordPress theme is completely prepared to make your goods and services accessible to customers all over the globe.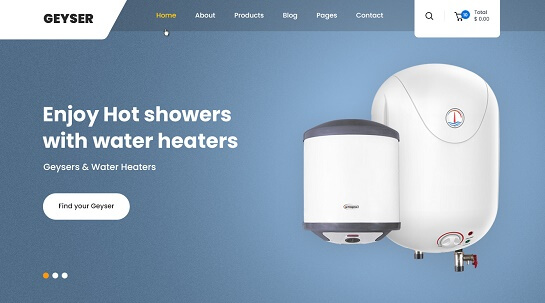 Even if you currently have a firm that repairs appliances and you don't have the time to develop a specific WordPress theme for electrical appliances to sell your electrical shop online, you may discover SKT Geysers as a ready-made answer for all of your difficulties.
You may now construct your very own eCommerce website in a very short amount of time by using this template. This theme is capable of handling all of your needs, regardless of whether you want to sell just one product or thousands of goods, since it is both powerful and simple to use.
The fact that SKT Geyser may be modified without requiring any knowledge of design or code is the finest feature it offers. Every single one of your customers will have a good time purchasing at your store. It really just requires a few clicks here and there.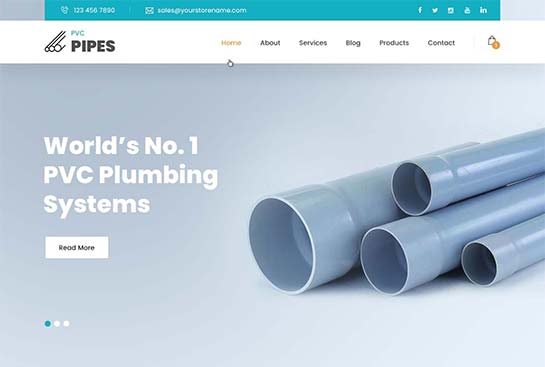 SKT PVC Pipes is a cutting-edge WordPress theme that was developed primarily for use by businesses in the fields of plumbing, electrical work, maintenance, and remodeling.
If you want to advertise your plumbing company in the most effective manner, using SKT PVC Pipes as your promotional product of choice is a no-brainer.
Because the template is built on WooCommerce, you will be able to establish an online shop that is completely functional for selling items such as plumbing parts, water pipes, showers, tools, kitchen hardware, and bath equipment, among other things, by selling these items online.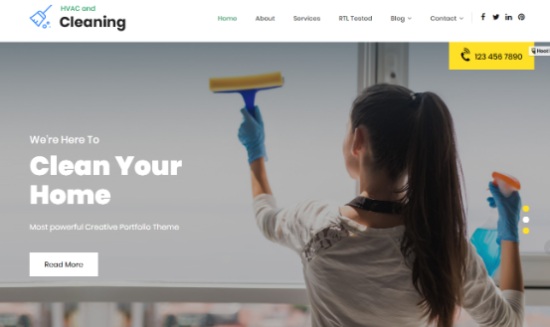 HVAC and Cleaning WordPress them that is tailored to the needs of the cleaning sector has been created and built. Therefore, it might be anything from carpet cleaning to floor cleaning to office cleaning to window cleaning to services related to HVAC systems.
This ready-to-use design for a website is convenient for anybody who provides cleaning services, repair services, or HVAC services and allows for simple customization. Has a section for clients or partners, which may be utilized to promote happy customers or partners, as well as larger clients or sectors that have been serviced up to this point.
The complete capabilities of the shortcodes that are packaged with the theme are detailed in the Features section. This theme does, however, support the addition of shortcodes ultimate and another 100+ shortcodes of accordions, tabs, and other beautiful content.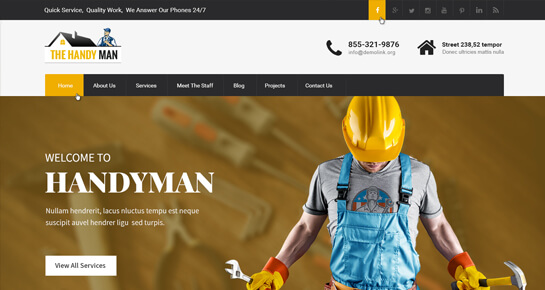 This straightforward website design for handyman is offered as a free WordPress theme with the same name. This template may be used for the creation of websites for a wide variety of businesses, including but not limited to construction firms, maintenance services, remodeling businesses, carpenter workshops, power providers, and many more.
Wonderful websites may be designed by anybody, even those who have no experience with coding. While you are developing your website, you have the ability to alter the color of the element. Because of the availability of the color picker option, this is now feasible.
The WordPress codex theme review criteria were used as a guide for developing this theme. As is customary, a handyman's website would need a great deal of information.
The phone number and the various contact forms, on the other hand, stand out the most, which is why we decided to include them. The Handyman theme has an attractive slider that displays the images in an impressive manner.
Because the SKT Page Builder is already pre-installed with the theme, even an inexperienced web developer won't have any trouble getting the template up and running on their site.
Because of the extensive list of plugins that are compatible with this theme, it is an excellent choice for use as a foundation for the development of a website. Some of the plugins that are compatible with this theme include WooCommerce, security plugins, gallery and slider plugins, contact form plugins, and SEO plugins.
When constructing a website with the kitchen design WordPress theme, the webmaster has access to a selection of page templates as well as blog templates, allowing them to choose the particular kind of layout that best suits their needs. The kitchen design WordPress theme is simple and easy to use, and any beginner or novice can easily manage it with the aid of the instructions.
The Kitchen Design WordPress theme is adaptable for use with modular kitchens and modernly built houses, as well as websites specializing in interior design, kitchen-related gas stoves, ovens, microwaves, and other sorts of kitchen ware. It is also suitable for use with kitchen utensils, kitchen ware, laminates, and other types of kitchen-related products.
The SKT Repairman WordPress theme is a high-quality remodeling solution that was developed specifically for home remodeling studios, home maintenance and construction firms, repair services, handyman service providers, and renovation businesses.
Even so, it is the finest choice available to improve the originality, power, speed, and performance of your current website. There is a page builder provided, such as the Elementor page builder, to provide a smooth editing experience.
It is included within the option to import demos with only a single click. On every platform, device, or browser, it has a high degree of adaptability and flexibility. When it comes to sharing photographs related to your company, such as your work portfolio, services, and so on, you have the option of using either a boxed or full-screen slider.
The Water Purifier WordPress theme is the perfect option for you to consider if you're looking for plumbing parts WordPress themes that will help you boost your water purification business and build your internet presence. One of the many thousands of themes and templates offered for WordPress may be used to create a top-notch website for your business.
The theme includes every element required for you to build a website for your cleansing business. It has a contemporary design that was created expressly to represent the industry, what all the goods are, a description of the various products, an overview of the services offered, a section for commonly asked questions from readers, and an outline of the blog.
parts for home plumbing maintenance WordPress themes are a good example of a theme that can be used to create websites for any form of business, including small businesses, electrical companies, home services companies, maintenance companies, plumbing companies, and websites related to these kinds of companies.
This theme is so simple and easy to use that even users who have never dealt with website templates or themes will have no issue using it. After our customers have bought the theme and shortly thereafter, installation will be made available to them without any further charge.
It included working on and preparing each project component. Designed to be a flexible theme that can be used to build websites for a broad range of business industries.
The SKT Swimming Pool WordPress theme is an elegant choice for a swimming pool website. This theme has an up-to-date, user-friendly, and contemporary design that works well for pool cleaner, pool maintenance, robotic pool cleaner, pool cleaning, ground pool repair, and other businesses related to pools.
On the other hand, this function may be used by anybody to market their swimming school, swimming lessons, swimming courses, and so on.
The Handyman WordPress theme has its very own SKT Page Builder, which is a fun and straightforward page builder to use. This WordPress theme is devoted to handymen all over the globe who are capable of working on the majority of the repairs that are required in day-to-day living.
As is usual, a handyman's website would need a great deal of information. The phone number and the various contact forms, on the other hand, stand out the most, which is why we decided to include them.
The Handyman plumbing parts WordPress themes has an attractive slider that displays the images in an impressive manner. The 'About Us' section outlines and discusses all there is to know about the business, including the staff.
On the homepage, the handyman WordPress theme also has a lovely slider that displays the most popular or prominent services offered by the handyman.
CCTV Camera is a ready-to-use WordPress theme for plumbing components that is sophisticated, stylish, and powerful that gives equal importance to its design and features. This template has a strong, professional appearance and a lovely slider to catch users' attention.
The template comes with a slider. CCTV This one-of-a-kind WordPress theme was created specifically for security systems, CCTV shops, CCTV Dealers, Camera manufacturers, CCTV Camera Suppliers, surveillance equipment stores, and security companies and services.
The design is effective in meeting the demands for home automation, home security systems, and other CCTV- and residential-related business services and commodities.
SKT Light is a free lighting shop WordPress theme that focuses on light fixtures and lamps that can be sold in either an offline or an online store. The theme was created by SKT, a company that specializes in lighting.
The page layout for shopping is included in the design, which also gives support for WooCommerce. In addition to this, it provides the capability of an online shop.
In a nutshell, the theme may be used while developing websites for either commercial or promotional purposes. SKT Lights is a template that is both contemporary and imaginative, and it has a homepage layout that is already created.
SKT Appliances Pro is a WordPress template that is based on Elementor and can be used to create a website for a variety of businesses, including grocery stores, supermarkets, malls, hardware stores, household appliances, consumer electronics, white goods, home devices, domestic equipment, kitchen appliances, and more.
You may immediately begin selling your kitchen equipment online by taking use of the basic eCommerce functionality that comes included with this design.
The Home Appliances WordPress Theme has been designed to be fully responsive across a wide range of screen resolutions and electronic devices, including computers, tablets, iPhones, and mobile phones. The homepage design of SKT Appliances Pro is rather respectable and attractive, with the primary emphasis being placed on the many home appliance goods that are available.
Do you have digital things like as samples, beats, songs, and courses available for purchase? If this is the case, then you will be happy to learn that GB Shop is backed by a simple digital download's plugin.
With this plugin, you will be able to sell any sort of digital things on your website in a matter of minutes. GB Shop is fundamentally intended to be constructed in such a manner that it enables the online sale of any goods.
If you are a photographer or painter, you may make money off of selling prints, framed posters, and canvases of your work. Or, if you are a carpenter, you may easily sell the furniture that you have just created, such as a couch, dining table, bed, or chairs.
In every field of effort or aspect of life, the value of having air conditioning systems that have been installed and maintained in the correct manner is of the highest relevance.
Whether you are searching for an inexpensive air conditioning unit to have put in your home or office, or whether you want to repair the existing one to prevent any future problems, you can find a variety of recommendations and offers online.
This is true whether you are looking for an air conditioning unit to have installed in your home or workplace, or whether you are wanting to fix the existing one.
These plumbing parts WordPress themes for air conditioning companies have a number of characteristics, including a responsive site design, a performance that is conducive to shortcodes, a quick loading rate, and an easy level of customization.
SKT Motorcycle has a sophisticated design and is of high quality. Your clients won't have any trouble accessing your online shop or purchasing any car components since you've thought of everything.
This theme has support for mega menus, sticky headers, MailChimp, WPML, an option to use Google fonts, and a parallax effect, among other sophisticated features and choices.
In addition, you have the option of integrating certain features that will make it easier for your clients to search for cars using various criteria, such as the day of pick-up, the location of pick-up, the kind of vehicle, the manufacturer, the category, and so on.
The SKT Motorcycle may be used in conjunction with very effective page builders like as SiteOrigin, Elementor, WPBakery page, and many more.