Are you trying to boost your website revenue with the help of WordPress advertising plugins? It is an essential fact to remember for any WordPress website that plugins make things easier and faster.
Today the WordPress platform is vast and there are almost infinite choices available. But it must never be forgotten that they are not created equal so that you end up with the one that best defines your needs.
In this short read, we have compiled some of the best plugins for your site. They will help you to conveniently optimize the space and display the ads.
Ultimate List of WordPress Advertising plugins
Ad inserter comes with advanced advertising features and therefore is introduced as an ad management plugin. Features that make it impressive includes support for various WordPress ads like contextual native shopping on Amazon and Google AdSense.
It also includes rotating banners. The options that can be included consist of HTML, PHP, advert codes, CSS, and Javascript.
Setupad WP Ads is an ideal option for complete ad inventory management with advanced functionality that comes completely free of charge. It works seamlessly with all kinds of ad networks, such as Google AdSense and Google Ad Manager, using intuitive code snippets.
With this plugin, you can place ads strategically within content, paragraphs, and images, customize ad placements with precision alignment and your own CSS, and incorporate ads.txt lines. Setupad WP Ads also offers advanced features such as related posts, category-specific ads, effortless script inclusion, and optimized performance through lazy-loading.
The plugin also has a built-in integration with the Setupad header bidding monetization platform.
Amongst the best WordPress advertising plugins, this is coded well without the overhead. It is absolutely perfect because along with all the monthly-page impressions it can be utilized on large websites.
The present installation statistics of the websites stand at one hundred thousand installations which in itself is a remarkable feat. Such stats ensure that using this plugin for your site will not be a wrong decision.
One of the core features of this program includes importing of ads settings from the Quick AdSense which makes it excellent for use. You even have the facility to convert them into serialized options.
This program is indirectly a boast in terms of Multilanguage support and impressive performance improvements which is better compared to the original version. Migrating to any other website is also made easy thanks to its export/import function.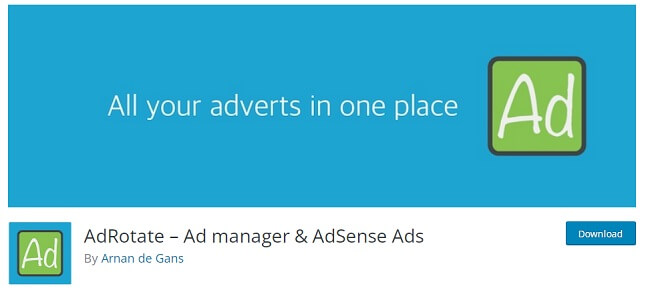 This can be a smart choice to consider amongst the list of plugins available online. This program enables you to conveniently place the advertisement banner on any section of your website.
The entire management of settings and configuration can be directly done from the dashboard. In case you do not want to mess up with the theme code you can play safe with it.
Just by the use of HTML or JavaScript codes, you can easily create additional specific adverts. The approximate number of impression adverts can also be known. It comes with power-packed features to make advertising faster and easier with a smoother user-interface.
The excellent feature to test and optimize ads makes it one of the most impressive WordPress advertising plugins. It is flexible with all kinds of networks and ad types which is a significant feature of this program. The exceptional free email support for its users is the feature that separates it from the rest of the crowd.
When you start using it there are minor things that will make you fall in love with this plugin. To mention some of them it can display & create unlimited ad units, set expiry date, rotate ads, schedule ads, and also target user groups.
Your goal of managing the ads on the website efficiently and systematically can be fulfilled by this program. Hence, you will have a considerable time to spend on other activities like publishing new posts for attracting the audience.
In the WordPress admin, it will add a new Ads menu. This will consist of submenus where you can remove or add ads and tweak the display settings.
For the implementation of an unconventional design, it offers support via template tags. You can also discover features that include one or two-column ad displays. You can choose how you want the ads to be displayed i.e. either in manual or in random order.
This is the easiest and amongst the best WordPress advertising plugins because all it requires is to be dragged on the sidebar. The next simple step is to upload it including the ads.
That's it, now you only have to save it. It is a better option for beginners because it is extremely intuitive. The developers have ensured to avoid any clunky interface that can create trouble for the users.
It will be a one of its kind program for placing image banner ads, Google ad tags, and other ads code.
The developers SmartLogix have introduced it as one of the most powerful and easy to use plugins. The core feature of the program includes Adsense optimized and inserting codes on any sides of the pages.
It can insert codes like Google Analytics & other embedded codes in the footer or header of the site.
It has been designed to boost the revenue of your site by placing ads to WordPress posts, page, search results, widgets, categories, tags, and custom posts.
It is essential that the website must be linked with Google Adsense. This will directly enable you to manage all the configuration and settings straight from the dashboard. It is well-known for its free features and apart from that for various other features as well.
Those features include convenient addition of custom codes, compatibility with the latest version of WordPress, detailed setup support, multilingual, and RTL ready.
With this plugin, Amazon products and links can be directly added to your WordPress website's posts and pages. Depending upon the provided link the ads will come in simple texts, full-blow flash widgets, thumbnail images, full-size images, and complex templates.
Key features of the program include search tools, simple shortcode, product cache, global options, built-in templates, affiliate ID tracking, and others. The plugin also offers a temple facility.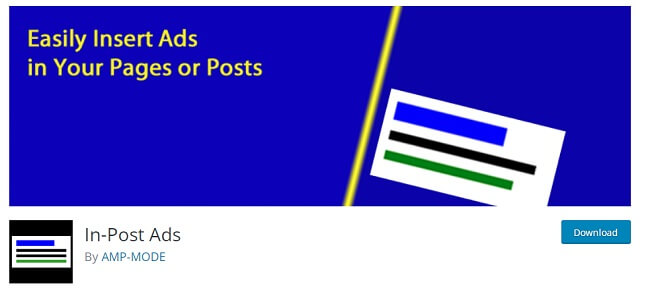 This is the last in this short read of best WordPress advertising plugins. You can easily import the old database with the help of this plugin.
It can still be used for testing and upgrade purposes. All stuff related to advertising can be managed with this banner manager. Shortcodes, widgets, and other templates can be managed easily.
It also enables you to manage free text, image, JavaScript, HTML, and even Adobe flash movies quickly and in the easiest way. Through the setting option in the administration area, the output can be easily customized with the drag and drop order.