WordPress Facebook Marketing Plugins Available and their details
Facebook, perhaps more than any other digital experience platform comes with ultimate suggestions and possibilities to socialize any type of blog or website, by targeting certain groups of people.
This popular networking site allows you to establish long-lasting business and commercial relationship with an indefinite number of customers and clients over time.
Hence, one of the required marketing solutions that should be exercised by all means is the socialization of the relevant website by means of Facebook.
In such case, there is a number of powerful Facebook marketing plugins and tools to render great assistance to you.
We have minutely analyzed and sort out 9 of them with their respective key features and functionalities.
1. Facebook like box and widget
Facebook like box is a social plugin, and hence is one of the Facebook marketing plugins which lets you showcase your Facebook page feed and your friends on WordPress blog or website.
This smart and easy to use plugin is armed with a package of practical widget and shortcode settings, as well as other features, including individual widget and shortcode settings, Facebook page like button, live stream and supporter faces.
Custom height and width options for the page, display of latest posts of Facebook page feed, like and share buttons for each feed and other useful options. Hence fits the Facebook Marketing plugin category.
2. 10Web Social Post Feed
The next must have element for your website is 10Web Social Post Feed, authored by 10 Web. This translation ready and one of the Facebook marketing plugins, praised for its practice and experience, allows you to gain more feed to your Facebook page right from your own website.
You will be able to display like buttons wherever you want for the posts, pages, images, videos or any other online content.
The potential users will be granted with an opportunity to see the page total likes and the number of their friends, who have already liked that page.
See the latest posts and publications from the page, like the page without visiting it and other applicable plugin elements at your hand.
3. Facebook Login
With fast and trouble-free installation and configuration, Facebook Login is simple, yet smart and user-friendly login out of the many Facebook marketing plugins to transfer the Facebook login process into your own website.
All you have to do is to add Facebook login button or connect a Facebook account to an existing profile with the help of simple shortcodes insertion.
It is also under your management to disconnect button from a certain user profile. All the above mentioned tools refer to the free version of this plugin. If desired, you can also turn to the Pro version, which naturally comes with more functionality.
4. Social Media Share Buttons & Social Sharing Icons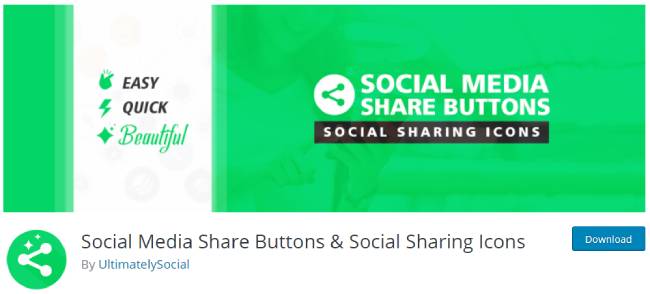 Another convenient and easily managed Facebook marketing plugin enabling your digital online communication to reach new and existing customers faster and without additional operations is Facebook page widget.
Installing and operating this super easy widget plugin on your website, you will be fortunate enough to undertake all the required changes and modifications, which correspond to your ideas and strategic plans, as this awesome product suggests full customization options and tools.
You can display your Facebook page, its posts, images or other content just the way you like, by changing certain dimensions, including height and width.
5. Social comments by WpDevArt
Social comments by WpDevArt plugin will greatly increase the quantity your website social visitors, by letting them comment on your page posts while being logged in to their Facebook accounts.
It is one of the preferable ways for the people to get involved in your digital presentation, causing them no additional activities, registration forms, etc. Let them comment on your content.
You can also restrict the visitor's commenting access to several posts you, as you may find it necessary.
This highly functional Facebook marketing plugin is loaded with ultimate features and potentials- easy installation and running, availability to add Facebook comments box, manage its, title, title color, size and disposition on the web page and lots of other possible characteristics.
6. Facebook feed WD
Facebook feed WD is a perfect facebook marketing plugin for easily showcasing a customizable and controllable Facebook feed publications on your WordPress supported website.
Pro version will make it possible for you to showcase the content from any page, group or your profile.
You are the owner of customizing and deciding how many posts should be displayed on your website, as well as display of descriptions, likes, comments and shares, top and stream type comments and many other features at your disposal.
Relevant albums will have their perfect presentation with thumbnails, opening in high display lightbox with 15 bright effects.
7. WP2Social Auto Publish
WP2Social Auto Publish is one more ideal marketing tool with all-inclusive professional package of diverse tools and elements to operate full control and command over all the Facebook user profile plugins, as well as the user badges of Facebook and follow button.
This highly versatile and secure social marketing plugin will greatly contribute to the online socialization of your website of WordPress origin.
The lite and advanced versions of WP2Social Auto Publish include relatively less and more built in features, advanced one coming with full responsiveness, the possible display.
Hide or change options for any widget title, buttons widget integration, the last 2 options being also available for the lite version.
8. AddToAny Share Buttons
As Facebook provides a variety of tools to engage with your audience, here is another Facebook marketing-related plugin with advanced features and controls for you, which can be accessed completely for free.
Choose AddToAny Share Buttons as one of the most functional social tools for your website and enjoy the light and easy usage of it, customizing and redesigning shadow and background colors, as well as lots of other customization options.
This plugin has also been successfully checked and verified for its perfect compatibility with WordPress latest versions.
9. Facebook wall and social integration
At last, we came across Facebook wall and social integration, incorporating dozens of practical and functional features to ensure Facebook page, group, wall posts and profile feed presentable integration into the relevant WordPress website.
The Graph API is used as the primary way and method to extract data from Facebook.
This Facebook marketing plugin is tested for its conveniently crafted and developed structure, offering lots of significant features – control of feed display height and width, guest entries and wall background color display options, easy to use shortcodes integration, diverse date formats insertion options and many others amongst them.