The act of piracy and the number of individuals using pirated products are increasing with each passing day.
Despite WordPress being free, you certainly have to pay for premium themes or plugins which are essential for the development of your site.
We have often come across individuals and enthusiasts who write and ask us about using Nulled WordPress themes and plugins.
Nulled WordPress themes and plugins are pirated versions of the paid or premium WordPress products and we strictly recommend not using it.
There are many factors involved in website development and through this article, we will try to enlighten you about serious threats of using such pirated products.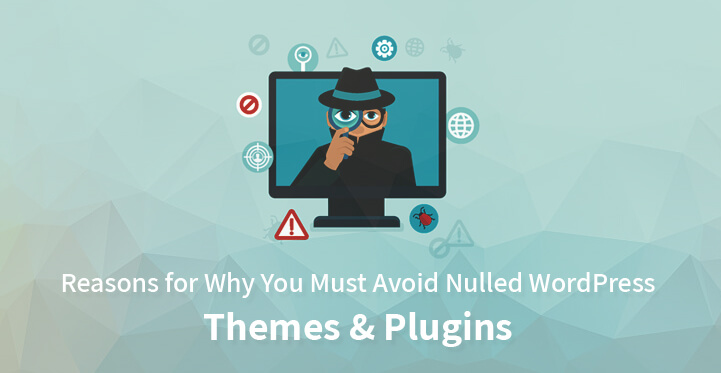 Understanding Nulled WordPress Themes & Plugins
The immoral distributions of paid themes and plugins which can be used in WordPress are termed as Nulled WordPress themes and plugins.
A theory about the same has been doing rounds of the internet which says that because WordPress and derivatives associated with it falls under General Public License (GPL) it is technically legal and right, to copy and distribute it.
When we consider this matter legally it is right. But technically, is it sound to use such products? Are they built in the same manner as the original version?
Do they not compromise with the security and integrity of our websites? These pirated plugins and themes are the reason that our websites can be easily hacked.
Following are some of the prime reasons to avoid them.
1. Terrible for SEO :
Use the Nulled WordPress products only if you intend to destroy the SEO of your webpage completely. These pirated products can easily add spam links to your webpage. They can also redirect your users to banned/prohibited sites. By using pirated products you provide them with the license to hijack your site.
No matter how hard you try you might not be able to prevent this from happening all the time. The links to such activities are smartly inserted well within the code which is not possible for you to access. Search engines are efficient and more powerful than ever today.
As soon as they recognize such activities they will immediately drop your search rankings. It is also possible that they might de-index your website completely.
It will take months and months for your site to recover and in some worst-case scenarios, you will have to rebuild it.
2. Security & Privacy :
The Nulled WordPress plugins and themes are often found carrying malware with them which is a threat to WordPress security. Such malware is tough to find as they are in the shadows of varied codes and files.
If they hack your website you will definitely lose your site data. And not only that, but the site can be de-indexed from the search engines for spreading malware.
The word privacy turns alien the moment you use pirated products. All your information including your credentials, accounts, private information, membership details, and your contacts stand a high chance of being sold to someone who can misuse it perfectly.
You never come to know about such hacks because the WordPress platform functions normally.
3. Zero Updates :
WordPress is evolving into a better version of itself all the time. When you purchase plugins and themes, they provide a regular update which includes the addition of new features, patch on the security issues, bug fixes, improvement in the interface, and others.
But if you use Nulled themes and plugins you do not receive any updates as it is not licensed. In a year or two, your website becomes outdated.
There are also cases where the WordPress platform itself releases an update which requires a mandatory update of plugins or themes.
In such cases you cannot install the newer version of the platform as your plugins will not respond to it. If you still install the WordPress update your website will start misbehaving or turn off.
4. No Technical Support :
According to the information provided to you above you already know that WordPress also releases updates. Hence, some of the most pro WordPress developers also need technical support in using themes and plugins over time.
The companies that provide premium products dedicate a lot of time in establishing the support centres and preparing support documents to help their users. In some cases, even support specialists are hired to resolve client issues.
If you use Nulled WordPress themes and plugins then you do not get any technical support. An individual is completely on its own and does not have any access to much needed technical assistance or tutorial.
5. Legal issues :
It is easy to find themes and plugins which are open source and built for use in WordPress but many of them are sold with mixed licenses.
The term Mixed licenses mean that at least some part of the coding of that product is copyrighted by the law.
Hence, if any visitors lose personal data or information because of the use of Nulled WordPress themes and plugins on your website, you can land in trouble.
6. Opting for free alternatives :
WordPress is a large platform and in any case, there is always an alternative available to suffice your requirements. It is official and free.
To be frank, some of the free available plugins and themes are better than the premium products.
You can use them effectively without any threat of privacy, security, or data breaching. It also helps you in maintaining a positive aura in the WordPress community.
A paid or legal theme and plugin will contribute to increasing the efficiency of your website constantly. It will not compromise with the integrity of the site.
Improvisation of efficiency will directly result in attracting more traffic to the webpage. Nulled WordPress themes and plugins are products that must be avoided at all costs and in any circumstances.
It is not only unethical but it is also a serious threat to your website, website data, and your personal information. Say no to plagiarism and products related to the same.