Custom Post Types and available plugins in WordPress are being discussed here
Creation and administration of WordPress supported website is not as complicated and time taking process, as it may seem at first glance.
As it is one of the most intuitive content management systems, covering simplicity with user-friendly developed dashboard interface, WordPress will minimize the issues you are going to be faced to.
Apart from those privileges suggested by WordPress huge community, there is also an endless number of plugins and other useful and important tools to drive your efforts to the right direction and bring about deserving outcomes in the end.
Custom post types or custom WordPress types are such extremely important WordPress tools to be exercised and managed in the most productive way.
Those are defined pieces of contents and by the application of custom post types, you will be granted with infinite possibilities to define any type of content in your WordPress website.
All that is demanded from you is to find an appropriate plugin, install it on your site and set up as a custom post type almost anything you want, be it post, page, attachment, navigation menu, products, events, videos, testimonials, quotes or even error log.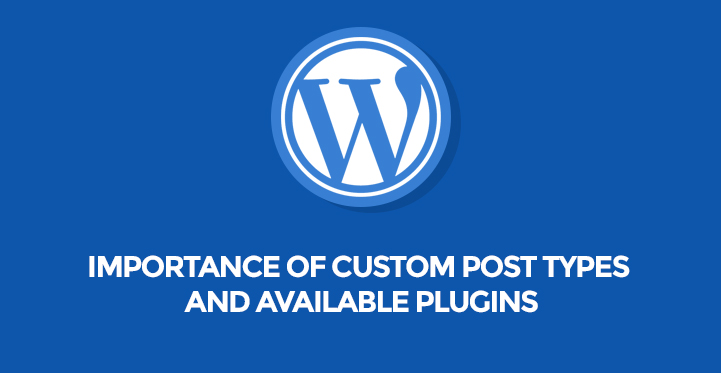 As you can precisely judge, custom plugin integration into your online manifestation will open new chances and functional capacities for you and you will not be restricted to just posts and pages, but you will be able to create your own post types made to meet your requirements.
We have tracked down 5 minutely checked custom post types plugins available for any WordPress website owner to create custom content and showcase the website exactly the way one needs.
1. Custom Post Type UI
Complete and well supported custom post type WordPress tool which you can obtain for your website is Custom Post Type UI.
This popular plugin, which is successfully utilized by more than 300.000 active users, is a perfect medium to create and add custom post content and taxonomies for grouping posts and custom post types plugins together to the target website easily and name them whatever you wish.
Therefore add new custom post type consists of 2 columns – on the left there is a form to fill for the creation of custom post type and on the right the form for the creation of custom taxonomy, depending on your needs and demands.
In case you want to add custom post type, you need to insert also its name to the extent of up to 20 characters.
For the total organization and implementation of adding custom content additionally Custom Post Type UI Extended will be required, as Custom Post Type UI does not display, but only registers post types and taxonomies for the usage.
2. Custom post types
The next dependable custom plugin which is praised for its high quality performance and functionality is Custom post types. It lets you add and manage content types, custom fields and taxonomies from within admin dashboard.
The package of custom fields available within Custom post types includes single-line text, multi-line text, WYSIWYG, Checkbox, drop down select, image, date, phone, number, Skype, Audio, Video, URL, post reference to build parent/child relationships between different post types, etc.
You will also be able to create custom post types and taxonomies whenever needed and have total access to them for any management all the time. The plugin is also very easy and intuitive in usage and can be translated to your favorite language as well.
Shortly, make this awesome custom post type product run on your website and equip it with the functionality it needs in order to let your website visitors to browse your relevant online content easily.
3. Custom Post Type maker
Custom Post Type maker is another dynamic plugin suitable to function with your any WordPress authored website.
It will allow you to build and exercise a wonderful and professionally looking WordPress template based on custom post types and fields without any additional coding integration.
The plugin is loaded with 2 main plugin sections, including Post Types and Taxonomies, simple, yet strong and highly adaptable structure, as well as user-friendly interface and gives you admission to all registered custom post types and taxonomies.
Successfully combines with WordPress API, makes use of WordPress Media Uploader to enable the management of adding icons to custom content, includes several possibilities to manage and edit options for the post types.
Option to hide a certain post type from the menu area and yet this is only a part of the package of this modest, but handy plugin.
4. WCK Post type
WordPress Creation Kit custom post type plugin is powerfully managed WordPress solution for custom post types, custom fields and taxonomies on your relevant website.
You can fully integrate this plugin into your online platform and exercise it without getting overburdened with troublesome procedures and complicated codings.
By the appliance of the free version of WCK custom tool, it will be possible also to create advanced repeater custom fields, find support of all input custom fields, drag and drop functionality for arranging the Repeater Fields.
WordPress Media Uploader to support image and file uploads, Ajax based data handling and other useful features. You can also upgrade to Pro version and enjoy more, including front end submission with posting and editing, creation of option pages and additional field types availability.
5. Pods
The last WordPress friendly foundation to create, display and customize custom post types and fields tailored to your needs is Pods.
This plugin runs great flexibility on the basis, providing its user with all the resourceful perspectives to add any type of content and set its functional scope.
Such as custom post types and taxonomies, custom admin forms and other content types, to utilize already available field types or to create new ones matching your website nature and performance and customize them with effective options dealing with date and time, number, text, color picker, file, image.
As well as its sizes, video, post formats and status, navigation menus and other optional characteristics at your disposal to execute and have total control over them.