Listed below are some of the ten brilliant offline marketing ideas, which help in boosting the website traffic.
Business these days succeed due to the effective marketing strategy, which comprises a blend of both online as well as offline ideas of marketing known as multi-channel marketing.
But, the concept of offline marketing has almost become extinct but it is not necessary to skip on some of the effective offline marketing ideas even after you follow online marketing strategy.
Although there is a huge importance on the online existence of the business, it would be very unfair to forget about the conventional methods.
Irrespective of selling the digital product, you can incorporate the offline world, so that you can get a huge amount of traffic towards your website as well as a huge amount of customers, which is necessary for your business.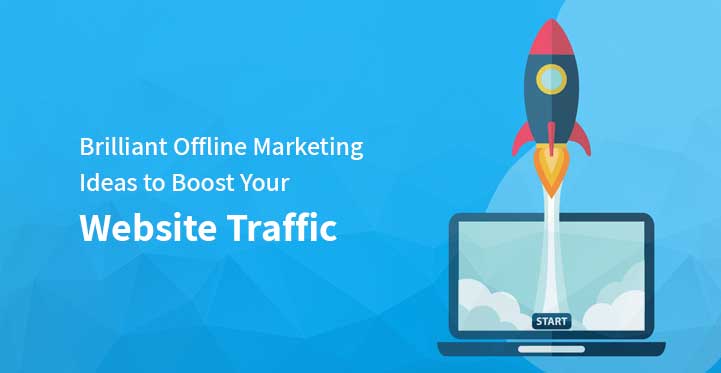 Make pamphlets
Making attractive pamphlets is quite tough but also, it is a good idea to use it as an effective offline marketing idea. Just like an advertisement, presentation is also necessary, the significance gets doubled especially for pamphlets.
Making a good impression by using pamphlets can build or destroy the effectiveness. Prepare a set of pamphlets, and then, place it where people will notice it but you have to place in such locations where customers visit such as public parks, restrooms, etc.
Attend trade show
Even after getting afraid that your business won't be able to reach heights of success, you must attend the trade shows as it is one of the effective offline marketing ideas.
Your product might not become popular than others, it is essential to visit various trade shows and ignore every other excuse of not attending it.
Although it might be costly as well as time-consuming, you must give up on utilizing different ways of making your successful and trade shows are one of them.
Use business cards
Business cards cannot be simply considered as any simple offline marketing ideas, it is a must-have for most of the businesses. These are very handy which lets you efficiently provide someone with the right way to contact, not just you but to the whole of your business.
But in the modern era, a limited number of people believe in the concept of business cards since they are of the view, that as they have made an online presence, using business cards is unnecessary.
Arrange contests
Contests are one of those offline marketing ideas where people get mostly attracted to since a lot of people tend to compete, especially if they have some special talent or expert in any field.
Additionally, if you offer attractive prizes, then people will surely attend it. You just have to understand what type of contest you want to arrange, which will help in attracting customers, their skills, and the various prizes that you want to give out.
Make Press releases
Press releases are considered as one of the best offline marketing strategies since they can spread the news around the world regarding your product. An effective press release can help in arising curiosity among the customers regarding your business. It helps in providing shareable content, which helps in quickly and spreading the news.
It is mainly a one-page summary, that helps in providing news for the effective growth of the business. As it contains all the necessary information, business name, and some of the basic details which are good enough to make enough connection.
Give out coupons
Coupons are favorite for almost everyone and as people like it, then it is best to use it as an offline tool as well as a strategy for an effective marketing campaign. Also, it can help in getting new customers and it will force them to invest in items, that might force the customers to take interest in.
But one of the most significant things, which are necessary to keep in mind is that whether those one-time customers will become permanent or not.
Arrange cross-promotions
This is one of those marketing strategies on which it is structured so that it can create a rapport between two businesses. This not just provides the advantages of working collaboratively with the same business but also it is very effective.
For example, if you know a small store in your city, then you can easily connect with the corner and want to organize a giveaway. You will have to provide them with some free products, and they will help in attracting customers towards the store by using the products.
Make a place in the newspapers
The importance of newspapers is never going to become obsolete due to a lot of reasons, and among them, one of the most important ones is, it is one of the best offline strategies, that can be used for offline marketing.
Publishing an advertisement in the newspaper, which says about any new offer can help you in getting a huge amount of customers for your business website. Also, this strategy is not that expensive as well so you don't worry about making a hole in your pocket for utilizing this strategy.
Make a place in classified ads
This is yet another old method or strategy of offline marketing since it helps in harnessing different offline media sources such as newspapers, television, and radio. But among all of them, the newspaper classified advertisement is considered as effective, if you want to attract customers towards your business.
In case you are not aware of then, people do view these old but trusted advertisement sections and these often make businesses open to the customers so that they can get to know about it.
Collaborations with brand ambassadors
Influencers are an absolute help for making your business website reach heights of success, and they use various social media platforms to make your business open to the customers since they have huge followers which can help in reviewing your products or services.
Influencers are the best idea if you want to consider effective offline marketing techniques since they are mostly known as brand ambassadors.
Therefore, these are some of the best and effective marketing ideas, that help in boosting the traffic for your business so that it can reach heights of success.
Related article: