In today's digitalized world, it is no longer possible to run a business without an online presence. Modern consumers use the internet for everything from operating hours and location to product research.
Creating a website for your new business is important to explain your company's value proposition, inform your target audience, increase brand recognition, and boost sales.
Fortunately, website design software has advanced so much that anyone can use it to build a functional website, even those without coding skills.
Regardless of what platform you decide to use, if you follow some basic tips and rules, you'll be able to create a visually appealing, easy-to-use website that shows your business in the best light.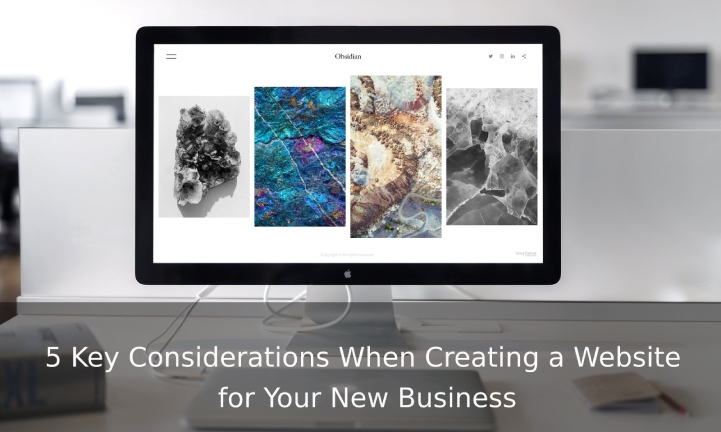 Choose Your Platform
Choosing the wrong platform can really slow you down and have a negative impact on your budget, so make sure to take your time when making this decision.
Your choice will largely depend on your unique needs, but it does help if you do some research into each platform's ease of use, customization options, how well it handles SEO, and its ability to handle multiple users.
Here are the options you can choose from:
CMS (content management systems)
Platforms like WordPress provide a perfect balance between flexibility, scalability, and ease of use. However, creating a website using WordPress does require some intermediate skills.
Like installing plugins that will improve the website's flexibility. In other words, while building a website with a CMS is easy, it is not as simple as using a website builder.
Related Post:Top 3 CMS Comparison WordPress vs Joomla vs Drupal for Websites
Website builders

Website builders simplify the entire process of website creation. You begin with pre-designed templates, pre-populated pages, as well as ready-to-use tools and applications.
All you need to do is add in your content and click the 'Publish' button. If your needs are somewhat basic and your budget is tight, this might be the best option for you.
Hand-coding
While it is true that this method allows the greatest level of flexibility, it also requires specialized knowledge, which means you'll have to hire professional developers. If you decide to go with this option, you can choose to develop your site in-house or outsource the work.
The first option is usually more expensive but allows you to control the development and design of your website. Outsourcing can be a much cheaper alternative but bear in mind that choosing a web design company, freelance website developer, or designer requires some additional research.
Get a Good Domain
Your domain is your website address, i.e. the entry point to your website. That's why it should make a good impression on both human users and search engines. Here are a few tips that will help you choose a good domain:
Keep the domain short and memorable. With so many websites out there, it's very important that your domain name is catchy so that people will remember how to access it in the future. In addition, the shorter your domain is, the easier it will be to remember and type correctly.
Make the domain easy to pronounce and spell. Avoid using slang or made-up words. You should also stay away from hyphens, numbers, and special characters as they're hard to remember and might be misunderstood when pronouncing the domain name.
Use the proper extension. If possible, try to make it a .com domain (as opposed to .org, .co, .net, etc.) unless, of course, it's more appropriate to use another extension, like .edu, or .gov.
Use keywords. Create a URL that is SEO-friendly and includes keywords and geo-location.
Research the domain. Google it to see if there's a similar website out there or use a domain name provider where you'll be able to not only check if the domain name you want is available but also chose from thousands of cheap domain names.
Related Post:How Can You Alter the Domain Nameservers of Your WordPress Website?
Choose Secure Web Hosting

A web hosting is most important factor while creating a website for your new business. A host is a server that makes your website accessible via the internet at all times. When it comes to choosing a website host, you have two options:
Shared hosting, which is a cheaper option, but as the name implies, you will be sharing a server with other websites, which might slow your site down.
Dedicated hosting, which is more expensive, but means that you will have your own server.

When choosing a host, ensure that the company has chat and/or phone support so you can get quick help in case you have a problem as email support might take too long.

Also, check what kind of server security is in place. You'll want to be able to access your server via SFTP and there should also be daily backups of your server contents.

In addition, there should be an easy way to install SSL certificates and the hosting company should perform regular security maintenance.

Build Your Pages


If your goal is to build a truly functional website, you'll need to think beyond the homepage. These are some of the things you need to take into consideration:

Use visually-appealing graphics and easy-to-read fonts. In addition, ensure that the graphics are optimized for fast loading as slow websites can easily get penalized by Google.
Design an intuitive navigation system which allows users to find what they're looking for quickly and easily.
Try to stay consistently on brand throughout your site design. If you don't have a logo, you can create one yourself or hire a professional graphic designer to make it for you. Use this logo on your site, social media profiles, and business hard to make it easier for your customers to identify your company.
A contact page is definitely one of the most important pages of any website. Make sure to include as much info as you can (email address, phone number, and physical address, if applicable).
Create an About Us page where you'll include details about the employees and the founding.
Include a FAQ page. An FAQ with links to related content provides the users with a deeper experience of your site but it also boosts your internal link-building, which is important from an SEO aspect.
Place strategic CTAs to encourage users to take specific actions.
Consider adding a detailed catalog of your offering and a blog section that you can use for company updates.
Avoid using stock photos as they will make your website look mediocre. Invest in good, high-quality photos of your products and services and don't forget to include images of your employees and offices.
As far as the homepage is concerned, be clear about what you do. Write a clear and concise statement so that visitors can understand what your business does immediately after they land on your homepage.

Optimize Your Website for SEO


Optimizing your website for SEO and incorporating relevant keywords into your website content from day one will make sure you rank high in search engines and help you attract quality traffic to your website.

Here are some of the most important SEO tactics that will help you get started off the right foot:

Select the right keywords. Choose keywords that your potential customers are likely to type into search engines and that are relevant to your business.
Publish content on a regular basis. Publishing fresh content on your blog and updating your content regularly will signal to search engines that your website is relevant for the selected keywords.

Make sure to pick topics relevant to your niche and valuable to your readers so that you can establish yourself as an expert in your industry.

Place external and internal links. External links are links on your site to high-authority websites, whereas internal links are the ones that lead to other pages on your website. Place the links throughout your site ensuring that they fit the context, make sense, and provide some value to your readers.
Use social media to link to your website (Facebook, Twitter, Pinterest, LinkedIn, etc.).
Make sure you have as many positive online reviews as possible (on Facebook, Google, Yelp, etc.).
Optimize your images. Start by making sure your images are compressed so that they don't slow down the loading time. You should also consider including your target keywords into the image metadata (captions and tags) to let search engines know what the images are about.
Make sure your website is secure and that you have an SSL certificate installed while creating a new website for your business
Make sure your website is mobile-friendly and properly optimized.
Enhance your site loading speed. Your pages should take no more than 3-4 seconds to load. You can use tools like Google's PageSpeed Insights to check and optimize your site's speed.

Final Thoughts
If you want to keep up with your competition and succeed in the current marketplace, having a professional-looking site is an absolute must. Your website is your virtual calling card and the core of your marketing strategies.

However, creating a great business website is not an easy task but if you follow these 5 steps, you'll be ahead of the curve for creating a website that works great for your new business.