Twitter is one of your best friends when it comes to your website content marketing, client engagement and boosted traffic coming to your web posts and pages.
Using Twitter for your small store, club, or a big company is a good evidence that your working policy is social media friendly.
Moreover, with more than half a million active users, Twitter is one of the hot spots among major social media networks where thousands of new relations and partnerships are reached daily.
Hence, whether or not you are going to shell out your bucks on advertising on Twitter, it's necessary to create and maintain your presence on Twitter platform.
In case you run a WordPress based website and want to engage Twitter audience in your site, one of the best ways to do so is to automatically post on Twitter via posts or pages of your website.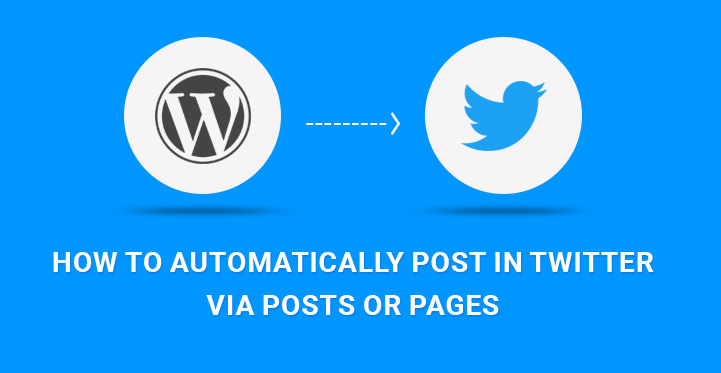 In this article, we are going to share some of the practical and easy to follow ways of integrating Twitter into your WordPress based profile and organize the automatic tweet of your posts and pages.
Since the most user friendly and quick way is via plugins, we'll draw pictures of the most feasible WordPress plugins to be added to your site at every stage of its operation.
1. FS Poster
FS Poster is a social media auto poster that allows you to post your content from WordPress to social media networks.
It's easy to use FS Poster for auto-posting from WordPress to Twitter. Here is the step-by-step guide:
You can add your Twitter account to the plugin on the Accounts tab's Twitter menu. There is no limit on adding accounts, which is excellent. There is no limit to how many Twitter accounts you can add.
To start your journey, click the ADD AN ACCOUNT button.
The plugin already has the official Twitter API built in. You can add your accounts to the plugin by clicking the Get access button and Authorize your account.
You can also add your own Twitter API to the plugin if you want to.
By activating your account, your posts will automatically be shared from WordPress to Twitter. You can deactivate an account if you don't want to share posts on it for a certain amount of time.
The plugin works on platforms with more than one user. Each WordPress user can add their own social accounts and manage them. One user of WordPress can't share a post on other users' accounts.
Once we've set up our accounts, you can make a sample post and have it automatically tweeted from your account.
From the post table, you can share, schedule a post, or schedule a bunch of posts at once.
The plugin's premium version gives you support for an unlimited number of accounts and auto-posting to other social media sites like Facebook, LinkedIn, Tumblr, Discord, etc.
2. WP to Twitter


The first product in our list comes launched as WP to Twitter. It is checked and confirmed way of automatizing your WordPress post or page appearance on Twitter. At a first glance, it may seem too tricky and bewildering to work with this extension.
However, it will not cost you wasted time and nerves to automatically post on Twitter via posts or pages. Just follow the step by step guide presented below and you won't be faced with any difficulty.
The first thing to take care of is the installation and activation of this plugin /use Plugins menu in WordPress.
Then head over to Settings, WP to Twitter in order to adjust its settings. In this stage, you will be required to copy and paste your consumer key and consumer secret, access token and access token secret into the relevant fields.
Next step is the creation of Twitter App for your WP powered website. Visit https://apps.twitter.com/ and sign in. Press Create New App button, add details in the next page, enter the website URL and use it as a callback URL for the app.
Twitter will create your app and will transfer you to the app page. Go to Settings tab, Application Type, choose Read and Write and save the updated settings.
Now you have to return to the Details page of your Twitter app in order to let Twitter generate your access token. For this you need to press Create My Access Token.
Now you possess all the required information, including consumer key, consumer secret, access token and access token secret to copy and paste in the plugin settings. After that just click on Connect to Twitter button for authentication.
Next is the configuration of the plugin settings. On the settings page you can find setting types both for post and page. The possible options are update when a post is published, when a post is edited, when you post a Blogroll link, when a page is published and when a page is edited.
Additionally, the free version of this plugin offers other valuable features along with automatically posting on Twitter via posts or pages. Among them are using post tags as Twitter hashtags, Google Analytics Support, Rate limiting and more.
In case you need the functionality of scheduling tweets, upload images to Twitter or more, you may upgrade to its premium version.
3. Auto Tweet for WordPress:

The next possible way of setting up your WordPress website to automatically post on Twitter via posts or pages is Auto Tweet for WordPress.
This plugin comes available in the marketplace with free and premium variables, the first one sharing a certain amount of useful features, and the next one – more controls and configuration options.
It will take your literally seconds to post your page and post, as well as custom post types to your Twitter account while pressing the publish button.
With Auto Tweet for WordPress you are the one to define posting criteria and content like posts and pages, custom post types, post and message format, etc.
Auto post filtering for post types and taxonomies, options to enable or disable auto post in post screen, as well as the possibility to make URL short with the help of Bitly API and more, all those configuration options are available in free version.
As for the premium version of the plugin, it grants you with unlimited account support, and other social media auto post controls, including Facebook, LinkedIn, Tumblr, etc.
As for the installation and activation processes, they are pretty simple and admin optimized. Simply download the relevant zip file, unzip it, upload the files to /wp-content/plugins/accesspress-twitter-auto-post, activate the plugin from your admin dashboard while going to Plugins menu.
Finally, press AccessPress Twitter Auto Post menu to start managing its settings.
4. Revive old post – Auto Post to Social Media:

Revive old post – Auto Post to Social Media is another tool ready to automatically promote your WordPress content on Twitter.
It is custom built not only to automatically post on Twitter via posts or pages, but also empowers you with multifunctional framework to play with. This plugin is also intended in living up your archives and old posts by re-sharing them.
Additionally, dealing with this plugin does not require daily admin intervention to the processes. Just initially configure all the settings and let the plugin do all the remaining works automatically.
After installing the plugin, go to Settings and add your Twitter account. Determine the intervals between posts, exclude some of them so that they will not be posted, etc. Save all the configurations you have made and that's all.
There is no doubt that one of the most impactful platforms that is rising now is Twitter. It is the biggest marketing phenomenon that none of the business or none business website owners should ignore.
With the option of direct Twitter via WordPress posts it has also become really simple and easy to make that update. Compared to other social media platforms it is actually growing at a faster pace and it is likely to continue in the same manner.
When we are particularly focusing on the business websites there are many benefits that the use of Twitter offers.
Regular updates and customer satisfaction: The existing customers can simply follow the business updates from the Twitter accounts in real time. This is a great platform to actually tweak all the activities according to the needs of the customers.

This is a great way to enjoy great benefit over the competitors. Twitter handles also allow you an opportunity to peek into the conversations about your business and use that information to improve the quality of work or at least respond to it.

Creating a better image: Every business wish to connect with its customers but in most cases fails to do so. Twitter handles allow business to actually unveil the values and provide the customers an opportunity to learn about the values and goals.

The answers to the queries can be cleared up and any doubts can be directly responded too. The answers can be provided to them instantly and since it is an everyday communication the followers can actually feel connected and the distance is minimized even in mind.

Generating traffic for the website: No matter whatever is being talked about the main idea behind any social media platform for business owners is to get traffic back to the website.

Conversion is a must and Twitter is great at allowing business users to actually generate as much traffic as needed. With the updates about events and contests, the followers on the platform are likely to rush to the website.

The Twitter via WordPress posts goes on the account directly and if the content which is posted is valuable then there is no reason for the crowd not to follow.

Watching over the trends: Twitter is a platform which is used for marketing and thus every information related to your business or the industry is available here. With a simple search, dozens of links are available for blogs and website with the information that one is looking for.

Look for the trends in the industry at the local or global level. It is also an effective way of keeping an eye on the strategies and the activities which were followed and how they have performed. The successful ones can be replicated for the business and there are options of collaborations.
There are huge benefits which the Twitter phenomenon offers to the business. There are many things which can be successfully offered to the clients which include better customers service, better communication, higher traffic etc from the website.