Below is a useful assemblage of 30 common UX terms every web designer should know in order to realize all his goals and engage his online audience in the right way.
Setting reasonable goals and objectives when designing a website is one of the important preparatory works to steer your site in any direction you need.
Roughly speaking, the primary goal of every web design is to allure the potential web visitors and keep them as long in your domain as possible, gradually converting them into leads and prospects.
Naturally, depending on the site you are styling and designing, the tools and strategies used may vary.
But as the Internet surfers are becoming more and more tech savvy and well aware of all the hustle and bustle of the digital world.
It becomes more and more reasonable to design websites which are not merely visually eye catchy and dynamic, but fulfill their mission perfectly. And this is where UX or user experience design comes into play.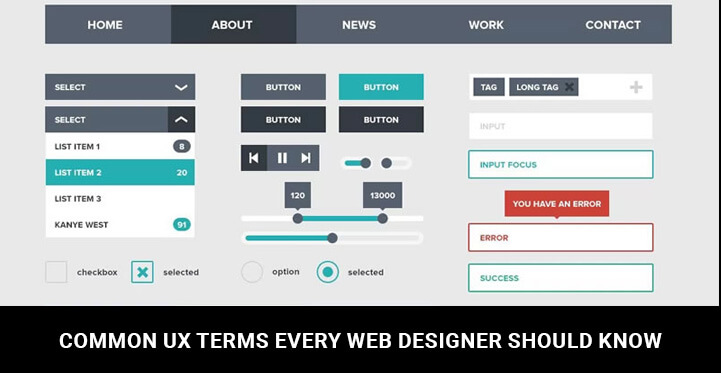 What is UX design?
Basically, UX or user experience is a multidimensional design aimed at contributing to the user satisfaction with your website while taking care of better accessibility, usability and more.
It fundamentally changes the way designers plan their work and implement it for a maximum user convenience and satisfaction. Planning, testing, organizing, labeling, research and more are included in UX designer workload.
Which are 30 Common UX terms every web designer should know?
Hence, of you are a UX designer who wants to achieve a higher level of performance or an average website user who wants to become more sophisticated and informed in the virtual world.
You are welcome to follow our list of 30 common UX terms every web designer should know. In certain cases, half the battle of learning some new field is to sort out its glossary or jargon. So, let's go!
1. Adaptive Design
Adaptive design is the so called progressive enhancement of the website while using static layouts which do not immediately respond once they are loaded. This design works on detecting the target screen size and offering a relevant layout for that.
2. A/B Testing
It's the process of testing different sites at the same time for revealing which one offers better user experience and which one to give preference to.
Related Post: 5 Best WordPress Plugins Useful For A/B Testing On WP Blog
3. Affinity Diagramming
It's also one of the common UX terms every web designer should know for grouping and understanding information in order to plan site layout or content effectively.
4. Analysis stage
It's the stage when all the insights and collected data are put down for research by the staff.
5. Analytics
Analytics is a common term with a broader meaning that encompasses a bunch of technics and tools for pulling useful information out of data.
6. Beta launch
Preliminary launching and testing of the website for detecting bugs and errors.
7. Branding
Creation of a unique brand or name to be easily recognizable by the public at large.
8. Card Sorting
A technique using physical or digital cards to capture the information about the website and its parts.
9. Color theory
The modern theory based on the assumption that colors affect user's behavior.
10. Collaborative design
Recruitment of other users, contributors, stakeholders, project members and others to contribute to the design
process.
11. Competitor analysis
This one is also one of the common UX terms every web designer should know. It's the process of auditing competitor's websites to identify crucial points of their success and user behavior and use it for the benefit of your website.
12. Comparative analysis
This one also focuses on comparing different sites, but mainly focuses on the item by item comparison.
13. Content audit
Cataloging and assessing the current content for continuous viability.
14. Diary study
The process of asking users to record their web experience and opinion for a set timeframe.
15. Heuristic review
Assessment of the website's usability.
16. Information architecture
The technique of organizing and scaling websites in order to boost its usability.
17. Interactive design
It's a design based on cyclic processes of planning, prototyping, implementation and QA repeat in order to make relevant changes in the future.
18. Mood Board
Digital or physical assistant to help the UX designer to set the specific style of the website via images, colors, text and other elements.
19. Personas
A fictitious identity for the target audience which is the end user of your design.
20. Progressive disclosure
It is also one of the widely used and common UX terms every web designer should know. It is one of the subsets of interactive design technique for keeping the user's attention while reducing clutter and mess.
21. Prototype
The outline, rough guide or sketch of the web design defining the way the web design is heading.
22. Questionaries
An instrument that consists of many questions for receiving information from the respondents.
23. Qualitative Research
Research conducted by the UX designers with the help of different techniques directed at gathering information. Interviews, inquiries, studies and more are included in this kind of research.
24. Quantitative Research
Quantitative Research is the other side of the moon. In this case, the solid date matters the most. A/B testing as well as Competitors analysis are the examples of quantitative research.
25. Scenario
Scenario is the profitability story that a designer foresees for the end users and in most of the cases includes how your site will fit into the users' lives.
26. Storyboard
A visual rough sketch of a scenario to capture the end user's interaction with a website.
27. UI Elements
Navigation, information and other elements of the website which the users apply to control their user experience. Buttons, drop lists, navigation bars and slider arrows are among such UI elements.
28. Usability
The easy of the user interaction with website and his smooth navigation through it.
29. User journey
A specific journey that the UI designer creates for the website users to reach their final goals.
30. Wireframe
A guide for the website's layout drafted manually or with software.