WordPress and Blogger are 2 of the most popular blogging platforms you can choose to get started with your own blog or website. However, when it comes to the final choice, people sometimes are not able to sort the best out.
Therefore, we at SKT Themes have done WordPress vs Blogger comparison and are going to share the most noteworthy advantages and disadvantages of both so that any future blogger or website owner will get the hang of those 2 platforms easily.
To start with, both WordPress ( self hosted WordPress.org) and Google blogging platform called Blogger can turn out to be a head start for you as they offer a plethora of functions and features you can use to master the technique of creating an awesome online presence.
But let's take a closer look at each of them from a comparative perspective for a more precise evaluation.
1. WordPress vs Blogger: Ownership:
Blogger is a Google product. As soon as you have a Google account, you are free to jump into Blogger site and start your new blog. However, being Google – powered supposes that the real "owner" of your blog is not you, but Google. Google provides this service and has the right to shut it down or restrict your access to it anywhen.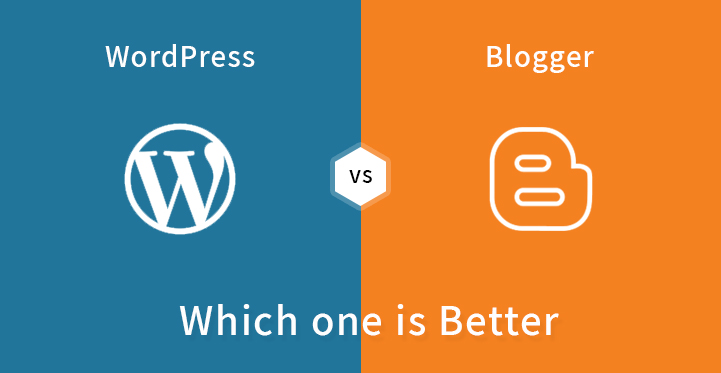 As for WordPress, you are the only master and owner of your WordPress powered site which is going to be hosted by a hosting provider you choose. So it means you can decide how long you want to use your blog, when it is going to be deleted, and how third party platforms can access your web information.
2. WordPress vs Blogger: Pricing:
One of the intriguing advantages of Blogger over other content management and blogging platforms is its free nature. People love to acquire anything that is free of charge. Thus, being free to get started with Blogger is what attracts the future bloggers most.
From a financial standpoint, building a blog on the basis of WordPress can be cost effective. In certain cases, you will need to pay almost next to nothing to get your personal or business blog up and running. All you need to do is to find a cheap, yet reliable hosting provider, get a domain name (sometimes it can be provided along with a hosting plan) as well as a free or paid theme.
If we make some rough calculations on the back of the envelope, we will get a pricing that will fit even the lowest budget.
3. WordPress vs Blogger: Functionality:
Blogger is a super easy platform for novices and startups in the digital field. Everything has been minutely worked out to be simple to understand and easy to use for the blogger.
However, when it comes to satisfying the requirements of more advanced users in terms of functional capacity, Blogger fails at certain points.
On the contrary, WordPress is as simple for the non coders as it is functional for experienced web developers and designers. From building common blogs with restricted functionality to practicing endlessly powerful blogging platforms with tons of advanced possibilities and addons, everything is possible with WordPress.
Launching a new site or blog is a fun, but first you need to identify certain things from a more professional perspective.
If you are making your first steps as a blogger, our recommendation is Blogger, but if you are serious about blogging, you'd better have WordPress at your fingertips. Be sure, you will enjoy the true power of it soon.
4. WordPress vs Blogger: Control:
Blogger comes bundled with limited controls and practically there is no way you can use to make it more controllable with addons or extensions.
It has been developed with an objective to make it super easy for people to delve into a blogging practice without any hassle. Therefore, the lack of controls is justified by the goal of keeping every part of Blogger easy to deal with for the user.
There is hardly anything you can't control on your WordPress blog or website. With thousands of free and premium plugins available out there, you will be capable of extending the default functionality of your WP blog quickly.
Manage images and portfolio, create products and other listings, enhance search engine or social media optimization, make the default features more powerful or add a completely new set of tools with third party extensions and plugins.
5. WordPress vs Blogger: Movability:
Whenever you want to move your Blogger based profile to another platform, you are going to have a bad time. Your blogs' SEO results, subscribers and followers may be lost.
And while there is an opportunity for you to export the blog content, the data is going to be kept on Google's servers for a long time.
With WordPress, everything is much easier and controllable. From changing the hosting provider or domain name to taking your blog to a completely new platform, all the things get simpler with WordPress.
Wrapping up:
Whether you need to give your preference to Blogger or WordPress depends on your specific needs and expectations from a blog you are going to run. While Blogger has been around for a bit longer than WordPress, it has not undergone major updates or changes to become a more dynamic blogging platform.
As for WordPress, it continues to be a rapidly developing environment with a huge community working from behind the scenes to make it a better place for digital audience.
Blogger is definitely a preferable platform for those users who are looking for a beginner friendly blogging environment with no learning curve at all.
But if you want a long term solution for a premium quality blog or website that will be under your control and customization all the time, will let you integrate almost any new function or character, from online store to social media platforms, WordPress should be your ultimate choice.