Are you a writer? Do you want to start your own blog for free? If yes, this post is for you. Whether you want to share your writing skills to the world or start your practice for affiliate marketing, start a blog with the given best free blogging sites.
We have tried our best to share the best free blogging sites that takes only minutes to create your blog. But before that it is necessary to look some essential tips you need to know before starting blog.
Smart Tips To Run a Successful Blog
Choose the right blogging platform
Pick the correct niche
Write what you love
Focus on marketing
Allow commenting
Add images in your content
Provide quality reading
Add engaging titles
Do regular posting
Be consistent with SEO Practices
Use social media
11 Best Free Blogging sites to Consider 2022
Wix is one of the best free blogging sites that can easily manage your front-end program. The main characteristic of this platform is it will provide you drag and drop features so that you do not find any trouble handling the back-end.
The design of this website builder is very impressive and modern which can be used by any expert for beginners. The nicest thing about this website builder is it provides free hosting, which means you don't need to stress about your data.  
You need to arrange the layouts, templates, and all things easily. Moreover, it will also provide a nice collection of premium features and templates for different purposes.
Wix  is the best website builder launch on the web because this will not create any stress of accessing the blog. It has a wide range of paid and non-paid plans.
If you want to create a bits blog then you just need to sign up and create your account by following up the onscreen details.
Once they get notifications about your questions they will provide you suitable templates according to your blog requirements. You need to use a perfect template and arrange the layouts accordingly. 
If you want to reach the second option, all you need to do is find the beautiful template and state the customizing it from the front end by checking out its preview mode.
You can even add multiple elements like multimedia, plugins, and more in your blog. Hence, you can find your blog completely best to start up with a Wix website builder.
It takes only a couple of hours to start your blog online. Once you are satisfied with the settings and blogging layout you can publish it and show your skills to the world. 
Salient Features:
24/7 Blog support
Inbuilt templates
Free user friendly
Freedom to design
Work on every device and Browser
The Wix team will care of your site
You will receive an All-in-One solution
Unlimited plans
Receive upgraded design templates
Why choose Wix?
Flexibility
You will get a lot more options than creating a blog
Provide highly spontaneous editor
Top deals available now:
Buy Wix pro at $23 per month
Buy Wix connect domain $3.54 per month
Buy Wix combo $14 per month
WordPress is the biggest name in the blogging world when it comes to starting a blog. Do you know? It is the best free blogging site that allows you to build a free site. If you do not want to start with Wix,  wordpress.org is the best key to get started.
This will also provide you a host for the software and provide a long-term strategy, so you can enjoy other solid WordPress blogs.  
In this, you can connect with the bluest that comes to play and provide you basic coverage for starting a blog. Further, this provides solid features including 50 GB of space, unmetered bandwidth, free SSL, free domain name, hundred MB, inbuilt storage, and many more features.
At this moment, when you connect with this WordPress with Bluehost, you will get the cheapest method to start your blog without hassle. 
You can easily start your blog with the simple visits that guide you through the complete process of choosing a suitable theme and name.
You can also begin with writing posts, adding images, and advanced editor  plus customization options allow you to improve the appearance of the blog. 
Unlike the other blog options, this will come with the drag-drop features that can easily customize your blog as per your choice.
In this, you do not find pre-built templates, but by using themes you will get some quality and static pages that can help you write about your blog.
Once your blog created, it will help you to track the statistics including the pages visitors and comments over the time. You can also check what readers are reading about your blog.
More than that, you can easily publish your content quality as per the time changes. Additionally, privacy protection for domains are also registered. 
Salient Features:
100% secure has high-quality security apparatus
Easy to use
No HTML coding required
The design of the website is 100% percent customizable
The blog is built with inbuilt ready features
Improve the functionality of the site
Manage the website from any computer
Extend the functionality
Why Choose WordPress.org?
Give customization options
Provide analytics
Give active support community
If you want to create a professional website that grows your business successfully, then Weebly is another website builder or the best Free blogging sites you can choose from.
This website builder not only allows you to showcase your writing skills, but also allows you to sell products in your portfolio.
This is somewhat like a Wix because this provides you with an interactive editor that comes with drag and drop elements. If you want to create certain buttons then you just need to drag and drop the page and customize it. 
The same will happen to the photo gallery slideshows and other multimedia elements. These also provide you side by side with media boxes at spaces and social media icons along with the subscription and many more.
The best about Weebly platform is you will get inbuilt analytics reports that means it will give you a full-fledged report on how your blog is performing and what are the factors you need to work on.
The blog posts are made very simple, you just need to drag the text boxes, picture frames, and page breaks in the contents to position them. 
Salient features:
Drag & drop website builder
Easy user-interface
Safe and secure
Work as an e-commerce store
Domain registration
Full-width page editor
App integration
Why choose Weebly?
Powerful block building platform
Provide the best post previewing options
Top deals available now:
Buy Starter kit at $5 per month
Buy Pro kit at $12 per month
Buy the Business kit at $25 per month
Medium is the best and multipurpose platform that already shares a range of topics, where anyone can start their blogging platform with just two easy steps.
Unlike the other best free blogging sites, Medium is one of the easiest media that take your articles and allow a public space to them. This platform has checked by almost 60 million visitors per month that means there is a wide scope of gaining traffic to your blog. 
Moreover, this is very simple and easy to use. All you need to visit the medium website to sign up or you can correctly sign up with your Gmail or Facebook account.
Once you are ready with your blog, you can simply put your blog on medium and publish it worldwide. With this, you can also build your own space just Like the WordPress. 
Salient Features:
You can embed and your content with YouTube videos or images
You can link to the images from the other sources
You can add tags add highlights to your content
Sharing the drafts
Generate social cards
Why Choose Medium?
Free cost
The reputation of the medium
Extent coverage
Potential readers
Ghost is yet another popular and best free blogging site that can be downloaded for free and you can enjoy the paid hosting for giving it the fuel. It is a great platform that is cheap and comes with a bunch of nice features.
It is best for the people who need to create a modern Vibe-style website, which is also careful with technical help. This is straightforward just like WordPress or you have to connect with the servers and choose your blog set up as per your choice. 
To create a successful blog on this free guest blogging site, you just need to set up your website first which is very simple and minimalist. It also provides your live preview.
Moreover, it will give you a front-end and supportive medium, more than that the editor screen will allow you to change the settings according to your preferences. 
Ghost is an open-source fast and built on a stack of modern technologies, which is a CMS that allows the faster loading time, fantastic improvement, and delivers reality and quality of animations.
It is a very flexible and secure platform for anyone, who wants to get started their career as a blogger. 
Salient features:
It is a simple and minimalistic approach
It is free and easy to download
No need for plugins
Automatic structure data
Build custom page meta
Custom URL structures
Robots
Tidy markup and attributes
Why Choose Ghost?
Easy to access
Comes with an impressive tool kit
Top deals available now:
The starter pack is available at $9 per month
The basic package available at $29 per month
The standard pack is available at $79
The Business Plan is available at $199
Blogger is also the best super blogging platform which is quite powerful and best for every newcomer or an advanced person. This is more accessible for every which comes with a lot of surprises because this is owned by Google.
Blogger also provides an excellent selection of templates, which include mobile versions that are optimized for smaller screens. Also, many people are accessing online content through the Smartphone these days, and blogger is one of the convenient websites you can choose from. 
This is also a pro editing tool that offers you the best results. Also, it is less confusing and provides you complete trade-off between power and usability.
One of the best features of this blogging platform is an integration that allows the owner to access the Google Apps easily. 
If you are a Google Drive account user, then you can store data and files easily by attaching a drive with a blogger. 
With this blogging platform, the spam comments are a big problem but bloggers come up with the automatic spam filter. Hence, you can easily monitor the comments via bloggers. 
On the other hand, a blogger is a brilliant option because this is one of the best free blogging sites if you can check its flexibility and many more. 
Silent features:
Provide solid solution for personal blogging
Work as a professional users
Include default themes
You can interact with Google Plus profile
Provide you handy themes and different color filtering tools
It comes with ad spaces, so you can earn from the blog as well
Why Choose a Blogger?
Perfect for the newcomers
Provide an impressive selection of the templates
Top Deals Available Now:
You can check it on Amazon
Tumblr is yet another and original Plus the best free blogging Sites on the Internet.  This is an outstanding platform than the other platform because it is mostly created for publishing purposes. 
The origin of the blog is multimedia and social media-friendly. The interface of the temple is more playful and easy to use. 
To get started with a blog, do sign up with the Tumblr account by sign up with your regular Google account or any other.
Just Like the Other blogging platforms, this also provides multiple post formulas for different types of content. It also allows us to post images, videos, and more content that offers a great solution for your customers. 
This is a business-oriented blogging platform, which is very simple, with basic customization options and social media presence.
Despite that, this is also a great option for the business and allows you to display ads on your page along with your feelings and integrate with the blog with Google Analytics. 
Salient features:
Photo uploading, private message sending a public message
Networking features like real-time updates and private messages
Search options like email address and keyword
Targeting options and customized designs
Easy to publish
Why choose Tumblr?
Easy to start a blog
Allows social media
Customize pages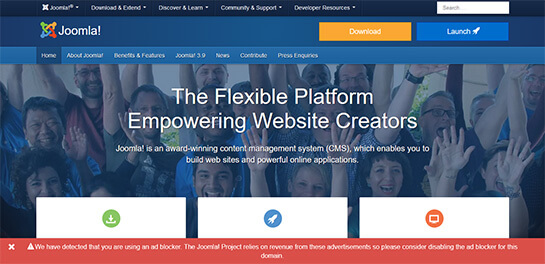 Joomla is one of the best free blogging sites that can be considered as a free blogging site for every new blogger. This software will allow you to work on the hosting and domain you can use. 
The Bluehost platform can access the reliable domain and hosting platform. Joomla has a flexible interface that allows you to publish multiple contents regularly.
In the first tab, it is a classical texting window that allows you to switch tabs and select the post categories date and Meta description keywords. 
This best platform can support multilingual languages and provide a CMS platform in the World. This can support more than 17 languages and provide you easy updates.
More than that, it will come up with the Core features which make the blog an open-source content management system and enable you to publish the content worldwide.
It is built on modern view controller web applications that allow the independent CMS and permits you to create powerful online apps. 
Salient features:
Banner management
Media management
Contact management
Well supported languages
Integrated with customer support
Search
Multilingual supportive CMS
Why Choose Joomla?
It is an award-winning CMS platform
This is 13 years old and won 20 awards
It is free and easy to download
Jimdo is one of the best free blogging site applications that is highly recommended by experts. This allows the basic features and gives you an impressive look, so you can easily create a website with your preferences.
When you check its option, your site will automatically be created and based on your choices.  The downside of the Jimdo is that you can have a custom option.
Jimdo is the impressive page builder you can use to create blog posts right away.  This means you will not need to work on every content box. Analyze the page and edit it on the spot without whipped into another page.
Moreover, the photo and the Logo can be easily added when it comes to the content element. You have many options to choose from such as simple text, text, images, photos, galleries, and many more. 
On the other hand, this also provides you multiple categories such as edits preview, image preview. You will entirely build from any individual elements that you can easily add separately and add on text pictures and others. 
Salient Features:
Provides professional templates
Easy mobile view
Social media integration
Cool storage and bandwidth
Photo galleries
Google maps
Contact forms
Why Choose Jimdo?
This is accessible for both International and Domestic users
This can create a well-optimized website
Provide no cost
HTML CSS code given
give 24/7 customer support
Top deals available now:
Free trial
Buy Pro plan at $7.50 per month
Buy a Business plan at $20 per month
Buy Platinum plan at $30 per month
Yola is a free, pretty simple, and very best website builder that focuses on something you can love to present.  This will make it easier for you to get your business online, you can enjoy every day working, and generate huge profits.
The Ultimate Mission of the website builder is they will come up and provide all the cool and useful features that help the customers to shine with a website wherever they want.
This is a world-class site builder even easier for you to use. You can even get the most successful help online through their customer support.
On the other hand, this can be the best website builder because this is a non-profit and a perfect website builder platform that can be used as a website store portfolio site or any kind of purpose. 
The best feature about this platform is you will get inbuilt templates for the different categories such as food and restaurants, travel and tourism, health and wellness, and many more. 
If you want to create the website, you just need to sign up for the Yola and choose the templates according to your business requirement.
Then you will reach a customized table, where you have to enter the site name and customize it according to your preferences. 
Salient Features:
You can create a free professional website
Offer you a fast and ad-free website
Customize options are available
Create a post with an ad-free website
Provide you powerful and easy edit flexibility
Marketing and social networking business
24/7 customer support
Mobile and Facebook web publishing
Why Choose Yola?
Fast and easy to use
Powerful to take control of your website
Flexibility
No third party as
Penzu is also one of the best free blogging sites, which you can choose from the list. This state is opposite of philosophy and they provide you a safe and easy journal platform that supports both private and lock them down with a password. It is because if you have any privacy concerns or you are riding just for your personal then it will be the best blogging site to use. 
This will offer you free apps for iOS and Android that enables you to update it regularly. This is a self-promotion tool which is made up with 128 bit Encryption that is also limited to the paid-version and provides a fair amount of pressure.
The extra options are fundamental under your nose. If you want to simply place a record of your thoughts and practice writing, this will be the best blogging platform you can start with. 
Salient features:
Provide unlimited entries
Autosave
Basic formatting options
Journal locking
Easy word count
Basic writing reminders
Easy access on mobile apps
Why choose Penzu?
Provide privacy and security
Available at mobile apps