If you are ready, your website is ready to launch, though you may have experience and you did it before, still I would suggest, take some time to reanalyze the whole thing once again. We all heard precaution is better than cure.
It is always better to take precaution from things happening before happened. There were many ideas, concepts made available for you, the website post-launch plan helps you from security and protects your site from being get damaged.
Also, it provides you with important services that one should take care before launching any website.
It is not easy and good going if you work hard in implementing, designing, coding, testing, and all the necessary parts that you do while making a website and it will vanish in just a fraction of seconds due to silly mistakes, errors, and unwanted bugs.
So my high recommend to you is to follow some basic website post-launch plan tips and tricks so that you receive good and a healthy response on a positive foothold.
Here in this blog, we are going to discuss some of the important services you should be aware of before launching a website. Let us all have a look: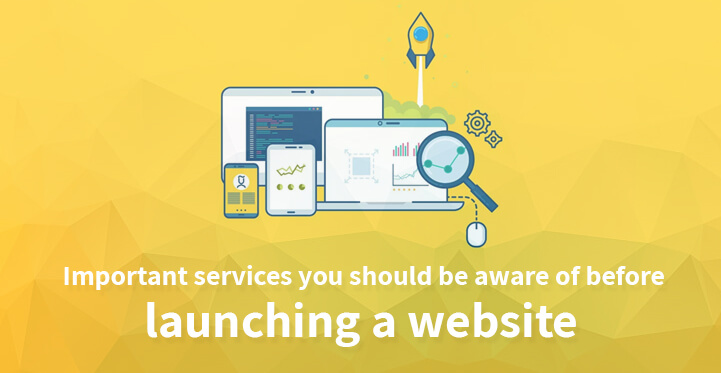 1. Don't Rush It :
As I already said in the above paragraph, don't be in a hurry. For this I have a great phrase for you, Nature does not hurry, yet everything is accomplished. A very well said, and this applies here too.
It is one of the most common mistake when launching a website people rushing into it. You should have a website post-launch plan before launching it. Sometimes rushing may often create a problem.
It is often seen that most web developers and business owners rush towards the launching without taking any precautions and protections. Ultimately it leads to failure, drawback, loss of data, and website problems.
No matter what, if your website is ready to launch, but at the time if any bugs or error arise, and nobody knows, if it takes more than an hour by the professional or coder to fix the bug.
And you remain face washed in front of everybody. So it is always better to take some precautions and preventions before rushing into it.
2. Domain Name :
The website is like a family where it consists of the domain name, hostings, plugins, security, shortcodes, color, etc., similar in a way, here we will discuss domain name first. Choosing a domain name is the first and foremost factor which you should do.
Better choices give better results. Website post-launch plan includes one of the most important parts is the domain name. A domain name which stands for your brand name is the most important key that related directly to your industry or your services.
For example, if you own a sports business than you can search for the domain name that contains the keywords "sportsman", "athletes" and your city name.
3. Where to buy the domain names?
There are many choices made available in the market such as GoDaddy.com, Name.com, LCN.com, etc., choosing the best feature, price and extended services domain name will provide you a great selling and a good seller hosting services.
4. Hosting providers :
The hosting provider is one of the great tips for website launch plan because it provides resources, compatibility, uptime, and speed. You have to take care of these three things.
Resources: Check with the website admin or with the organization that assembled your site. Get some information about the assets the site needs to run easily.
Contingent upon your focused on traffic, audience and the content management system, it could be anything from shared hosting to a committed server.
Compatibility: Pick a hosting service that is good with your CMS or potentially your custom contents.
For example, because of the developing ubiquity of WordPress, the vast majority of the hosting organizations give devoted services to blog and sites dependent on this CMS.
Uptime: The majority of the web hosting services accessible today guarantee a base uptime of 99%.
Notwithstanding, you should scan for some genuine surveys on your short rundown of organizations that convey these sorts of services. It's smarter to remain safe and ensure that what they showcase as genuine, is genuine for sure.
Speed: Google favors websites that load fast. If your loading speed is high then it will be given first preference in the search result.
And, as a result, they get more popular speed is an essential part of any website. Before launching it, one should take speed as one of the most significant factors in the website launch.
5. Social media :
Social media is one such platform which helps to make viewers into customers. More viewers lead to more growth of the website.
Hence before launching a website, accordingly, make web-based social networking accounts and make and calendar a content plan for them. Adhere to that arrangement. Likewise, it would utilize some outer services for your exploration.
Social media such as Facebook, Instagram, Twitter, Google+, Pinterest, Linkedin, have found such an amazing platform for posting your sites blogs, contents, articles, that will lead more traffic and rankings for your business growth.
6. Check your content :
Content plays a vital role in any website design part, whether you talk about product, blog or an article, your own language is written content will make a first appearance in the Google search engine that provides you a good scope for your business growth.
Content is one of the keys for website post-launch plan because the duplicate data and copied content will make your site go down in the Google search.
Also, give your content a thorough reading to make ensure that there should be no grammatical mistakes, spelling error, typing issue, etc.,
Summary!
Keeping in mind these above-illustrated points before launching your website, will help you to prevent loss, damage. Website post-launch plan will surely help in making a website run smooth and provides a great effect on marketing strategies.