Designers are responsible artists. Whether it is web designing or development it requires a sense of imagination for looking at the output even before it is published.
Both the process includes small and big tasks. You have to work for minor color adjustments and also for setting up decent space for a particular section.
Just like every other work designers and developer also need inspiration and aspiration for boosting their efficiency. The world today has witnessed some magnificent artists and their creativity in forms of web design or development.
Some of them have quoted their words for the future legends while a few of the various industry leaders have taken efforts to put it in words what web creativity actually is.
In this read, we have compiled some of the best web design quotes and website development quotes for your enthusiasm, inspiration, reference, and direct use.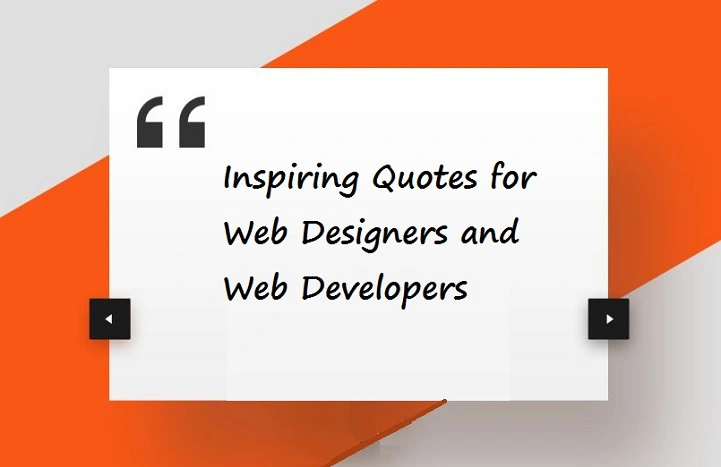 "A website should be simple in order to be accessed easily by adults and old. Having difficult web design can impact UI/UX as well as bounce rate."
Shri Krishna Technologies
Shri Krishna Technologies is an India- based custom WordPress development agency. We're trying our position higher to make our customer's business shine online since 2010. Over the once 12 times, numerous effects in the web development and designing world have changed. But our fidelity and fidelity to give our clients with doable results remain the same.
"If there's one thing you learn by working on a lot of different Web sites, it's that almost any design idea–no matter how appallingly bad–can be made usable in the right circumstances, with enough effort."
Steve Krug
There are often times when things do not go as planned during designing. There are combinations that you might miss out on.
And even some inevitable factors that can make you feel pathetic about the design that you worked so hard on. In such times turn to one of the best web design quotes from Steve. Keep your patience, think of a different approach, and apply the same wisely.
"We don't just build websites, we build websites that SELLS"
Dr. Christopher Dayagdag
Dr. Chris is the CEO of marketing web solutions. In the last decade, he has successfully created 3000+ websites that are live and running successfully. Here is one of the most prominent website development quotes from him.
It is essential to ensure your clients that you will be generating revenue for them with your work. There are thousands of professional and freelance developers out there.
But, when you pitch in your clients by quoting something like this it makes a positive impact. You can even frame it with credits at your office or workspace.
"Your website is the center of your digital eco-system, like a brick and mortar location, the experience matters once a customer enters, just as much as the perception they have of you before they walk through the door."
Leland Dieno
The most prominent thing about building a website or blog is that it is the first source of interaction for your potential customers.
Leland has explained it beautifully with his quote. It is the first thought that a potential customer has about you matters, and a website does exactly that for you.
"A successful website does three things:
It attracts the right kinds of visitors.
Guides them to the main services or product you offer.
Collect Contact details for future ongoing relation.
Mohamed Saad
Despite years of experience sometimes developers fail to understand what actually does it take to make a successful website. Mohamed Saad has coined one of the best website development quotes of the decade and explained it in four simple lines.
Each of the parameters listed by him is inevitable for the success of a website. Even if you are a mediocre developer if you follow this golden rule then you are bound to succeed.
"If You Think Math is Hard Try Web Design
Pixxelznet
Designing is often considered a simple task by clients. And on the contrary, it is amongst the toughest tasks. A designer has to take care of the client requirements, target audience, product portfolio, industry trends, and many other things.
There are multiple software and more than one task is executed at the same time. Hence, on the next occasion when anyone tells you that it is easy, refer them to this quote and ask them to try their hands on it.
"Websites promote you 24/7: No employee will do that."
Paul Cookson
The era of digital presence has emphasized the importance of promotion for all brands and products. The promotion can be for a product, offers, discounts, or a brand. But whatever be the reason it essentially helps in the marketing of the company and for attaining a sales target.
This small sentence from Paul Cookson has transformed as one of the best web design quotes because of the message that it communicates.
The website has the potential to promote in such a manner that no employee can do it for you. Hence, investing for a website is a must.
"Responsive Web Design always plays important role whenever going to promote your website."
Josh Wilson
We all know that even websites need promotions and this quote aptly conveys what is still unheard by millions. It takes a responsive design for a website to be successful. It is important to convey this to the clients and is also for the designer to be well-aware of.
It will do the work if it is not modern but it must be responsive in order to attract traffic. The usual load time for a website is 3-5 seconds and no user prefers to wait longer than that for a website to load.
"The public is more familiar with bad design than good design. It is, in effect, conditioned to prefer bad design, because that is what it lives with. The new becomes threatening, the old reassuring."
Paul Rand
Paul is an expert credited for the visual branding of companies like IBM, ABC, and UPS. For every designer there comes a stage when he wants to experiment.
Every designer at some stage in life regrets about the new designs that they have come up with. Both these situations have been correlated in this one of its kind website development quotes by Paul.
Therefore depending upon the time and the target audience a designer must choose either to walk the old familiar way or take the new route.
"There are three responses to a piece of design – yes, no, and WOW! Wow is the one to aim for"

The entire phenomenon of responding to design is simplified here. Either it's a good design or a bad design. Other than that it is only the best design.
As a designer and a developer, hone your skills and feed your brain with the inevitable requisites that make your designs look Wow. Along with the money you will earn satisfaction or your work.
"A designer knows he has achieved perfection not when there is nothing left to add, but when there is nothing left to take away"
Antonie De-Saint Exupery
This is one of the most classic quotes which can be served as an inspiration for both developers and designers. There is no need to fix anything if it isn't broken.
The thing that matters with your work is restraint more than anything else. This happens gradually with time as there is no room for overnight success, at least not for web designers and web developers.
Overcoming the obstructions in creativity is a major challenge that decides the success of a developer and a designer. Bookmark these web design quotes and read them out loud. Think about it and use it to fuel your passion.