The next time you are publishing your blog post in WordPress, beautify it widget on WordPress. The one widget we will be talking about in this blog is the text widget in WordPress.
By using this widget, stand out in the virtual crowd online and let your readers decipher what has changed. We are sure that has got your attention now because we all want our readers to be surprised and hooked up on our blogs for the best content to date.
So, continue to scroll down the top features and things that you can do using this text widget.
1. Share Ads Like A Boss
If you are new to blogging with no prior information about Google Adsense and Adserve, then you must know that gaining their approval can help in monetising your blog posts.
So, when you use the text widget in WordPress, it can help you embed the approved codes of Google Adsense or Adserve to begin listing different ad campaign around your web page.
More than that, now the latest version of the WordPress webpages and themes allow iFrames to add any object possible on your web page with the help of this text widget.
You can simply drag and drop the text widget anywhere on the blog with the code of the object to implement the changes and enhance the beauty of your web page in no time.
2. Use Shortcodes That Are Allowed
On the different locations on your website, keep on adding the text widget in WordPress. It should be the one which gives you satisfaction before posting the blog.
So, the text widgets are sleep and comfortable in writing the shortcodes. So, you can easily choose the sidebars or any side of the blog post page to set this text widget right.
3. Write Customised HTML Codes
At times, the themes of the WordPress which you have chosen or have been using does not support embedding certain objects or widgets directly on the blog post or the website.
But through writing the HTML codes on to the text widget, the one that you can post anywhere on the blog, you can begin adding objects of your choice easily.
These HTML codes are helpful when you are planning to present some blog with really beautified content. Moreover, whenever you want to add widgets related to weather, time, or anything else, then these HTML codes to be written in the text widget are very common.
4. Attach The Social Media Profile Links
Whatever content you are posting can be viral or turn out to be the best one from your end to date. This is highly possible when the post is shared on social media websites and other platforms pretty easily or on-the-spot.
So, you can link your social media websites like FB, Twitter, Instagram, etc., to show the number of followers or fan following on your websites. The buttons will be displayed around somewhere on your blog.
Through this text widget in WordPress, you can give the audience or the readers a chance to spread the word online and also get in touch with you.
In other words, the widget can easily pull the necessary data from your social media websites, if you are already logged in to that website.
And simultaneously, it looks like an opportunity for your keen readers and followers to get to know on a personal level, that is, if you allow them to follow you on other social media platforms when they share your content using that text widget.
5. Add Twitter's Live Feed
Again, this feature works extraordinarily in WordPress when you want your readers to know what's the latest content going on Twitter. They the HTML codes of Twitter live feeds can be really interesting to read and look through for the readers, when they pass onto your website.
In fact, that's just another way to increase your fan following, when you are allowing readers to read something new along with your blog.
So, then readers do not need to make a new account on Twitter to read the live feeds which the text widget you have added will be sharing.
6. Keep On Sharing YouTube Video Links
Whenever you are watching YouTube videos online, and you feel like sharing them along with your blog posts, then this can be easily possible within few clicks. So, under the videos on YouTube on the official website, there is a description box.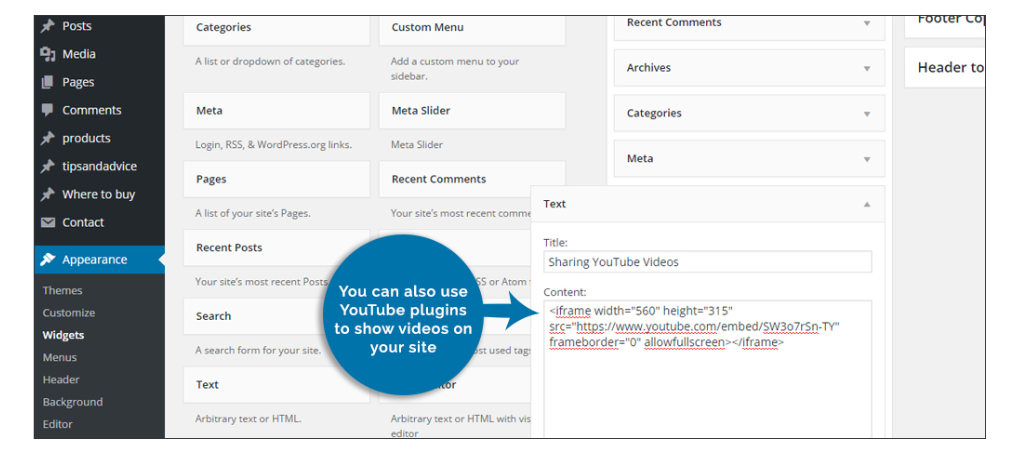 Below that you can easily find the "Share" buttons; one of them will have "Embed" options. After clicking that, you can get the embedded code which then you can past onto your text widget in WordPress.
Keep note that you can share as many text widgets as possible for uploading different YouTube links on your blogs. And if your website theme is quite responsive, it will automatically adjust the size and height of the video frame or media player on the blog.
This will be helpful for the readers and the viewers of your blog.
7. Add Those Affiliated Banners
Another feature about these text widgets that you can post in multiple numbers across your website is that you can add the coding for your affiliates or the banners of your partnered bloggers and websites.
This coding is basically used as a passive form of advertisement. You can write these code into the text widget to collaborate with other bloggers or websites.
Also, you do not have to think about the size or height of the banner or the affiliate links. The responsive themes of WordPress are designed in such a manner that it can work across many platforms.
Hence, your readers can read your blog with the same experience, irrespective of the device the skimp through.
End Note:
At times, you don't need to add long HTML codes or even use a widget when WordPress is adding the functionality of your choice without coding. It all depends upon the theme and the object that you want to add.
So, text widgets are always a handy way to beautify your blog and to make it more engaging.