Are you in puzzle whether you on or off WordPress posts comments? Must read this blog before making your final decision. Undoubtedly, comments are the feedback that usually gets from the readers as an appreciation on your blog.
Sometimes, you may get negative comments and covert into the serious fight as well, and that time you just want to stop this all. To maintain the blog there are so many things you need to look for.
In today's time, there is no difference between the blogs, articles, and aspects of the blog. The comments work for both positive and negative way, thus there is a big confusion among bloggers that should they allow WordPress posts comments or not?
And today, we are going to solve this issue to some extent by sharing all the pros and cons of comments. Comments are worthy because they improve your website credibility, trustworthiness, and interaction with customers.
But still, you are uncomfortable in many ways, so let us study in-depth and clear out this puzzle.
Remember, you must learn all the points carefully because this will help you to make your decision correct. Don't worry all given aspects are based on expert bloggers thinking.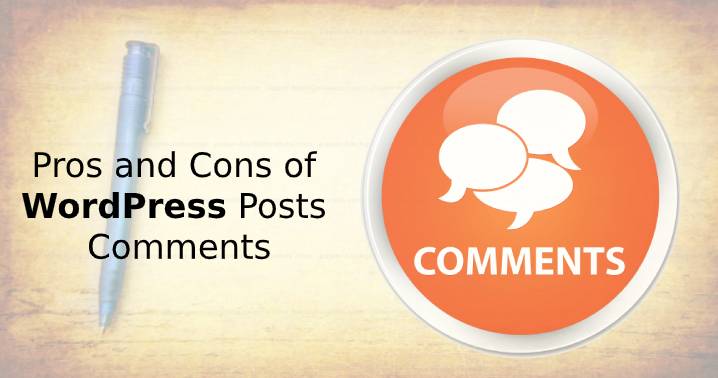 There is No Comprehensible Consent
WordPress has risen to a huge level now thus it opens ups the debates on its technology especially The WordPress Posts' comments. Even the most famous online publishers have been talked about this issue. Yet, no final decision has made out.


To better understand this, let us consider an example. Copyblogger is one of the best and famous blogging platforms that usually talked about digital marketing trends. Perhaps you think they have concluded the solution for this confusion, but even they were not sure about allowing or disallow the WordPress posts Comments.
Well, they have disabled the comments on their site in 2014, and bring them after two years.
The example we will consider, The Zen Habits Blog permanently disabled the comments on their site. And it was because of getting too much spam and useless. It was the same happens with Seth God's Blog, but the reason was a little different.
The famous author said about Comments are the easiest and best way to interact with the audience and share your opinion, but all these consume too much time.
Besides this, the firm that has numbers of employees to manage comment says comments are the best that easily increase the likelihood of their blogs. It is the best way to promote and interact with your audience. With this, you will get to know what your audience wants from you.
Well, this never going to end. For your clarification, we will show you the best pros and cons of WordPress posts comments which are required before making your choice, right?
Pros & Reasons To Enable Posts Comments

As compare to cons, there are numerous reasons to enable them and claim pros on your website. According to the blogger's point of view, Comments are a great way to interact with your audience and in fact, they believe a blog is genuine when the comment section is available.
It is the fact when the user interacts with your blog via comments the other users find you as a genuine blogger and would like to hear from you.
It is straight forward communication between author and reader. If you are asking us, Should I allow the comments? I will say yes. It is just social proof that users usually matters a lot.
Apart from having negative or positive comments, you should focus on Engaging comments that better your website growth and engagement. The other benefits you can enjoy such as:
1. Get New Ideas & Tips
To better your User experience and make your content more sharable, then having comments on your blog is essential. When you get feedback on your posts, apparently you will get to know about tips and new ideas that your audience wants from you and what you should work on.
2. See Insight
Comments are an easy way to see the insight of your blog. When you get an opinion on your blog, this motivates you to write more and give your readers exactly what they want. By continuously getting feedbacks on your blogs, your audience will become a fan of yours.
Thus, you get maximum revenue as well as public attention. Regardless, having good comments on the site, ensure your website is mobile-friendly thus you can make the best changes for the future.
3. Increase Views
When the user comments on your blog and you give his reply. The conversation begins and you will enjoy maximum views and comments that mostly better the UX and give you worthwhile changes. The more and more you receive comments it is more likely to increase the chances of getting subscribers.
Cons & reasons to disallow the comments
Apart from the benefits, there are negative aspects too which you should consider. So, here are they:
1. Time Consuming
Managing and replying comments is time-consuming. Well, it is good you are getting plenty of comments, but replying to each one of them on the time is time-consuming as well as you may end up with stress because you cannot respond to anyone on the time. This often sounds like Bad UX.
2. May You Get Opposite Results
Just like the above cons, if you are unable to reply to your viewers on the time, they left you and often damage your brand image and awareness.
You have allowed the comments just because to better UX and growth, but you are getting negative results. Or if you get fewer comments that also affect your website badly. So, some bloggers think to avoid the comment section.
3. Spam Comments
There is also a fact that no one user has enough time to talk with you again and again. Hence, the risk of getting spammy comments high and that's not good for your website.
Conclusion
We will never say you Yes and No about whether you allow comments or not, but we recommend you to make your decision. You just check your website and if this is going perfect for you then there is nothing wrong about to allow them.