The term wedding quickly summarizes in front of you a collage of flower decorations, food delicacies, elegant draperies and designer wedding cards. Lately though, people who have turned internet-savvy are more interested in having a wedding website and are instead cutting down on printing the invites for different wedding related ceremonies and rituals.
A wedding website carries much more than your photographs
If you think that most of the websites for wedding are developed simply to introduce the groom and the bride to each other's relative and to relate the story about how they met then, you are very wrong. A wedding website not only carries the photographs of the would-be husband and wife, but also is helpful in many other ways.
Off course, it is one of the cheapest and quickest ways of circulating information about the couple to everyone. Yet wedding website also provides you with many more benefits.
Reasons for having a wedding website
Saving on wedding card invites
Traditionally, wedding cards are considered an integral part of the wedding arrangement. However, with the changing times, people are more inclined on saving by cutting down on printing cost. Having a website for engagement, wedding or shower saves time, efforts as well as printing costs.
Refreshing the registry access easily
Each time you are scribbling down to refresh the registry access it becomes important to cut off those that are already taken by some guests and writing down the fresh ones.
However, it is much better to give your guests easy access to the website online. Registering the access directly to the registry info is a good idea that will enable the guests to get complete information of the gifts that are still to be taken.
Skipping on save-the- date magnets
Most of the friends and relatives do not want you to forget their wedding date and stuff you with the save-the-date magnets. Many times the magnets fully cover one side of the fridge fully.
Instead of wasting money on such magnets, adding a bit more amount to such avoidable expenses and putting up a wedding website is more feasible and practical.
Get away with those monsoon wedding shivers
Many times, you arrange the wedding in a big lawn and suddenly the weather forecast tells you that there will be heavy rainfall.
Sometimes certain circumstances can also make you bring changes in the choice of your hotel. Such last minute changes can be pretty upsetting and it takes lot of time to inform all the guests about the new change in the wedding venue.
With a wedding website, you can easily announce this change in matter of few minutes and control the chaos that is generally caused after such last minute change in the venue.
You are saved from making hundred calls and instead can update your guests through the wedding website in two lines. All is a matter of just five minutes!
Checking with the venue directions
In this world of smart phones, automobiles with inbuilt GPS technology and tablets, everyone uses the internet to find an address instead of asking for it to a layman.
A wedding website contains the map of your wedding destination. This helps the guests to find the directions to the venue properly and you are saved from answering the guest calls asking for direction and clarifying it in detail.
An eco-friendly option
Since you will be saving on paper, stamps and the whole of envelopes, you will be naturally saving on trees that certainly are an eco-friendly act.
Are you getting married? And searching for Awesome wedding themes to share some memories?
So you are at the right time in the right place.
You can check out some fantastic wedding WordPress themes here which will definitely make your wedding memorable for a lifetime.
1. Wedding Videographer
2. Wedding Rituals
3. Nuptials
4. SKT Lens Pro
5. Event Planners Pro
6. Banquet Hall
Check some of the awesome wedding templates here: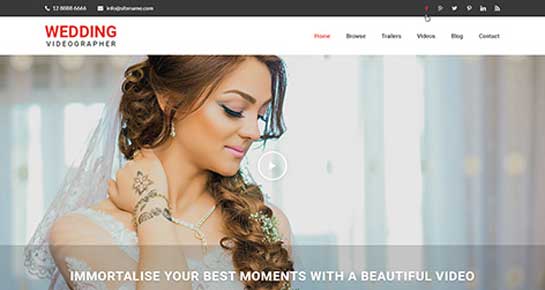 You can create an awesome wedding website with the help of this theme. One can use this theme as a videography or photography portfolio website. Where you can show your latest videography work. Plus any bride or a groom can use this theme to showcase there memories like photos, videos, prewedding photoshoots all over the world.
Easy drag and drop page builder plugin are used for the Wedding Videographer theme so that you can make changes on the theme as per your need.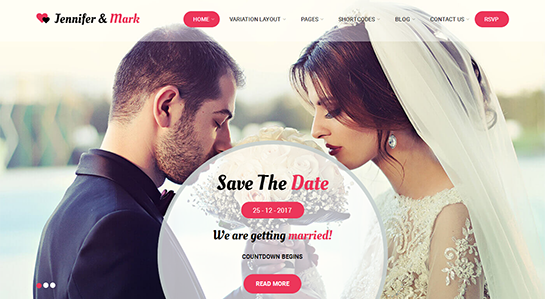 With the help of Wedding Rituals theme, you can announce that you are getting married, Also you can update all the rituals that are going on. You can add your story that how you meet, your love story, the event's date, etc.
Events plugin and gallery plugin have been provided so that you can add some images on your portfolio. Wedding rituals are compatible with different sliders like the crelly slider, master slider, etc.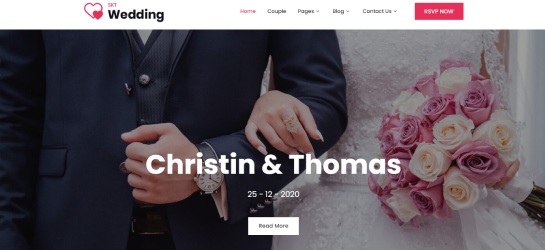 If you are looking to make your wedding memorable you can use this theme, as this theme is fully responsive that you can use on any device. You can pretend your story with the help of this website.
Gallery plugins have been provided so that you can add some images and the videos that you have. In the header section, you can add maps that will help your friends and family to reach out to you.
The main features of this theme are portfolio responsive. which is used with the color picker, different language speakers can also read this theme as this theme is multilingual ready. That the theme can be translated to any other language this is translation ready.
This theme has been tested with different Google and SEO standards hence all tests have been passed like Google mobile-friendly test, portfolio plugins test, woo-commerce compatibility test, html5, and css3 coding, etc.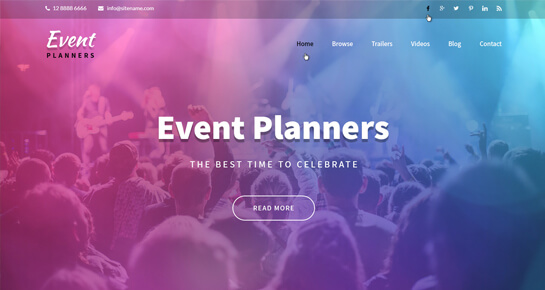 This theme design is created in a beautiful manner. Not only the groom or bride can use this theme, but also an event planner can use this theme to create some plans for any type of event. Events like birthday party, wedding, engagement ceremony, summer holiday events, summer camp, etc.
This theme is much more responsive so that any kind of event business can use this theme, additional features of this theme is multilingual, documentation ready, 1 year free support via email and phone, more than 100 shortcodes are provided, Different Page builder plugins like Gutenberg, Beaver, Elementor, Visual composer, Live composer, Divi are also provided.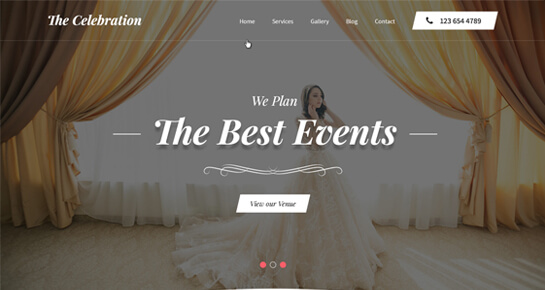 The event planner can use this website for planning events like banquets, celebratory functions, marriage, birthday, caterers, event and wedding planners, venue, parties, and other functions like a baby naming ceremony, anniversary, corporate lunch and dinner, etc.
4 different types of header and footer sections are provided. You can add images, videos, sidebar into different inner header section. Free documentation has been provided which will act as a guide while making the changes on the theme through the backend. Beginner or intermediate users can easily make changes.
Gallery, events, contact form 7 plugins have been installed for the more effective user interface.