If you have added Instagram or Facebook content on your WordPress website with the help of default Embed blocks or oEmbed feature then it's high time to fix it.
Because of breaking change in Facebook API, After the 23rd of October, you will not be able to add Instagram and Facebook content on your WordPress websites by using default methods.
If you are worried about how to fix this issue, then this blog will help you. Below you will find a solution to fix Facebook & Instagram embed issues so that your website content will work as it is. By following these steps you will ensure that you will never miss any other features.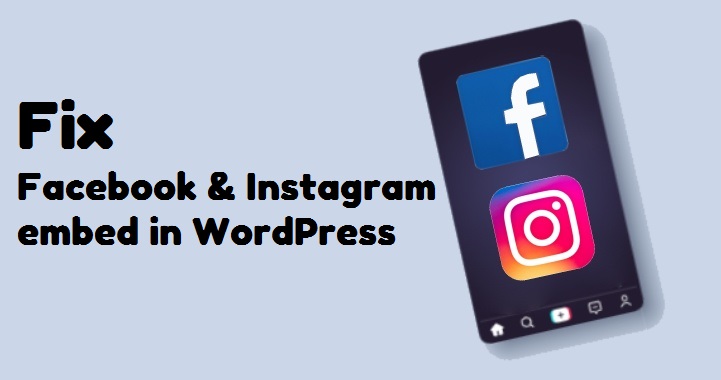 Why these oEmbed feature will stop working?
These embedding Facebook video as well as Instagram images will stop working because recently Facebook declared that all oEmbed requests for Instagram and Facebook content will be considered outdated from the 24th of October 2020.
This API is important for WordPress classic editor and Gutenberg default embed feature that allows you to add updates, videos, pictures, and other content from Instagram and Facebook.
Alternatively, FB now needs every developer to get register an app, and when getting data from Graph API need to use a client token for oEmbed content.
And for the WordPress core team, this feature is not extensible to add to the WordPress project, so Facebook decided to eliminate Instagram and Facebook embed features from WordPress core.
Additionally, they made the task easier. To solve this issue you can now take the help of WordPress plugins.
Steps to fix Instagram and FB oEmbed issue
The simplest way to fix Facebook & Instagram embed is to use free WordPress plugins i.e.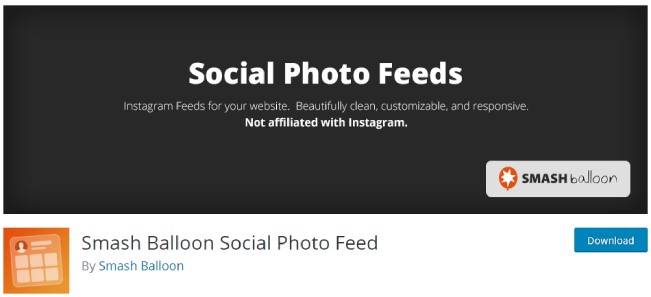 Instagram Feed plugin is also known as Smash Balloon Social Photo Feed. From your Instagram accounts, it will showcase the Instagram posts, either in multiple different ones or in the same single feed.
Features:
Chronologically your Instagram photos will be displayed.
Option for random order is also provided.
For more customization, you can add your own Javascript and custom CSS code.
Very easy to add feeds to pages and posts with the block editor
Very easy to setup
From different Instagram accounts, it will showcase photos.
Mobile ready and responsive.
Totally customizable
Shortcode options
Multiple Instagram feeds
Infinitely load more
Attractive header
Follow on Instagram button
Custom Facebook Feed Plugin is the another plugin to fix Facebook & Instagram embed issue. It is also known as Smash Balloon Social Post Feed. This plugin will help you by showcasing Facebook posts on your website.
Features
This plugin is capable of behaving to the same look and feel as your site does.
Lots of customization options provided.
Supportive with WordPress version 3.0 and higher
Visual header and box widgets provided.
Pro version is available
Totally customizable.
Search engine crawlable.
Countless Facebook feeds
Easy to setup
SEO friendly
Developed for speed.
Responsive and mobile-optimized
Visual header and Like box widget
These two plugins have been invented by the Awesome Motive team. If you find its active installations you will get to know that it has more than 200,000 and have more than 1.2 million users.
To build custom feeds for Instagram and Facebook, Smash Balloon needs to register an API key therefore to fix Facebook & Instagram embed issue you do not need any extra efforts and authentication to restore it.
Suppose, you have already installed the Smash Balloon feed WordPress plugin on your WordPress dashboard then now you just need to upgrade the previous version to the new one. Thus the default oEmbed feature will start working automatically without any problem.
If you face any difficulty in solving this issue, or if you are a new user and looking to restore this functionality, then you just need to follow these instructions.
Step 1: Open WordPress dashboard
Step 2: Go to smash balloon Instagram or Facebook feed plugin
Step 3: Navigate to the oEmbed navigation menu
Step 4: Click on the connect button
The bestest part about this WordPress plugin is that no extra efforts are needed to solve the oEmbed problem. No extra complicating process will be needed nor you need to create an app to make it possible.
Beginner users can consider this process as a bonus because they can access all extended features of custom feed from smash balloon Instagram and Facebook plugin without paying a penny.
Another method to restore default Instagram and Facebook oEmbed features
If you are an experienced WordPress developer and looking for an alternative solution and would like to go through a difficult process rather than simply integrating the plugin mentioned above to restore this functionality then you can make use of the
This plugin will help you to restore Instagram and FB embeds in block editor by implementing the new Instagram and Facebook oEmbed APIs. It is created by a volunteer developer that works bet on WordPress version 5.4 and higher, PHP version 7.3 and higher.
From now just 10 days are left to fix this oEmbed issue in WordPress. Because on 24th this functionality will stop working. So it high time to implement new Insta and Facebook oEmbed APIs
Conclusion:
Hope this blog seems to be helpful for you to fix Instagram and FB oEmbed issue.