Are you getting failed to load Resource error? Do you want to solve it quickly? Yes, then first read out the basis of this error along with the ways to solve this issue.
It is a common error that usually frustrates the WordPress users. Well, it is hard to fix because it is an error of plugin, HTTPS URL and more.
Today, in this post we will show you the reasons for this error and how you can solve this. So, let us get started!
What Is Failed To Load Resource Error?
This error is common for WordPress users and is sometimes encountered in different ways. Sometimes it found in the browser and some have seen it in WordPress.
It doesn't matter where you are seeing the error, it is vital to fix this. Even sometimes it shows when you are performing a task on WordPress such as uploading images or files.
WordPress is a powerful CMS system that has plugins and themes that communicate with the webserver and work accordingly. Thus having such issues are normal, and it happens when WordPress is not able to fetch resources and you receive such message "failed to load resource".
How Can I Fix This?
If you need to get it to fix soon then there are several methods to do this, but before solving it you must look into the reasons first.
This may occur sometimes you are using outdated themes and plugins. Or sometime it may cause URL configuration and incompatible plugins support.
To fix your issues, all you need to follow the given steps:
1. Ensure The Antivirus Plugins Are Deactivated
If you are fed up with getting this message again and again like this- "failed to load respire-404 page error wp/admin-ajax.php. It may occur because The URL has changed or plugin is unable to respond to the file. Most of the time, the antivirus plugin problem is detected.
If you have activated the virus plugin then disable them and see your issue is fixed.
2. Restart Or Disable The Plugins

Another way to fix this issue you can reactivate all used plugins. To do this, first, you should disable all plugins and then restart them to activate your website faster. You should also keep in mind refresh the page every time you used it.
If you have done this, but still getting an issue then you must check out the error in plugins and do this. Follow the process of disabling and restart the plugins again and again until the issue discovered.
3. Get The Updated Version Of Theme

This error may occur due to outdated versions of Theme. This usually occurs in the browser when the user is contacting and he gets the message- the server is slow or responds with a 404-page error.
Well, most of the issues were found with outdated themes. So updating the theme might fix your issue.
Try to update themes and plugins both so you could perform well on the web. Mist check the status every week for updates to avoid getting this message. If it is not your concern, then contact the developer.
4. Change Default URL Address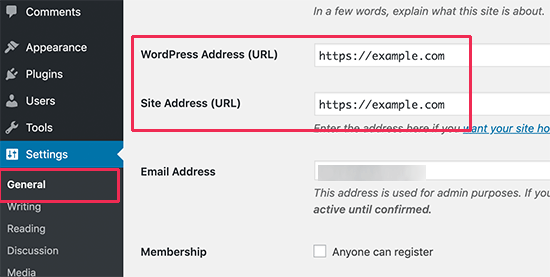 The chances of getting "failed to load resource" is common. In some cases, this error occurred after the installation of the SSL security certificate or switching the URL from HTTP to HTTPS. If you have switched the URL then there are the chances to get trouble in loading the pages.
This may occur whether you have switched the site URL from HTTP to HTTPS, but it is still running on the old URL. So, all you need to fix the URL issue by visiting settings then URL address.
If your site has mixed URLS then go to general settings to the WordPress URL. It is risky, hence we recommend you to take expert advice while doing this. If you do not know about technical faults then you must speak with a website developer.
Final Words
This error comes in different ways and there are several methods to fix them. As per our recommendation, we suggest asking for expert help who is best in handling technical faults. Or if you are doing itself then you must take a backup of the website first.