Want to know how you can embed PDF files in WordPress? If yes, so don't go anywhere. In this post, we will show you the complete guide on upload PDF files to WordPress. So let us get started.
Well, uploading and embedding files are easy to upload in WordPress. But PDF files take time and need some efforts to upload or insert this into WordPress pages.
However, PDF files are the most common file sharing method on the web that comes in various sizes and greater flexibility. These are easy to upload and embed and share on WordPress, but it is not as simple as you think.
You will need to do little hard work, so here we have listed some methods to easily upload and embed PDF files in WordPress pages.
First Method- Default Way To Upload PDF Files In WordPress
This one is a flexible and easy method to upload PDF files to WordPress. This is just like you add photos and videos.
You will need to select the PDF file that you want to upload using the default media uploader in WordPress. To do this, follow the given steps:
1. Go to WordPress dashboard then Add New post or page option. You can also choose the edit option of previous pages or posts.
2. If you are in the editing window, you will need to click on the Add Media button.
3. Here, you will see the WordPress upload window and click on select files option.
4. Now, drag-drop your PDF files in this window.
5. WordPress will start uploading the PDF file. Once it completed, you will see a preview option to look into.
6. There is no necessary to fill out the details about PDF files as name, description, etc.
7. Now, click on insert into post button. The WordPress will create a link of PDF file that you have uploaded in your posts or pages.
8. See the preview of PDF file or post. This will show you how your users are ready to download or see the PDF files on their browsers.
Second Method- Upload PDF Files With Media Library
It is yet another best method to upload and embed PDF files in WordPress. If you haven't got the first method then you can carry on with this. In this. You will need to work on Media Library which helps to get the direct link of PDF file. To do this follow the given steps.
1. Open your WordPress dashboard and go to media then add a new button.
2. Here click on select files button to upload the PDF file of your wish or drag-drop into it.
3. Once the upload completed, you will receive the URL of the PDF file.
4. Now copy the URL of that PDF file. Ensure you have copied the link from the first URL box.
Task completed. You have a URL of PDF file and now you can link it to any page or post that you want to connect with. Even you can PDF file links with widgets, URLs, and other files.
Now, it's all up to you.
Whether you want to add or insert a PDF file link in your post and pages. This option might be useful in both conditions you can share or add links of PDF file in WordPress.
How To Embed PDF Files In WordPress?
To embed PDF files in WordPress you will need to install Gutenberg editor. If you have already installed this plugin, then keep in mind you will not be able to choose PDF files while clicking on the Upload button from the image block.
Or you can click on the Media Library before selecting and uploading the PDF file. Let us learn this in detail.
1. First, insert an image block or add an image from the editor.
2. Now click on media library and select files to upload PDF files.
3. Click on insert into post option to ad link of your PDF file.
Once it completed, your users are ready to download or view your PDF file. They can even save it for further use.
WordPress Plugins To Embed PDF Files
If you want to upload or Embed PDF files in WordPress then it is one of the best and easiest ways to do this. Embedding PDF files will make easier for your users to read and view on your website. This will take away your visitors to a separate tab.
1. PDF Embedder Plugin
It is one of the coolest and smart plugins used to embed a PDF file faster. This will help you to embed PDF files directly into your WordPress pages and posts.
In this, you will see multiple features where you can customize it as in changing the width and height of the file. To use this plugin effectively, you must follow the given steps:
– When you are on the dashboard, go to the plugin area and click on the Add new button.
– Search the PDF Embedder plugin and install it.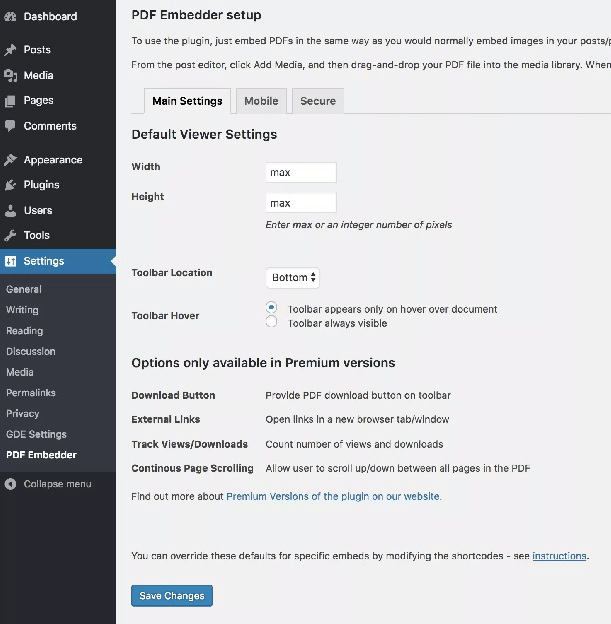 – Now go to settings then PDF Embedder. Do the required changes and save it.
– Once the plugin installed, you can upload the PDF file by using the media uploader.
– When you insert a PDF file, it starts creating its Pdf-Embedder shortcode with URL.
– Now, go and see the preview of that page and you will see the embedded PDF file with a toolbar at the bottom of the page.
– This plugin is also available on the paid version.
2. Embed Any Document Plugin
It is the second-best and most used plugin for embed PDF files in WordPress. This plugin will allow you to upload the files easily. It uses Google docs and Microsoft office to view the files for the user.
Additionally, when it comes to embedding PDF files you can do this easily with Microsoft Excel, PowerPoint, and more. To do this follow the steps:
– Go to the dashboard and install embed any document plugin.
– Then go to the settings button if you need it.
– Go to WordPress editor, you will see Add document button to upload PDF files.
– You can use the default media uploader on this.
– Click in the insert button and it will create a shortcode of that PDF file.
– Now preview the embedded file on your post.