Landing Pages have long become useful tools responsible for capturing visitor's attention and "persuading" the latter to get engaged with your content, offers, services, links, subscription forms and much more.
1. What is landing page in WordPress?
Well, a landing page in WordPress is what actually differs from other pages and parts of a site in that it contains specific call to actions and is saturated with key phrases and expressions.
And although there are no compulsory rules and mechanism exercised when creating and designing landing pages, the objective is always the same – to give the website guest exactly what he or she is looking for and hiding from his field of view everything that can hinder his actions.
From a psychological standpoint, a landing page is what forms the first impression of your website and has a decisive influence on the level of client attraction and further conversion.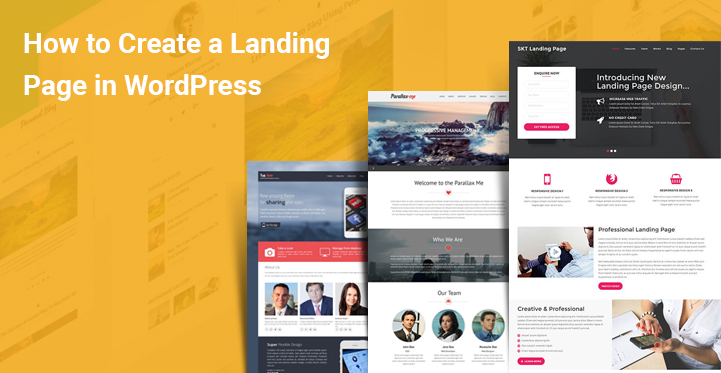 2. Create a landing page in WordPress with themes
There are several practical ways you can follow if you want to integrate landing page functionality to your digital presence and take advantage of it. One of the simplest ways is to find and enjoy landing page WordPress themes.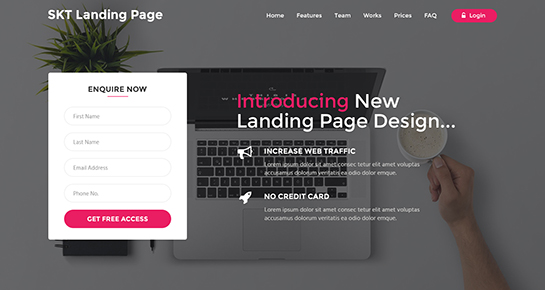 SKT Landing Page is one of the best solutions when it comes to promoting whatever you are engaged in, selling more services, digital and physical products, launching apps and programs, adding email subscriptions, having more social followers, etc.
With this easy to use and customize template, having the most engaging "welcome" page for your audience is guaranteed. Moreover, you are not going to spend all your time on its creation.
Since the basic coding has been properly done and dozens of features are at your disposal for transforming the minimal and clean layout of your landing page into something effective and attention grabbing.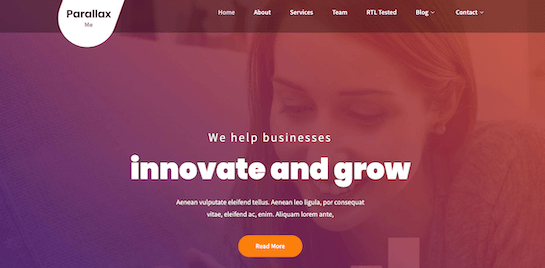 One page WordPress themes are ideal for serving you as landing page mechanisms and to match the quality you are looking for for boosting your specific business.
SKT Parallax Me Pro is one of such templates you can test and try, edit and customize for reaching out the ultimate look and feel of the desirable landing page in WordPress.
It means that you can be specific in what is offered to your website visitors with unique content, attractive color combinations, legible typography, easy to follow call to actions and much more.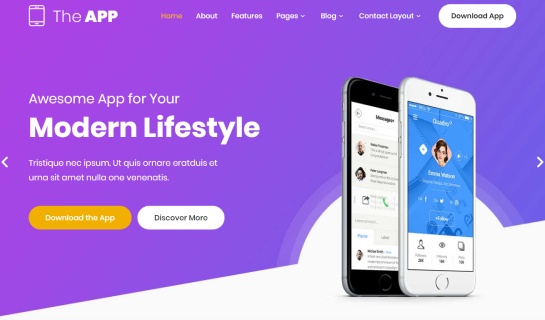 Another template that will make your life a lot easier with landing pages is called The App Pro. Creating single purpose nature page to convince your existing and prospective clients to take certain actions or to follow given links to be redirected whenever needed is what The App Pro all about.
In addition to the creation of a results driven landing page, you are also capable of changing the background image, playing with colors and fonts, adding images on the slider to make your look more persuasive.
3. Create a landing page in WordPress with plugins
There is almost anything you can find with WordPress plugins, from additional functional and technical capacities to design touches, page building frameworks and everything in between.
Hence, landing pages are no exception. Just find relevant plugin and make the creation of a landing page in WordPress pain free.
Elementor Page Builder is one of the powerful lead generation and landing page creation systems you can have at your leisure.
Your convenience and save time are high priorities for the developers of Elementor coming with fast performance and advanced toolkit to make the creation of absolutely any kind of page design possible.
Just put your creativity into action and design exclusively good landing page to be added to your WordPress powered site easily.
No coding knowledge, no restrictions on what you can edit or manage with live design and editing capability of Elementor. Thus, real time results are guaranteed for you!
Breaver Builder comes with what's called integrity of essential features and functional possibilities to make page building experience more exciting and interesting for the website owner.
Take care of every single page of your site and make them beautiful and inviting, more lead generating and productive in terms of conversion and client engagement.
Full width and column based layouts, mobile friendly design, HTML and CSS support, pages, cooperation with posts and custom post types, content modules like Photo, Audio and Video, Text Editor and Sidebar are among the most attractive features of Breaver Builder offered for free.
More modules, professional support by the plugin developers, prebuilt layout templates and much more are waiting for you with premium version.
WordPress Landing Pages is one more convenient option you should go with if you are owning any WordPress authored website or blog.
Highly resourceful and intuitive, this plugin makes the creation of nice looking and eye catchy, conversion optimized landing pages as easy as a pie with code free operations.
Visual editor of this plugin enables quick changes on a live preview mode with your specific design taste and solution. With WordPress Landing Pages, you can also keep the track of your page's conversion rates, lead activities or add new functionality with available add ons.
Craft and make us of high converting landing page on your profile with the help of Landing Pages by PluginOps. Moreover, not only landing pages, but also other pages and layouts can be professionally built with this plugin and shared in your site.
Use drag and drop based operational framework of the plugin and drug and scale, position and edit every single element you need.
It supports all the modern WordPress templates and makes the creation of responsive pages a breeze without any coding procedures.
Frequently checked and updated, Landing Pages constantly comes with fresh page templates and widgets, modern visual page editor and MailChimp integration.