Do you usually ignore the daily update notifications that occur on the dashboard of your WordPress website? It is actually a very wrong habit and can make your site vulnerable to the malware programs and hackers.
Many people choose not to install the recent updates because they are just too lazy to do it. On the other hand, a few others think that these might cause problematic issues on their website.
However, this is actually a wrong assumption. The updates are solely provided for optimizing your webpage even more. So, by ignoring them, you are not only making your website vulnerable but also reducing its overall efficiency.
Hence, in this write-up, we will be talking about the importance of new updates. Furthermore, we will also discuss the consequences of not updating the website. So, make sure to stay tuned with us.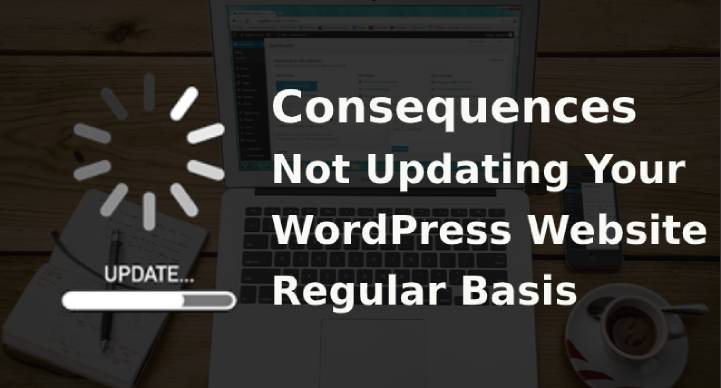 Why Are The Updates Considered To Be So Crucial?
As you might already know, WordPress is a type of open-source software program. Therefore, even the users or normal people like can use it and suggest the changes that are required to it.
After that, the developers, from all around the world, will review the suggestions and improve the software in accordance with them. Once they have solved all the issues, then they will release the new update of the program.
So, as you can understand, the new version will work seamlessly as, now, it does not have that many flaws in it.
Now, if you do not update your software, then you will not be able to enjoy these benefits. Furthermore, the issues, which were present in the older version, will start to deteriorate the software.
Therefore, it will be quite difficult for you to work on your website. In addition, the bugs of the program will also start to increase quite massively, which, in turn, will affect the user experience. Furthermore, with new updates, the developer team also tends to release a new security patch.
Hence, if you do not install the new version, then your website will become the newest prey of the hackers and malware. Most people consider this to be one of the most prominent consequences of not updating the website.
Furthermore, the newer version of WordPress also comes with various new themes and plugins. Hence, if you do not update your software, then you, also, will not be able to use them to make your website look more aesthetic and charming to the eyes.
Due to these reasons, most WordPress users consider the new updates to be more crucial than anything else.
What Are The Consequences of Ignoring the Updates?

If you want to, then you can definitely use the older version of WordPress and keep working on it. However, be warned as the problematic issues will start to occur after a few days.
Below, we have discussed some of the most common consequences of not updating the website. So, make sure to check it out.
1. Incompatibility Problems
The WordPress websites generally comprise more than four to five components. While the core section of the software has been created by the main team of WordPress, the plugins and themes are made by third-party organizations.
Therefore, whenever WordPress gets an update, the developers of these applications update theirs too to make them compatible with the new version.
Hence, if you are using an older version of WordPress, a few plugins and themes will suddenly stop working on it. It usually happens as their compatibility functions do not match with this version of the software anymore.
Thus, you will not be able to update or install them again until you update your WordPress website first. However, if, somehow, you do install any plugin, they will start malfunctioning right away.
So, to make them work properly, you would first have to update your WordPress website to the newest version. After that, you can install the other components that you were using previously.
2. Website Lagging and Speed Issues

As mentioned before, while updating the core of WordPress, the developers do not only repair the bugs but also optimize everything accurately.
This, in turn, increases the overall speed of the software and enhances its performance by a mile. However, if you are working with an older version of the site, then, after a few days of the new update, it will start lagging. A few performance issues, such as website crashing, might also occur.
The outdated version of the themes and plugins can also increase the response time of your website. It might cause the visitors of your website to lose their interest and leave it without waiting for anything. It is considered to be one of the most prominent consequences of not updating the website.
3. Fall in SEO Rankings
The main performance factors of a website, such as web traffic and reloading speed, directly affect the SEO rankings. So, if your website has a slow speed, then it will take a big drop in the Google ranking page. Even if you have put the keywords on your page in a proper manner, it would still not appear at the top of Google search results.
In addition, if the hackers do hack your website, then Google, as well as the other search engines, will blacklist it right away. All of these issues can affect your business quite massively.
4. Loss of Data
Believe it or not, sooner or later you would have to update your website if you want to keep it up and running. However, if you have missed out on several updates, then you might lose a large chunk of data.
Furthermore, making this sudden update can also break or affect your website. So, if you do not want to lose any of your data, then make sure to keep a backup of them.
5. No Online Support
Most times, when a new update arrives, the developers, as well as users, tend to talk or discuss on it more than anything else.
Hence, if you require some support to make some changes in your older version software, then you would have to do extensive researches for that.
6. Technological Issues
If you do not update your WordPress website on a regular basis, then you will also not be able to enjoy various features. Furthermore, you also cannot optimize or enhance your website, which is required for reputational purposes.
So, these are some of the consequences of not updating the website that you should definitely know about.
Tips for Updating Your Website
If you are somewhat new in this context, then installing the new update can be quite tricky for you. So, to help you with it, we will be providing some simple yet crucial tips in this section.
Before you start updating the software, make sure to backup your website first. It will help you to keep all of your data in a safe and secure manner.
Clear the cache of your website to see all the features or changes that the current update has brought on your website.
Before implementing the new update on your website, you can also make a staging site and test it out there.
Once you have updated the software, make sure to install the new versions of plugins and themes as well.
To keep your WordPress website well-optimized, it is always very crucial for you to update it regularly. Otherwise, you might face several issues that can affect your site as well as your business quite massively.