While hunting for the best hosting services for your website it is very important to know the difference between Cloud Hosting vs VPS Hosting. This will lower your headaches and save your money by deciding which one is best for you.
Sometimes you will feel that it literally does not matter which hosting company you choose you will get everything that you are looking for.
Cloud hosting and VPS hosting both are best but when it comes to all-in-one solutions then there is no service that provides a one-size-fits-all solution.
If you find one which can not fulfill your needs then you will end-up up paying them extra money. Although you might get a plan with fewer resources, thus, you will end up doing a lot of work. Lately, you might switch to another hosting service.
To help you in such a situation we are here. We will be learning more about the VPS hosting vs cloud hosting and the difference between both. We will also learn the cons and pros of using them.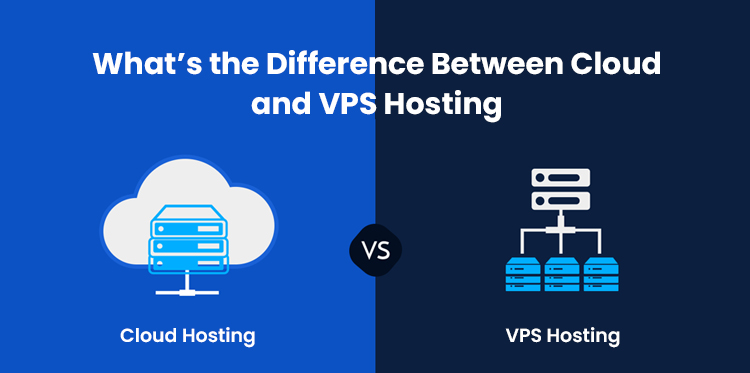 Cloud Hosting Vs VPS hosting
It is very essential to know about VPS hosting and Cloud hosting before checking out their differences. It is also essential to get an idea of which hosting is better than the other by considering a few factors.
Below you will find the difference between both the hosting services and the advantages and disadvantages of both.
Virtual Private Server(VPS) Hosting

You will be sharing the server with other people's websites if you choose VPS. Because you have chosen the shared server you will get your private environment to share resources and space.
Visualization software is already installed in VPS as it is a physical server. The server will be divided into different virtual servers by such software to behave as a standalone server.
Virtual servers will be allocated by the hosting company so that people can utilize it independently. Thus they are also known as VPS. Every virtual server will be there which will never exchange your data.
Thus you can easily customize such virtual servers with any software, operating servers, or tools. The only difference is that they are not physical servers they are virtual servers.
VPS server in simple words
VPS also can be defined as a set up of many accounts on a single computer. Every customer will have their own desktop so that they can do customization, and utilize its features as per their needs. Every user will be able to add content, use program, and other tools very easily.
In a true sense, you can say that VPS is just like renting your flat rather than living in your own place with so many friends. Similarly, VPS hosting will have their separate part of the building.
Let us see the difference between unmanaged VPS and Managed VPS
On the web, you will come across two types of VPS hosting i.e. Managed and unmanaged. By going through its differences you will be able to know which one is best between cloud hosting or VPS hosting but also you will get an idea that which hosting is best to choose.
Managed VPS hosting
Managed VPS hosting means, the huge work is taken care of by the hosting company that will maintain the server, set the tools to run a website, maintain security, and set up the services which may require you.
Unmanaged VPS hosting
Unmanaged VPS hosting means that for all other areas you will be responsible. From your hosting companies technical support you will get very little support if you ever face any trouble.
Advantages of VPS hosting
There are so many reasons why you should choose a VPS hosting plan
More allocated resources
You will get more access to the resources of a server as compare to the shared hosting because you have been allocated to the larger part of the server. This is another part of web hosting.
Access to settings
With VPS you will get a lot of control over settings. root access is made available plus you will get access to view all hidden files and all settings. Suppose, there is something which is not accessible by you, at this time hosting company will ensure to provide adjustment for you.
Scalable
Most of the time you will be able to upgrade your plan if you think that you need some more resources. And this is possible without migrating your website to the complete new server.
Actually, VPS has limited resources, so there will be a time when there will be no room on the server. At this time you will have to migrate your website to the server.
VPS hosting is affordable but not cheaper as compared to cloud hosting. For a month atleast you will be charged $100.
But actually, the price will depend on the providers of hosting. For example, you will have selections for databases, software, and tools. For a server, you can choose between Windows, Linux. Whereas for the database you can choose MariaDB or MySQL.
Disadvantages of VPS hosting
Security is not guaranteed
Because you have chosen the sharing server, there are chances of getting your website affected by some of the people on the server. However, your website can get hacked at any time. But there are some companies which also provide the best security.
You are sharing a server
You will be sharing a physical server with other people. This clearly means complete access will not be provided to you to fulfill your needs. You have access to limited resources, which means you can expect a fixed level of performance.
Little technical knowledge required
Even if you select the unmanaged VPS or a managed VPS, you will have to be known to some technical stuff. Rather than this, you will find some user-friendly host. So it is important to consider this factor while searching for the best host.
Most insecure
As compared to Cloud hosting, the VPS is not much reliable. This is because the VPS on sever will go lowers as the physical server crashes.
Unscalable
As compare to the cloud hosting, the VPS is unscalable. Which is very important factor to consider. VPS is not scalable because it has limited resources to explore which can give problem in targeting more customers.
The main thing that you should consider is that unmanaged VPS plan will not provide technical support. Whereas managed host will be providing a technical support.
When to choose VPS Hosting?
VPS is the best solution if you are looking to create more than one website where every website will have multiple pages and WordPress plugins installed.
If you are targeting and looking forward to get thousands of visitors per month then also VPS hosting can be a best solution.
You can run multiple website with VPS hosting.
Few examples are given below that will give you best ideas that which type of website you can create with VPS.
A website that have to run plugins and custom scripts.
A complex website for your new company but you can't expect to raise rapidly.
If you want to create a blog or a display photography and looking to add so many photos regularly then you should use VPS hosting.
If your website will be viewed by large number of people then VPS hosting is best alternative as it can handle a large number of traffic.
Related Post: Reseller vs Shared Web Hosting: Which is right for your Website?
Cloud Hosting

As compared to other hosting, cloud hosting is totally different, because it will be used to inform a group of servers instead of just one.
The data will be spread to different physical servers via cloud hosting spreads. Also, the data will be sent to different locations widely. In a virtual environment, all these servers are connected to each other. This is why it is known as cloud hosting.
Different virtual machines are programmed in a virtual environment.
The programmed part of the physical server is VM. Which is specially created to behave as a dedicated, physical server.
That means it will behave as a virtual dedicated server. Some applications will be available in VM for example your website, tools, and installed hosting software.
For users the VM is set up privately, between VM no data will be transferred.
You will find the image below which tells you how cloud hosting works.
Cloud hosting and VPS hosting also can be referred to as virtual servers and virtual machines. But in computer languages, virtual machine, and the virtual server has two different meaning so it can not be considered as its synonyms.
Cloud hosting in simple
Cloud hosting is the same as living in our own house, but whenever you need a break you go to your summer home to get overwhelmed.
Cloud hosting is compared with your house because the data is being stored excessively. In simple if your server is not working properly then there is another server that will pick up your request and will showcase your website.
However, your website will get migrated automatically if you require some more resources.
You will be provided with some more resources that you required. Your website will never go down, even if your website is struggling with a lot of traffic because you will be having access to unlimited resources.
But, similarly, you will have to share resources to VPS hosting even if there are so many servers.
Advantages of Cloud Hosting
In a few years, cloud hosting has become so much popular because of the benefits provided by it.
Scalable
You will automatically get more bandwidth, and more resources even if you need it suddenly.
Flexible Pricing
By choosing Cloud hosting you will be paying only for those resources which you are using. This feature is totally different from VPS hosting as there you need to pay for all space even if you are not using it.
Quick Deployment
A redundancy feature will be provided to you in cloud hosting. In a different environment, you can clone your website to minimize downtime.
Reliability
Your website will load much faster plus it will get migrated automatically where more resources are required. Thus, there are no chances of getting your website down.
Even if one physical server is not responding then it does not mean that your website will slow down. At this time another server will back on a roll.
Actually, it depends but most of the server settings will be provided by the hosting companies as per your needs. Sometimes it will depend on the plan you choose.
Disadvantages of Cloud Hosting
To use cloud hosting there are so many advantages but some of its downsides are mentioned below
Security is not ensured in cloud hosting:
Because you are sharing your resources, there are possibilities that your website can get affected by the website using the same hosting. Your website is potentially vulnerable to hackers because your website is on the web. Therefore it is important to secure your hosting and website.
Learning curve:
For setup, cloud hosting is not an easy solution. Most of the time, experienced developers find it difficult to setup. It is not easy for beginners to set up it accurately. To get an easy setup you can use managed cloud hosting providers. It provides a hassle-free setup and management for all websites.
When to use Cloud Hosting
Cloud hosting should be used for large WordPress websites or networks. It will help you to boast huge traffic and content.
Bigger companies such as Airbnb, Netflix, and NASDAQ make use of cloud hosting, suppose your website is bigger than these companies then you should definitively choose cloud hosting rather than the others.
Most individuals and small-scale businesses will find managed cloud hosting to be the most affordable and trustworthy cloud hosting plans. Actually, the benefits will be the same but it is cheaper as you will be paying only for the bandwidth you use.
Cloud Hosting vs VPS Hosting: Which is the best?
VPS hosting will be the bestest solution for people who are looking to start their small website. Every small business and startups should only prefer VPS hosting. Whereas cloud hosting is the best fit for large companies, social media websites, and networks.
If you have just started your website then you might not be looking to go with the biggest or smallest solution. If you choose to be small then it will be very difficult to upgrade afterward. Whereas if you think too large then you might end up with lots of unused resources.
Does not matter for which purpose you are choosing hosting but you should always choose a plan that offers scalability. To grow your website you can choose different upgrade plans.
While choosing a hosting services make sure that the particular company should provide its own custom hosting plans. So that you will get a complete idea of what you are paying.
Related Post: Tips and Tricks for Having Web Hosting You Should Know
Difference between VPS hosting and Cloud hosting
While looking for the best hosting providers you will come across so many options that support WordPress completely.
But we have provided detailed information on both the hosting options including the advantages and disadvantages of Cloud hosting vs VPS hosting.
The most highlighted points that differ VPS hosting and cloud hosting from each other are mentioned below
Selecting one from these two hosts might be difficult. The biggest similarity between these two hosting's is that they both are based on virtual hosting environments.
Only the difference is that cloud hosting is divided from a bunch of physical servers, whereas VPS is divided from the single physical server.
Some more points on these hosting services are mentioned below- but remember one thing that the every hosting company will provide different options, the differences listed below are general.
| | | |
| --- | --- | --- |
| | VPS Hosting | Cloud Hosting |
| Performance | | Higher in reliability and performance |
| Scalability | | For growth, it has much more potential |
| Security | It has some security risks because the physical server is shared | More physical servers are involved in cloud hosting which is shared but they are not useful at the same time. |
| Customization | Availability of more options. Depends on the operating system you use. | |
| Price | If you are looking to build your own setup then you will find this more affordable. | A managed hosting plan is more affordable for you if you use a small number of resources. |
Conclusion:
Does not matter which hosting you choose whether its Cloud Hosting vs VPS Hosting, for WordPress website and businesses you will find a suitable option.
As we mentioned the difference between these two hosting in the top you might have got an idea that which hosting is perfect for large and small scale websites or businesses.
There is no rule defined that when to choose to host from these two options. The main reason for this is that every business, website and hosting provider are different from each other.
Therefore it would be better to choose a hosting by considering the type of your businesses and the requirements.