No matter how actively cloud technologies are promoted, file storage is often easier and cheaper to manage on FTP servers. In fact, FTP clients are just as necessary a category of software as ordinary file managers. Of course, there is no need to talk about "newcomers", as there was and is an established selection of programs both among paid and free solutions.
The idea here is to find the best FTP clients which are secure and dependable, as well as easy to use for WordPress users when it comes to file uploads and edit processes.
In this article, we will talk about the best FTP clients which are not only powerful in functionality and reliable, but also "miscellaneous" in terms of the diversity of aspects they cover, from protocol support to interface, security as well as additional functions like synchronization, caching, search, backup, automatic compression of files, etc.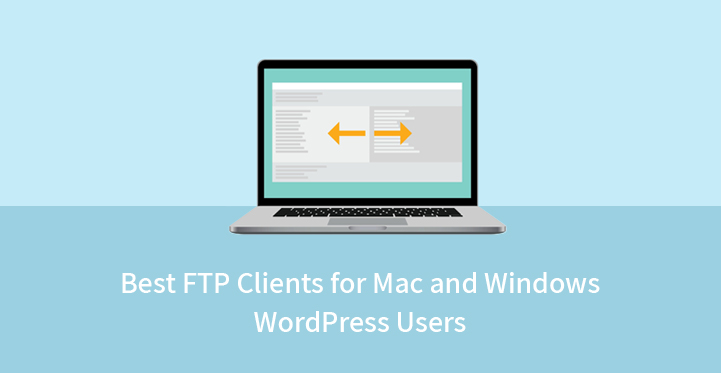 What is FTP client?
Typically, it's a separate program that allows you to connect to a web server for uploading and downloading files using FTP or File Transfer Protocol.
FTP in its turn is a protocol designed for file transfers in computer networks. It's one thing when you work with few files and you have enough tools provided by hosting. But it's quite another thing when you have dozens or hundreds of files.
And if you work with such a directory of files, you will certainly feel how important and convenient FTP client is when it comes to copying, deleting, uploading, renaming or editing folders and files of your WordPress hosted site.
In order for you not to search such programs on your own, we have put together 6 best FTP clients that can be found on the Internet for Mac and Windows WordPress users. They are all pretty easy in usage and are packed with a practical set of features while generating similar graphic interfaces which are easy to use as well.
1. FileZilla:
FileZilla is one of the most popular and frequently used, free and the best FTP clients convenient both for Mac and Windows users. Not only FTP, but also SFTP and FTPS are supported by FileZilla. Along with free version, paid version is also offered.
It's a pro quality solution to take care of your convenience when it comes to your site's file and folder management. Moreover, it is not only a simple tool to use, but also well supported by authors in case you are faced with difficulties in working with FileZilla.
However, recently there are certain complains by the clients' side catering to adware or spyware bundled in Filezilla making their workload frustrating.
Trusted by millions of users across the globe, WS FTP Professional is another cross platform FTP tool ready to provide its Windows users with safe and secure way to deal with their files.
It comes with an influential set of key features like integrated file encryption for securing file management, FIPS 140-2 Validated Cryptography, backup and synchronization, compress and email notifications, IIS and Apache Web Servers support, different licensing plans, etc.
The price range for WS FTP Professional access is from $ 49.95 up to $390 with the package of WS FTP Professional with support with pricing $ 89.95 being the most popular option.
Free FTP authored by Coffee Cup is one of the best FTP clients in terms of simplicity and easiness in usage. Hence, it's a novice friendly FTP tool any Windows user can greatly benefit from.
Super fast and effective file transfers are guaranteed with this program while eliminating the need of being pro in the digital spectrum. Just connect to your server quickly and simply drag and drop files to server or PC.
Finally, it also comes with bookmarks functionality letting you save your place in a folder on your PC or server. All in all, it's a really useful feature to help you remember the place you have stored a file.
Transmit is one of the preferred tools among Mac users. The pack of features you will find with this smart and sophisticated, easy to learn FTP client is rich with advanced controls, which are also handy and easy to manage.
The current version of this tool also supports Backblaze B2, Google Drive, Box, Microsoft Azure, Dropbox and more, as well as provides you with a simple way to sync your sites with local to local and remote to remote sync.
You can try and test this tool for seven days for fee or have it forever for $45.
The capabilities incorporated into one of the best FTP clients called Cyberduck will surprise you. This open source and beginner friendly FTP client is optimized for Mac and Windows platforms and functions impeccably well with both.
It offers support for FTP, SFTP, WebDav, Backblaze B2, Microsoft Azure and OneDrive, Dropbox, Google Drive, Amazon S3 and OpenStack Swift, user friendly interface, as well as wonderfully integrates with any external editor for quick file editing.
Mac features are also supported by Cyberduck among them storing login credentials in keychain, locating files in finder, etc.
Finally, this convenient and widely tested FTP solution can be added to your arsenal for free.
The last free option we have added here is called WinSCP. It is another free FTP client for Microsoft Windows with millions of actual downloads and satisfied users.
The bulk of features you are going to find within WinSCP includes graphical user interface with an avalanche of tools, which are, however, intuitive and easy to use, integrated text editor, scripting and console interface with different commands, file transfer on background, etc.
If you want your workspace to be restored, WinSCP enables this too. Whenever you connect to one and the same set of sites while working with WinSCP, you can activate automatic workspace saving.