Video is the most effective and essential communication tool and the most appealing content that drives user attention in less time and effort.
If you are looking to add video content on your website then don't forget to learn the most important practices that will help you out to stand in the crowd. Some top trends to adding video on WordPress website are listed below
Trends to Adding Video to Your WordPress Site
1. Integrate the video, do not try to just upload them
Before integrating video on your website you first try to host it on another location such as YouTube. Then we try to integrate that particular video player on our website.
If you ever try to upload the video directly on the website it will take maximum bandwidth plus no more visitors will be able to view the video.
If you wish that visitors should be able to watch your video through your WordPress website then you should never forget the importance of other visitors then can be generated trends to adding the video first on another platform.
To integrate the YouTube video on your WordPress website you can use some WordPress plugins such as TubePress. This plugin will give you some advance features such as video gallery options that will be needed while adding videos on the WordPress website.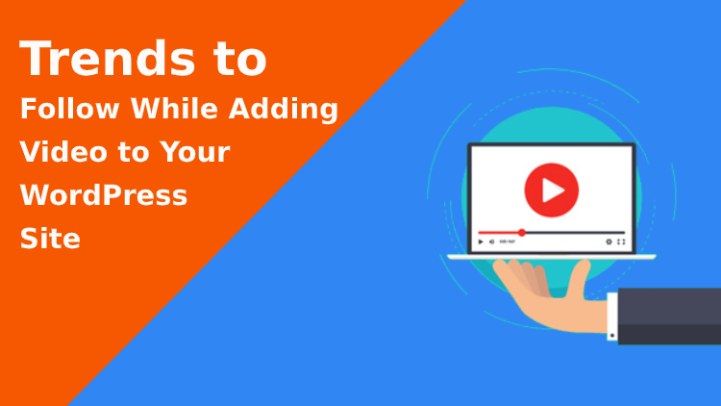 2. Review the video theme
If you have started adding a video to your WordPress website you will find that it is quite difficult to add a video in traditional theme or old design.
Therefore it's a good idea to purchase or select a free theme that is typically created for videos. Some themes such as videographer theme, photography theme, etc will help you to create a website and add a video in very simple steps. This theme will help you to create a website as you want.
Also, this theme is included with the gallery and background feature where you can integrate WordPress videos as much as you want.
3. Adding a video on your WordPress homepage

Do you know Blue Corona Blog stated that you will experience an increase in conversion rate by 34% if you are adding video on your website's homepage?
Video is the most engaging content as compare to the images, text, and audio. So this strategy actually works and will help you to grab more user attention without giving more effort into designing.
If your website contains some content where you can share video then you should never miss this opportunity to try to embed the video to make your content meaningful and appealing. A strategy of adding video to your website homepage is the best way to engage more visitors and enhance conversion rates.
4. Add animations
The trendiest content is animations. It is considered to stylish, engaging and astonishing content that drives more attention. Animations are the second most attention grabbing trend on the WordPress website.
Different animation industries are continuously working to enhance some design and bring some creativity in animation styles that will help you to captivate more user attention across the globe.
Some motion graphics are also important to showcase the chart, graphs, or statistics of some topics. No matter which kind of your business is, what type of services you offer. Important is the integration of graphics that will be beneficial for you and your business.
5. Do not worry about long content form
You will see that social media channels are packed with videos. But not all videos are viewed by the visitors therefore it is necessary to put less information but try to create awesome videos that will attract more and more users.
It is said that short video is better than the longer one. You will have just some seconds to impress your customers by creating a stylish video.
If your video seems longer your customers will stop watching your video because social media is full of content which is appealing. Hence they will not get more bore with your video content and will switch to another one.
How long the video will depend on which topic you are creating the video. Such as video for educational purposes, business purposes, fitness purposes or anything else. For some topics, it is important to have a longer video.
Some companies such as Patagonia is trying to create a long content form they have created one with 40 minutes film video on trees which has more than 900,000 views on social media channel.
But if you think the short video is the best option for your small business then go short video only. But if you think the long video will work for your business then give a try on it but the content you fill should be meaningful.
6. Go Live
Viewer loves the creativity in the video plus they love to watch live videos. Streaming video is the best example for Go Live that is easier to add. YouTube gives you access to add streaming videos. It is also compatible with video embeds such as Twitch.
If you think your viewer and customers will love your Live Video then you can try to embed it in your WordPress website. This will increase your followers and brand.

7. Add Schema Markup
Schema markup is a small part of the code that is included in your website. Your customers and website visitors will not be able to see this code.
This code is useful for Google and different search engines which use it to add snippets on your WordPress website so that results get appeared on search pages.
This snippet gives you access to make your site appear o Google as you want. With the help of this markup language, you can tell search engines that your website is integrated with the videos.
Hence your page will get appear on Google search engines which have an appealing video with the description and thumbnails.
Conclusion:
Video is the best content on the WordPress website. Never forget to add video content to make your website more appealing and attractive in front of your users.
If you are trying to embed video content on your website then try to follow the lasted trend by considering all these best practices.