Podcasts are gradually becoming an inevitable part of daily lives. This has resulted in the rise of WordPress themes for podcasters.
But what are these themes? Exclusively developed and customized podcasting themes take you to a new specter of possibilities and growth.
Without having any passion or knowledge for coding, they enable you to craft a website for your show. It is rich with functions that ensure flexibility in management and at the same time, user expectations are met.
But, how to recognize or find such options? Finding the best ones from hundreds available online is a difficult task. Hence, we have compiled this list that gives you a gist of the best ones and their features.
Hence, any specific element, layout, structure, and even template can be personalized without being dependent on others.
It will help you in developing a feature-rich, professional, and elegant website that ensures that your projects are highlighted in the best manner.
It is completely responsive and has been tested for performance across screens, devices, and platforms. Additionally, it comes integrated with Google Fonts which offers a wide range of fonts to add the best typography.
If you have a show that is language or region-specific, then you can use the multilingual features. It is flexible and compatible with all third-party plugins so that you never remain short of features.
Overall, this is a perfect club of aesthetics, performance, and reliability. The comprehensive documentation and one-year developer support make the process swift and smooth.
The Best WordPress Themes for Podcasters in 2023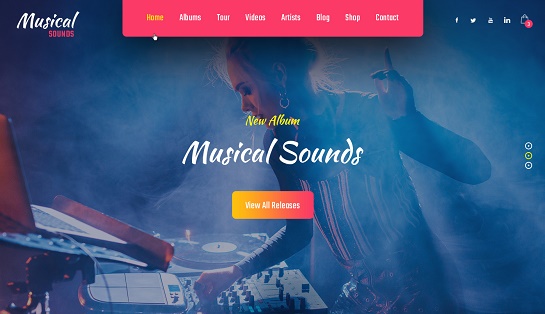 This is amongst the finest and most remarkable options for podcasters across the globe. It is loaded with features that can get you started in just a little time without being a tech genius.
Using Musical Sounds gives you the added advantage of being self-reliant about your website. It gives you full access to all kinds of modifications across the entire space of the site.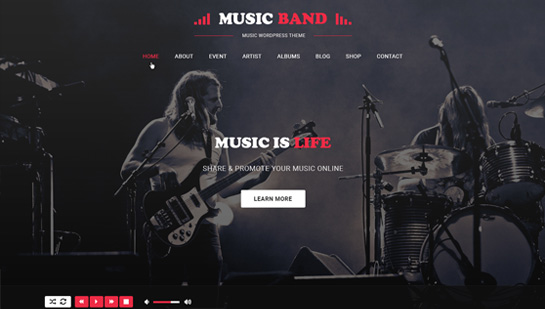 Music Producer is a widely used and one of the most preferred WordPress themes for podcasters. If you are starting right away with the journey of podcasting it becomes essential to have a website.
A website will interact and communicate your intent to the potential audience. Music Producer will enable you to create one that is professional yet amazing and filled with features.
You can have a head-start here as all aspects and elements are almost ready. There is no need for you to start developing and conceptualizing everything from the scratch.
You can choose the most suitable template and conveniently head over to the customization section.
All kinds of personalization with reference to your talk themes, guests, or niche is possible. Colors, fonts, styles, layouts, overall structure, pages, and everything else can be tweaked as demanded by the project.
Features liked inbuilt slider, sidebars, widgets, translation-readiness, RTL Support, WooCommerce Support, etc. will help you in different steps.
Quickly and with a little effort, you can tailor-build a website that fulfills your exact needs. Integrating it with your social media handles and other popular networks is convenient.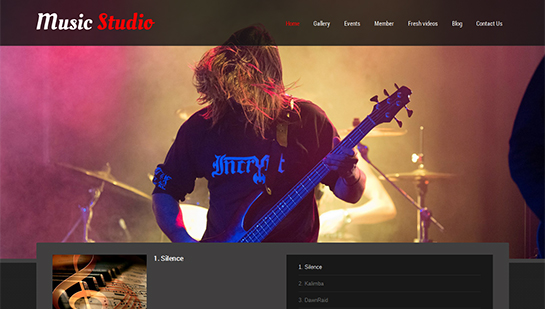 An important factor to look after in the quest for WordPress themes for podcasters is reliability. The foundation, core, and basic structure need to be strong and perfect.
This ensures that the chances of a website crashing while in performance or with sudden traffic are lowest. You never want your visitors to exit your space with a bad experience.
Melody assures you that reliability along with strong performance, impeccable aesthetics, and complete customization.
You can mold the pre-developed template as required to meet the exact requirement of your project. All kinds of significant changes can be conveniently executed through page builders and customizers.
Everything about your podcast including the purpose, journey, and audience can be added. There is no character or word limit to the content that you need to add.
Moreover, integrating the links of your podcast on separate pages is possible. You can announce the upcoming episodes or series from the default slider.
Adding photographs, achievements, or setting up a dedicated gallery for the same is also possible. You can add other features like forms, tables, etc. from inbuilt shortcodes or through external plugins.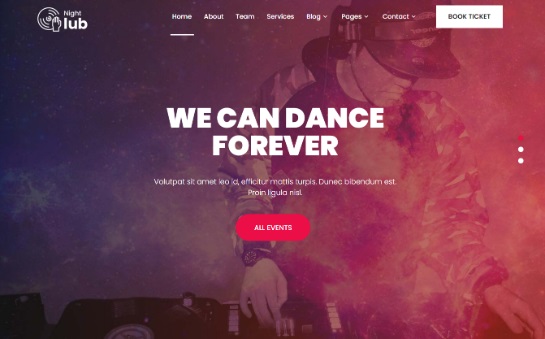 SKT Night Club is a unique inclusion in this compilation of WordPress Themes for Podcasters. It is a dynamic, powerful, responsive, and multipurpose theme which is a perfect match for a podcast website.
If you have a podcast relating to celebrities, musicians, or similar artists then the default aesthetics will be a perfect match. Your website will support both audio and video formats.
It is also adaptable hence meeting the specific needs of your niche will also be manageable. The overall management of tasks has been kept to simple and modifications through customizer and page builder.
Adding or removing pages is completely under your control and can be easily managed. Moreover, the color skins, fonts, and other attributes of the site can also be flicked as required at any time.
Features like WooCommerce, translation-readiness, retina-ready templates, one-click demo import, etc. will help you with various operations.
Additionally, you can rely on hundreds of inbuilt shortcodes as well as on third-party plugins to add or enhance functions. If required, you can also create a podcast archive here which will enable new listeners to follow your lead from the beginning.
FilmMaker is a prominent, powerful, and multipurpose option in this compilation of WordPress themes for podcasters.
Irrespective of the kind of topics or guests or discussions in your show, you must create a website that engages the potential audience. FilmMaker has complete potential, tools, and features to ensure audience engagement at its best.
The first parameter in this horizon is aesthetics. By default, aesthetics here is related to the celluloid space. In case, you have a podcast that is related to this niche-then everything developed by default will be a perfect match for you.
If not, then you can always choose to customize everything that you desire freely without worrying about writing the code.
The essential part is that when it comes to features it has tons of them and you can use them as required. Additionally, if you find that there are special functions that need to add then you include them through plugins.
Despite holding information and plugins the performance of the site always remains commendable. The user-experience and navigation are in the most simplified form to promote engagement.
Moreover, you are also entitled to one-year support from the developers and comprehensive documentation access related to the theme.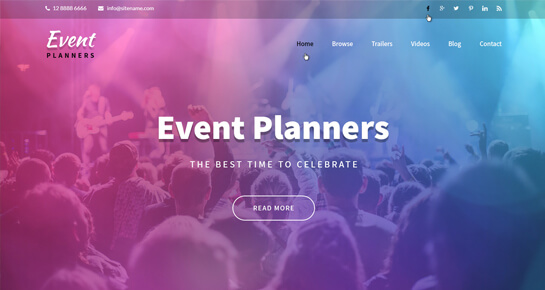 Event Planning is a versatile niche and includes a lot of things to add. The projection of such online space is also versatile with the inclusions of multiple industries.
Hence, this is a special multipurpose theme that has been included in this collection of the best WordPress themes for podcasters.
If you are in the process of initiating a podcast related to event management or event planners or have one, then this can be a perfect theme for you.
Otherwise, if you are into a podcast that features multiple domains and industries then also you can use this theme for your website. The major advantage that you will get here is the versatility and ease of featuring your projects.
Modification and customization are possible to ensure that a personalized touch can be added to all elements of the site. Inbuilt features like retina-ready templates, copyright-free images, multilingual support, comprehensive documentation, etc. will add more value to your creation.
Adding new plugins is possible and integrating your channels, accounts from social media and other networks are also possible.
Also for launching and compiling everything mentioned here you do not have to start from scratch. Modify and mold the existing version and create magic.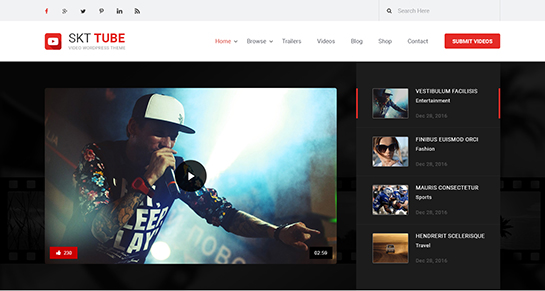 SKT Tube is one of its kind themes that has been exclusively crafted to promote streaming and subscription. An essential parameter that comes with podcasting is flawless streaming on different platforms.
SKT Tube enables all the podcasters to do just that and hence is a part of the best WordPress themes for podcasters compilation. The frequency, discipline, and quality in the release of a new episode matters.
If you can manage the content of your show well then the featuring and streaming can be handled here at SKT Tube. According to the number of episodes released and upcoming frequency, you can re-design the outlook and landing page.
There are tons of other functionalities like multilingual support, RTL Support, one-click demo import, menu options, etc. that can be used to improvise a performance.
The templates are all HD-ready and feature perfect performance across all kinds of devices and screens. Adding information and pictures of all types is possible.
It comes with a fast page loading speed that keeps you one step closer to minimizing audience attrition. Everything that you desire for your convenience and for the audience's convenience can be managed here.
Podcasting is an art and what better than The Art to ensure that you can feature your venture in the online space. The Art is a truly multipurpose and powerful theme in this compilation of WordPress themes for podcasters.
This theme can be used by podcasters across the world without worrying about their niche, genera, industry, or guests. This is because it has something to offer to everyone.
You can conveniently modify any aspect of the theme and personalize it as required.
The overall artistic approach has been induced in all elements and their related segments. This will help you in featuring your art of podcasting to a new audience.
Page builder will help you in redesigning and modifying the existing retina-ready template whenever required. The customizer will help in ensuring that all changes can be swiftly made from the backend and can be tracked in real-time.
It has terrific features and bold integrations by default. But, if at all you need to add any special plugins then it can be done conveniently. The more you use and explore the more you will fall in love with it.
The secret of emerging out victoriously in a website apart from technical specialties is the true reflection of your offering. If you can truly reflect yourself or your initiative to the audience, then you will emerge as a winner.
Photodock is the next in the compilation of best WordPress themes for podcasters and it can help you in doing so. Depending upon an individual the minimalistic or catch versions of the site are decided.
Photodock helps you create both kinds of versions and integrate it with your podcasting venture. You can create a sophisticated, professional, and elegant appearance.
You can also craft a color-rich and highly animated filled space for your audience here. Page builders, customizers, and other tools will help you in achieving your desired goals.
The best part is that it comes loaded with tons of features like translation-ready, WooCommerce compatibility, retina-ready display, one-click import, one-click installation, and terrific developer support among others.
Also, you have the full liberty to add external plugins to enhance performance at any time. Photodock is a versatile and complete package that you are looking for to highlight your podcasting venture online.
The last theme in this collection of best WordPress themes for podcasters is Wedding Videographer. It has been exclusively crafted to serve the distinct requirements of videographers that cover weddings.
But, given its versatile performance, unmatched aesthetics, and flawless performance one can use it for featuring a podcast venture. Additionally, it has been developed exclusively to engage, attract, and entertain audiences.
The same thing applies to a podcast as well. Therefore, you can easily imbed videos or add links of the same on a dedicated segment on the site. There is no restriction at all to the kind of modification that you can make to personalize the site.
Adding or removing segments, managing widgets, and controlling the slider is possible. All kinds of transition effects, graphics, and animation can also be managed.
All essential and key features are provided by default and any other required functions can be added from plugins. Updating and modifying is possible at any time without any effort of writing the code.