The essential WordPress theme features are explained in this article.
These can be the best guidance for you whether to choose it as a platform for your future website or not.
To put it short, WordPress content management as the most user – friendly platform has a little something for everyone.
It does not matter whether you are a novice in some field, successful businessman, service provider or shop owner, you can greatly benefit from WordPress.
WordPress has already managed to go through profound management and updates.
It means that both WordPress CMS and its templates are always stable and comprehensive and meet all the challenging demands of the modern digital world.
The diversity of WordPress theme features explained in this article will fascinate you.
There are uncountable practical elements, features and controls in each of them which are scrupulously worked – out and coded.
If we try to split the framework of WordPress themes into different parts and dig out all the useful features of them, we'll spend hours in listing them.
However, there is a package of essential features deeply rooted in almost every WordPress – authored theme.
They act as the brick and mortar of any website based on the given theme and provide up-to-date and unbeatable functionality of the website now and forever.
From responsive and mobile – friendly nature, shortcode – based performance, simplicity in usage to extendable character, plugin – compatibility and Google – approved SEO – coding, all primary features are user and community – driven.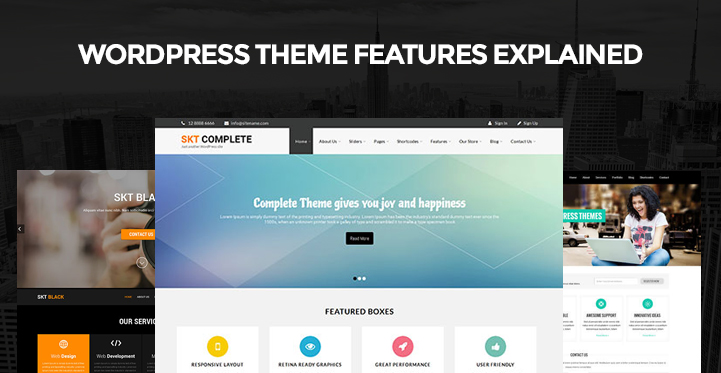 Have you ever wondered how to start your online project when you are clueless about web design and development? We are sure you are not the only one! WordPress CMS is constantly taking care of producing simple and easy to manage platforms to be controlled by the non – professional web admins.
Hence, simplicity and admin – optimization are also among the advantages of WordPress over other platforms.
In this article we have collected some of the top – ranked WordPress – based templates to set an example of what a modern and durable template should consist of.
All the WordPress theme features explained one after another are the most affordable techniques to join the huge community of WordPress users and enjoy it greatly.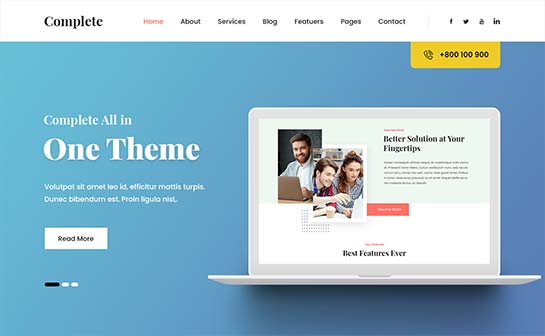 Clutter – free and self – hosted, SKT Complete Pro is indeed the culmination of the developer's efforts and expertise. It's the generality of all the favorable features and peculiarities shared by modern WordPress templates. It shares an intuitive and user – centric interface and is highly – effective when it comes to the theme management.
Whether you want to play with the overall visualization or functional capacities of the theme, you are free to do it from behind the scenes. SKT Complete Pro is intended for multi – purpose usages and hence can cover myriad topics and niches.
The theme's creative look, responsive coding and search engine optimization are also major factors contributing to your site's success and visitor engagement.
SKT Trust is the next top – rated and frequently utilized themes catering to NGO, non – profit, religious and donation topics, programs, events and undertakings.
GPL – licensed based operation, simple click installation and activation process, extendable framework to support plugins and much more are WordPress theme features explained in relation to SKT Trust, but applied for lots of others as well.
No HTML or PHP knowledge is required to get everything organized and ready for the quick start. Get ready for an unforgettable online journey without touching a single line of code.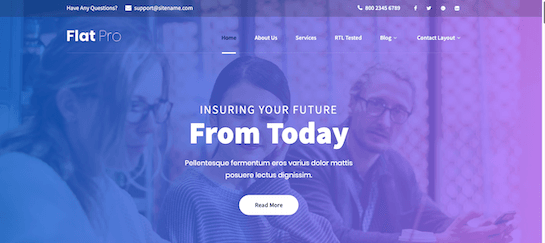 Flat Pro is an exclusive example of how modern and practical flat web design style can be seamlessly merged with powerful framework.
Based on the productive "less is more" philosophy, this kind of web styling is unbeatable when it comes to drawing the website visitor's attention on the necessary parts and content.
This theme is constructed using high – quality standard compliance coding. It means that the semantic markup and all other favorable conditions are present to make any website based on Flat Pro attractive to search engines.
More than 100 preloaded shortcodes are there for you for easy content setup, as well as more than 8 page templates and default pages.
In case you are looking for green – based and nature – related, eco – friendly template for multipurpose websites with special attention on nature and its preservation, SKT Elements Pro is right here for you.
Lots of WordPress theme features explained in relation to SKT Elements Pro are well – managed and processed so that your website will be safe and secure right from the start.
It is what brings your website content to digital life via the power of WordPress precision, perfect usability and secure database. To meet the needs of different individuals and companies, Perfect Nature can be extended with different plugins and tailored for a wide range of applications.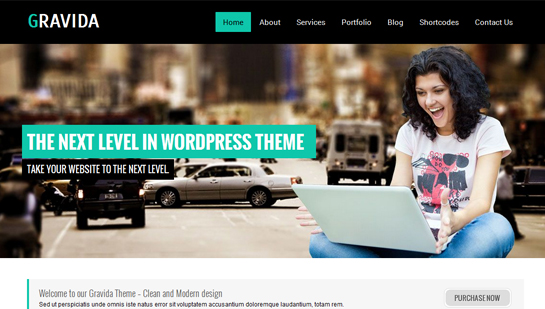 Gravida has won the title of one of the modern and effectual, awe – inspiring and unique WordPress themes at present. It is accustomed to delivering high – quality content rolled up with beautiful design and conception.
Gravida is designed to function well with different hand – held and portable devices thanks to its responsive and HTML5 and CSS3 coding.
The same is also true about the theme's translation into different languages or making it convenient for online shopping experience. It is also spam – protected with captcha, SEO and SMO – friendly.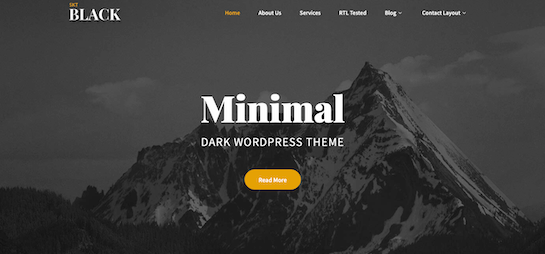 SKT Black Pro is the one that can brag about reliability, simple installation and customization procedures.
The theme is planned to match the needs of a wide array of businesses, particularly those which are image or portfolio – based.
The theme's construction is accurate and compact with retina –readiness, responsiveness, search engine optimization and plugin support going hand in hand.
One of the most exciting touches of this template is that it shares totally flexible and adaptive software for you to control and change whenever required.
For those purposes, you are equipped with customizer, color changing controls, page templates, shortcodes, etc.