A useful assemblage of the best car garage WordPress themes has been created for auto and car repair services, mechanics, car wash and painting, car and vehicle rental, automotive dealership, as well as other car industry related services or businesses online.
You have probably noticed dozens of announcements floating around from different car dealers or sellers who are busy making money from their online business.
However, most of them lack the flexibility of serving the right content to the potential buyer or client. And, in most of the cases, this is due to the irrelevant online platform they are using.
Whether you need your personal profile to offer your car garage services or sell your transport vehicles, or want to create an online portal to connect all the dealers or car owners of your locality or even outside of it, our car garage WordPress themes will get things done.
Don't waste your hard earned money on buying an expensive template that will be too tricky for you to go live with. Instead, you are free to review our collection of car garage WordPress themes and considerably grow your dealership, client market or increase sales.
You will certainly appreciate the modern design and intuitive touches of our templates ready to keep your website always presentable and competitive so that your business profile will never fall by the wayside.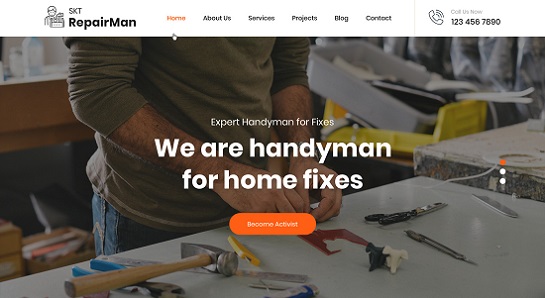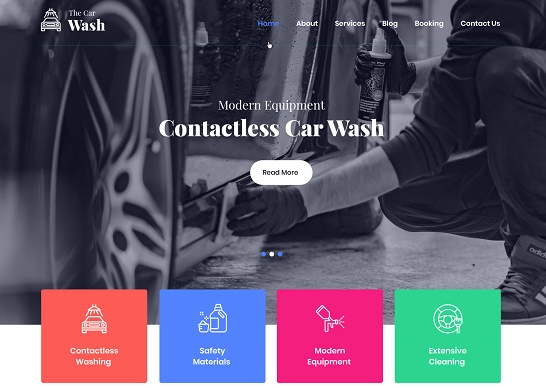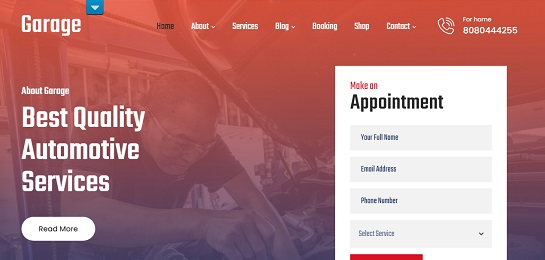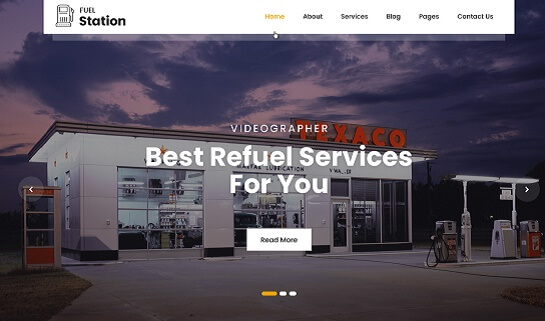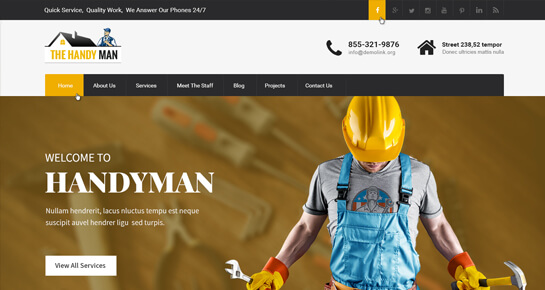 If you are looking for a repairing services SKT handyman pro will take care of each and every service that user may need.
SKT Handyman Pro will fulfill the services like plumbing services, electricity services, painting services, and carpentry services.
If any client require any of these services they just need to click once through the mouse to the call to action button that have been given at the top of the header page and directly call with get connected to the service man.
Different social media links are also provided that your client can access to share their views, experience, rating working with you.
This will surely increase the conversion rate and user experience. It consist of all the features that every car garage WordPress themes should have. As this theme can be also in used for Cyber related business.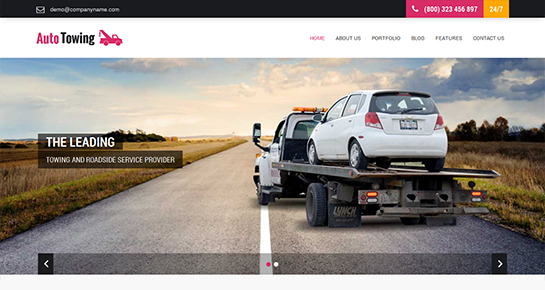 Towing is one of the niche specific and stylish auto repair and car mechanic, auto shop and car garage WordPress themes for relevant activities and service provision.
It's a responsive and cross mobile compatible modern template enabling you to showcase your textual and visual content in a pixel perfect fashion since the theme is also HD and retina ready.
All in all, it's a serviceable combination of default page structure and shortcodes based performance for you to make any kind of changes or replace the default form with any other one you give preference to.
From colors and fonts to the dominance over homepage slider images and available plugins application, every single part and portion of the theme is under your surveillance.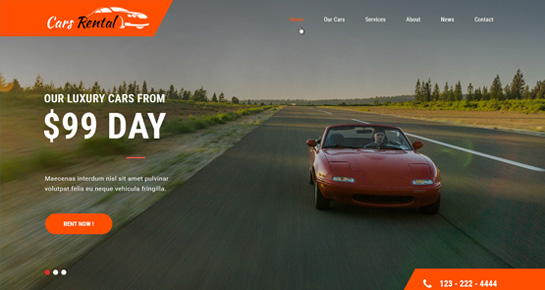 From auto body shops and private mechanic services to car rental and dealership, any kind of car centric business or activity can be best rendered by the help of Car Rental.
Your website or blog based on this template will be the most productive way to reach out more and more clients, customers, fans and followers. All you need to do is to turn on your creativity and play with the preloaded theme elements.
The theme's resilient and durable structure is powered by responsive and SEO touches to make your website present at the top of search rankings.
Additionally, one can find pre enabled shortcodes, widget ready areas, standard pages like 404, archives, search, category pages and more.
You can also quickly widen the working horizon of your template by adding any relevant plugin to bring the needed functionality working, from commercial to translation.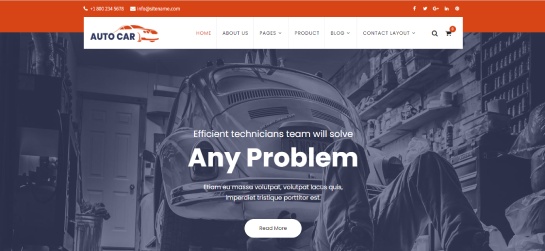 Auto Car is another user optimized and truly affordable template among the best car garage WordPress themes for mechanics and car specialists, car painting and detailing services, tire or spare parts shops, etc.
Start your online journey with this wonderfully sophisticated template and be sure your website is stable enough when viewed on different mobiles, devices or browsers.
The authors of Auto Car have made it surprisingly easy to bring your own touches and dots to the theme via colors and icons, fonts and their sizes, shortcodes or imagery.
Leverage the true power of your site by using all the prebuilt sections and areas or altering them to match your content and its categorization.
Showcase your best cars or vehicles, offers or discounts via the homepage slider and keep them in the center of the client's focus and attention.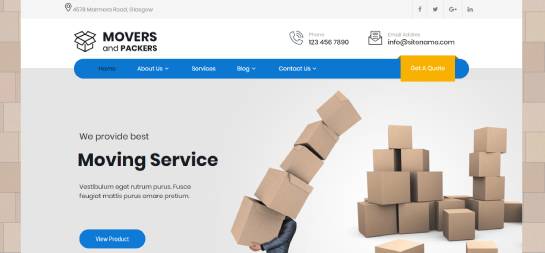 If you are looking for a complex solution among car garage WordPress themes for your multiprofile car related business, look no further than Movers and Packers Pro. Adding any kind of content, service or offer will be a breeze with this smart and simple template.
Whether you offer moving and packaging, delivery and transportation services, car rental services, handyman or mechanic services or sell vehicles and automotive through your website, Movers and Packers Pro will be the wisest investment you can do for your future success.
The developers of this template have included everything you will need to create great looking and lively, functionally hassle free and reliable website.
Within several minutes of installation and activation, your car garage site will be up and running smoothly across different hand held devices, smartphones and tablets.
The theme has also been checked for its seamless functionality with a wide range of useful plugins and shortcodes packs.
Packed with multiple components and useful features, always well maintained and supported, Complete Pro is a highly productive and adequate template for any kind of car related services, as well as mechanic and craftsman offers online.
Build your loyal army of client and customers without sweating hard or shelling out your money with Complete Pro. This cost effective and user friendly template comes with less learning curve than many other relevant and niche specific templates.
No fuss around irrelevant or illegible content, heavy loading or distorted navigation controls.
Complete Pro is powerful enough to take care of the most convenient platform with legible content, HD ready visualization of your images and photos, as well as smooth and sleek surfing of your site from top to bottom.
SKT Industrial is incredibly elastic and dynamic, serious looking and results driven industrial and business platform ready to serve as a solid ground for any kind of car business, from manufacturing and branding to repair and sale.
Thanks to the durable coding running at its core, this template is 100% responsive and user optimized, plugin compatible and commercial ready to make money online by the application of all the available channels, social media platforms, search engine optimization and more.