There are thousands of unique and powerful WordPress themes existing for various niches and purposes.
Then, what is the need for WHMCS WordPress themes?
Out of all hosting is becoming one of the most fasted growing niches. In the upcoming years, it is predicted to rise even higher and hence there is a demand for exclusive themes for such purposes. Similarly, for all the SaaS related agencies this happens to be the ideal choice.
But the core question is if they are worthy enough in terms of performance, features, and user experience? The answer to this generic but frequent query is that it depends upon the coding and varies from one theme to another. We have compiled some prominent themes in this list to ensure that you get the best.
SKT Hosting is one of the best that you can select to achieve the desired results. It comes with hundreds of features and tools that enable you to create a website according to your needs. Despite such advanced facilities it is extremely simple to use and even simpler to manage.
The page builder can be used by anyone to make the required modifications in the template or to create new ones. Customizer helps in creating all changes and even previewing them in real-time from the backend. It is coded by professionals and offered in such a way that you do not need to write any codes.
The templates that are offered can be directly used as they are retina-ready and includes high-quality graphics. The overall arrangement will help you in including the entire content in an organized manner. Plugins of all kinds are compatible and all necessary changes in the structure or layout are possible.
Best WHMCS WordPress Themes for Domain Hosting Companies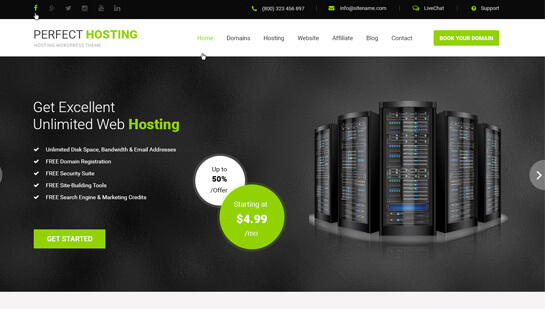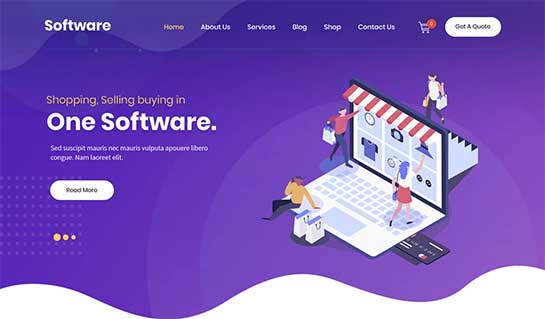 This is a uniquely designed distinct theme in the collection of WHMCS WordPress themes. It is developed exclusively keeping in mind all the present and future requirements of the IT industry.
You can create the best websites for Digital Marketing, IT Startup, SaaS service providers, software agencies, etc. All the simple text in the content can be turned into captivating with the help of Google fonts. Importing demo content requires only one-click and installation in one-click is also offered.
To attract more visitors stunning visuals are offered in the prebuilt layouts. You can easily target mobile users and other device & screen users as it is fully responsive.
For an added advantage with content marketing, it offers a different log layout. It is already optimized for SEO so that a lot of time can be saved in doing the same. It supports translation and multilingual features and offers countless color options for customizations.
Cyber Security should be the ideal theme that you should be looking for when intending for long-term business stability. Page builder has been integrated by default which makes the customization process simple.
You can easily create simple, attractive, and straightforward templates with this theme. Additionally, all your users will experience maximum security from malicious online attacks to their data.
It is in tune with retina screens, compatible with old & new browsers, and mobile-friendly one of the cyber security WorePress themes. Apart from being visually appealing, it is also high performing.
Content can be directly added in the prebuilt layout without worrying about anything. If required extra sections and pages can be created and even removed. A blog with a unique layout that is selected or created can be easily set up.
You can conveniently connect the website with Google Maps through plugin so that the location can be indicated precisely. The integration of social media channels and handles are possible and quick.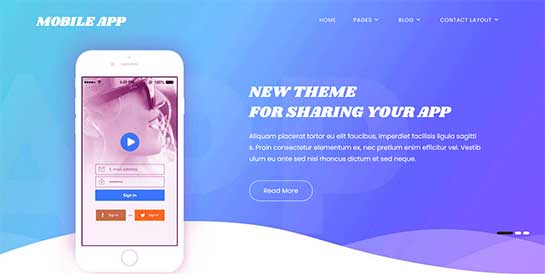 Mobile App happens to be one of the finest WHMCS WordPress themes in this collection. It is rich in features and has templates that empower your website.
It can engage potential customers in a memorable and meaningful manner. It is customizable through all the aspects in and out. The page builder contributes to modifying templates and also creating professional custom elements.
All templates have been tested for responsiveness in different devices, screens, and browsers. Google Fonts are integrated by default so that you can always customize them as per the feel of the website.
The coding is efficient and the site loads at the speed of light. You can rely on plugins for all the extra features without worrying about the load on the site.
It is optimized for SEO and comes equipped with shortcodes to add other features. Drawing in business for your mobile application or for the services that you provide has never been easier.
Ele Product Launch is the final theme in this best WHMCS WordPress themes collection. For hosting and IT companies, this is another banging theme offering full-blown solutions for various aspects.
It ensures that your brand makes a versatile, strong, and lasting impression on the visitors. You can conveniently list all your services, products, and pricing table in the existing layout.
The default templates are HD-ready and modifications of all kinds are possible as required by the brand. Even for startups, this can be an ideal choice given its features and flexibility in designing.
The theme is easy to install and full support is provided for a period of one year along with documentation. You can also set up a blog for turning up the traffic and increasing the visitor frequency. The same can also be shared on social media after integrating them through plugins.
The integration of Web Host Manager Complete Solution is inevitably required in the IT-related websites. The reason being it makes the operational tasks easy and complex tasks manageable.
The IT Solutions Pro theme will do just that for you with many other advantages at your side. All necessary features that are basic and required for your clients and visitors are present by default. You can add pricing tables, comparison sheets, and all other necessary information.
An inbuilt slider is also offered so that all the latest product launch, achievements, recognitions, and similar news can be highlighted.
It is easy to set up with the one-click installation feature and also comprehensively documented to resolve queries. Shortcodes are present to add the rest of the features and it works absolutely fine with almost all the plugins.
Google fonts are integrated and it is fully responsive with multiple devices, browsers, and screens. Lastly, you get full support from the developers for a period of one year.
SKT Guten Pro is a multipurpose theme that has successfully made it to this compilation of WHMCS WordPress themes. The core reason behind this is its unbeatable performance, adaptability, and stunning aesthetics. Moreover, all the necessities and prerequisites for your business can be easily accommodated here.
It is up to date and performs well on the latest version of WordPress. With the right content and strategy, it can spark the interests of the visitors and convert them into clients. You can access the predesigned demos in a single click. The installation process does not consume a lot of time and is well documented.
You can customize everything including fonts, templates, layouts, elements, colors, etc. It offers full compatibility with WooCommerce and other plugins so that your website is always sound with features.
You can easily manage to pull a distinct flavor and still remain strictly professional. Unparalleled assistance is provided for one year from the developers to resolve all your queries.
Clean Pro is amongst prominent and fantastic multipurpose WHMCS WordPress themes. Irrespective of whether you want to set up a new website or redesign your existing one, Clean Pro is the perfect solution.
It is the best because it can be utilized straight away. If you need minimal graphics and designing then it can be managed.
If you need precise designing and accurate customization then that is also possible. In terms of features, it is loaded with all the required ones and is backed for shortcodes for the rest of them. Content of all types including, images, textual, and visual can be included without any restrictions.
If required gallery, contact forms, pricing tables, and other such features can be added from plugins. WooCommerce is compatible and it is 100% responsive with all kinds of devices.
Why choose something else when you can select this and create your dream website flawlessly with minimum efforts. Lastly, you also get your hands on comprehensive theme documentation and customer support for one year.
SKT Elements Pro is amongst the most versatile and powerful choices from this collection of WHMCS WordPress themes. It includes 100+ layouts for different niches and has a distinct package to suit the requirements of all of them. It has been coded by experts in such a way that molding it for the required cause becomes easy and simple.
The user interface and navigation are simple so that the visitors do not find it complex. Modification and customization of all kinds and in any element are possible. Even the minor segments can be customized as required by the brand.
It is loaded with features and also has hundreds of shortcodes so that you can add others whenever needed. The compatibility of the theme with WooCommerce and hundreds of other plugins has been tested rigorously.
The page response time, loading speed, and SEO optimization is at its best. You are also eligible for complete support from the developers along with comprehensive theme documentation.
SKT Startup Pro is a professional, performance-oriented, and customer-centric theme in the collection of WHMCS WordPress themes. For your startup, it offers an all-around technology and software approach.
Handling, storing, and managing a lot of things and data becomes easy with this. To test the applications and features the one-click demo option is available for you. The default template and design need only minor customizations before publishing the site thanks to impeccable default offering.
Despite this, if you feel the need to modify the colors then it is possible. Not only colors but all other elements including the layout and template can be customized or changed.
It is translation-ready, responsive, multilingual, and integrated with Google Fonts and social icons pack. The integration of social media handles of your startup for a dynamic connection with the audience is also possible.
If required you can directly use the blog section and use resources like sliders and widgets to publish the updates for visitors.
SKT Parallax Me Pro is another multipurpose and high-performing theme that has made it to the compilation of WHMCS WordPress themes. It can be molded into contemporary or modern web design as favorable for the target audience.
It is entirely customizable and reliable so that there are no issues in catering to any kind of requirements. When you access the page builder with only a few clicks you can easily make the desired changes in the template. If you have a distinct design in mind then that can also be developed and applied for your website.
WooCommerce compatibility enables you to list your service and products by setting up an online store. Customization of the store including the checkout page and payment integration is also easily manageable. Plugins will stand by you for adding all the required features.
The SEO standards of coding are maintained and it is also SMO-friendly. Bid goodbye to sticky navigation and faulty transitions, and start using this theme today.
Next in the compilation of WHMCS WordPress themes is SKT Donation Pro. It is peculiarly powerful and capable of managing wide and vast websites with specialized services.
The overall customization process is easy to manage and simple. You can enhance the existing layout by modification or create a new one to suit your purpose. All kinds of donations, campaigns, fundraisers, and other similar websites can be easily created.
You can fill in all the details about the cause or the product type that required donation in the given layout. Sections have been carefully designed and can be added or removed as required.
You can easily manage to accept donations in multiple currencies. Automating recurring donations is also possible. All the other necessary plugins can be easily added and it will not impact the website performance.
You also get full support for a period of one year so that no issue on the website remains pending.