With all our efforts spent on meeting the expectations of all wedding planners, coordinators, event managers and relevant service providers.
We have compiled the best wedding planner WordPress themes to create a highly effective and presentable wedding and engagement, wedding vendors and destination and other related websites.
The growing demand for the planners and coordinators of weddings and other lifecycle events brings about new challenges for this industry.
From proper trainings and expertise in the field to better exposure in the digital platform, every single aspect should be minutely analyzed and implemented.
As for the wedding ceremonies and a long to – do – list relating to it, there are endless questions to consider and decisions to make. And there comes a time when even all your endeavors put into sorting through that jumble are fruitless.
That's the point where professional wedding planners and coordinators come into play with their packages of services and offer accurately displayed in their websites for you to look through and choose from.
In case you are a wedding planner individual, coordinator or agency manager and want to get a lot of eyeballs on your business.
Here are some of the best tips in the form of wedding planner WordPress themes to give you an unstoppable rise in client engagement and boosted revenue.
The easy and user – friendly nature of each of them will make the day to day activity of the admin working on the given template from behind the scenes a more enjoyable and comfortable one.
Wedding planner WordPress themes and the suitable ones have been discussed below.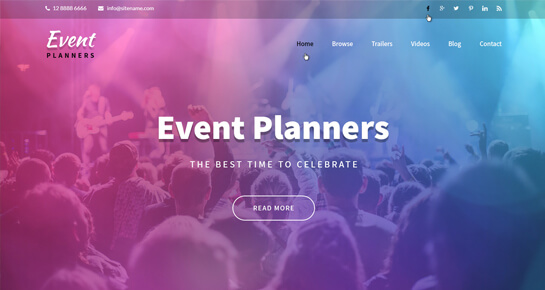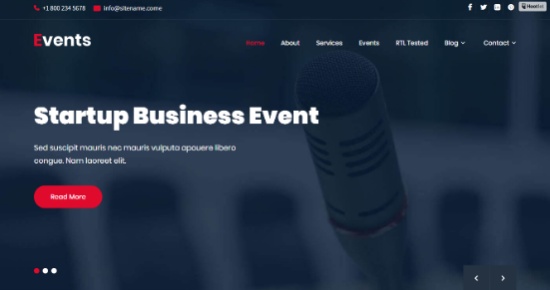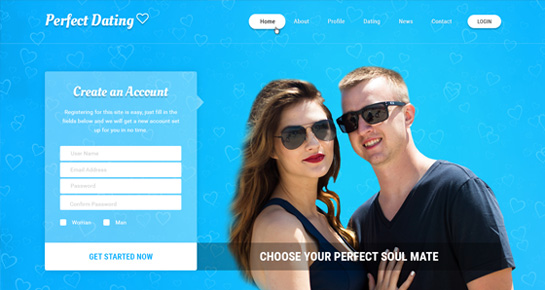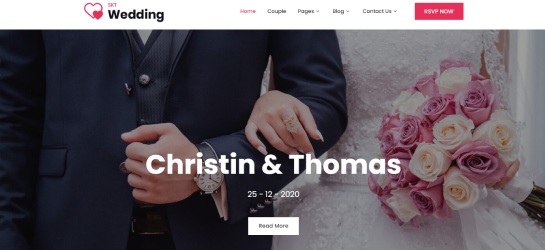 Nuptials is incredibly energetic and zealous, visually enthralling and beautiful, Nuptials is one the top – listed wedding planner WordPress themes available for wedding planners, photographers, florists and other service providers.
Prove your audience that you are able to organize their dream – wedding and make the most important milestone of their lives unforgettable with your high resolution images and photos posted on your website.
In particular, homepage full – width slider is the best option to host your breathtaking images and allure every single bride – to –be embarking on your homepage.
Opt for consistency, designed to perfection, wonderfully flexible and impeccably usable, this wedding and engagement, as well as anniversary – friendly template comes with lots of theme controls and elements checked and confirmed for their durability in action.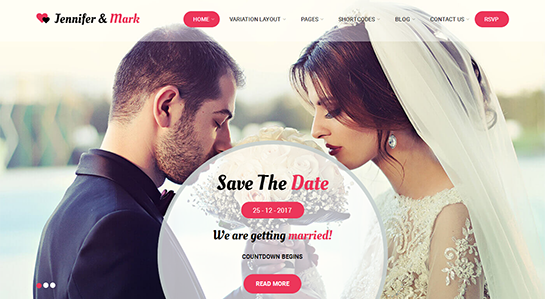 wedding planner, event planner, wedding photographer, wedding bloggers, wedding videographer looking to have an astonishing, insane and splendid website to create for online business then Wedding Rituals will be the alternative for you.
This theme consists of superior features that have the charm to attract more and more users. Before dropping the website user will undoubtedly perform some action.
Banquet Hall Pro as the next convenient and security checked template for WordPress – powered wedding planner sites is all about uniqueness and stability.
You can easily take the power of this platform and supercharge it with new shades of design and added functional traits to result in a website knowing no boundaries.
Multi – purpose and feature – rich, this template can cover limitless topics and niches catering to wedding services and venues and not only.
Photographers and tourism industry units can also highly benefit from it and showcase their images and content in a nicely – formatted way.
It shares all the features you would probable want to have at your hand to tell your story, present business profile, add your services and prices, items and equipment, staff and specialists, musicians and photographers, etc.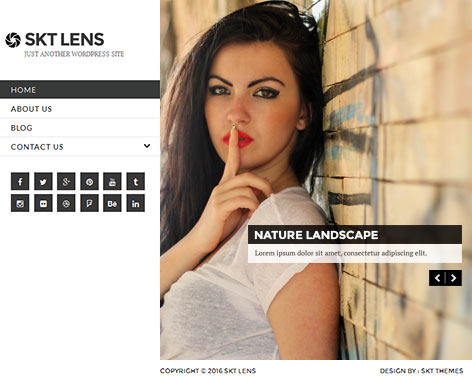 Meet SKT Lens Pro with its lovely face and pixel – perfect visualization among the available wedding planner WordPress themes for now.
Packed with drag and drop functionality and guided by do – it yourself philosophy, this elegant and classy wedding website builder is not only a product of present, but is also future – scalable.
Otherwise stated, SKT Lens Pro incorporates features and functionality which are developed to meet the challenges of the future digital world as well.
One of such characters is the theme responsiveness and mobile – friendliness for you website to adapt itself to any existing and coming soon mobiles and devices.
The list of other valuable features of the theme includes homepage nice – looking slider, as well as page and post, footer and header layouts to choose from.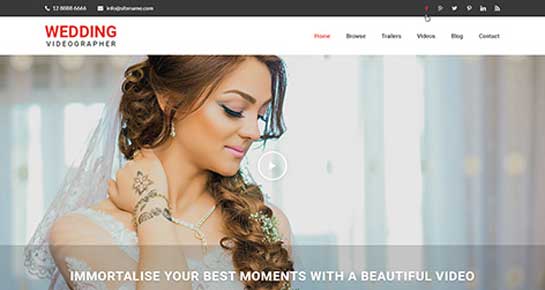 While offering clean and totally legible design, Wedding Videographer will enable every single website visitor and potential client catch a glimpse of your wedding planning business.
Since the person's decision on hiring a planner or coordinator is based on many factors, this template has been coded and stylized to help you on the responsible task of persuading the latter that your offer is what he or she is looking for.
This award – wining and enviably lightweight toolkit has been cultivated to be ultimately controllable even by the one who is without a clue when it comes to a website customization process.
The theme's package unites handy tools for you to use the given color picker and decorate your profile with your favorite colors and color combinations, choose from the sidebar page layouts and exercise the preloaded pack of useful shortcodes.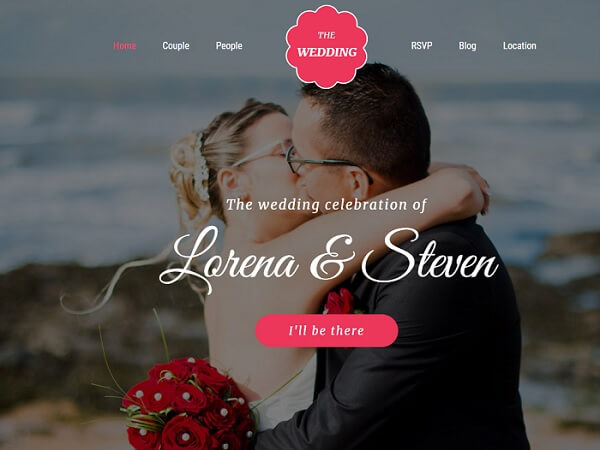 Ele Wedding can be the wisest choice you can make in favor of your wedding planning and coordinating business.
As a result of a hard work of our seasoned developers and experts, this template deservedly occupies its place in our list of the most effective and dependable wedding planner WordPress themes.
Alleviate the burden of a modern and luxury weddings and offer your affordable services through your attention – grabbing and truly perfect website.
Let brides and grooms land on your website easily and go through your content without any distorted images or illegible texts.
Ele Wedding is doing phenomenally well when you try to browse its content on any low – powered device. The same is also true about the theme's SEO optimization and HD – readiness.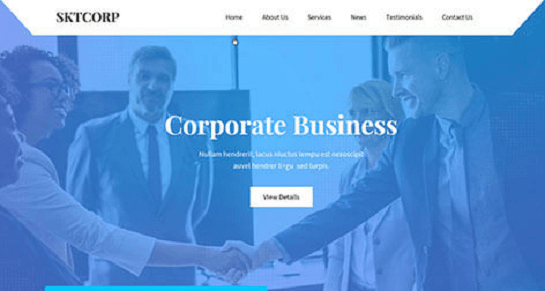 Stop being invisible for the global market and raise your bar with SKT Corp Pro. While this serious and well – dressed, results – driven and full – fledged template is never hesitant to showcase any kind of content, your wedding – based website will have all the winning cards to create an optimized demonstration of all your website content.
Slides and colors, fonts and icons can all be adjusted right from the theme dashboard. And not only will you get a superb template at an affordable price, but also full documentation and dedicated support whenever needed.
Event planning has in the recent past become such a lucrative business venture. There is always someone needing help in planning for an event, be it personal events like weddings, engagement parties, birthdays, funerals, get-away or corporate events like product or project launches etc.
Depending on the type of event you are planning on holding, the ultimate goal is to ensure it remains etched in people's minds always and that it is talked about for as long as it takes.
Unfortunately, in our busy modern lives, planning any event can be nerve-wracking, overwhelming and an exhausting experience. So busy we are that even finding time for social gatherings becomes hard.
But guess what; hiring an event or wedding planner can make a big difference. They can be individual event planners or event planning agencies.
For weddings and most high-end events, people are often not afraid of spending a little more money to ensure their event runs smoothly, is well-organized and creates lasting memories for themselves and their guests.
Therefore, as an event planner, it is your job to ensure that you meet the expectations of such clients by packaging yourself appropriately and delivering beyond their expectations.
This you can do by showcasing your best work to the clients and to do this, you'll need a website that addresses your needs and those of your clients.
At SKT, we have put our concerted efforts to ensure that we design and deliver to you, Wedding Planner WordPress themes that are highly effective and presentable enough to draw the attention of your potential customers.
Remember, if your work is not presentable, you can easily lose clients and end up struggling to stay afloat, in an industry that is ever evolving and bustling with lots of creative event planning ideas.
For that reason, we have put together Wedding Planner WordPress themes that are going to give you exposure to thousands of people and help you showcase your wide range of services and work for potential clients to see.
They will give you an unstoppable rise in client engagement and boost your revenue.
The themes are designed to meet the expectations of all wedding planners, coordinators, event planners and relevant service providers like florists, photographers, caterers, music bands, destination companies among others.
All the Wedding Planner WordPress themes are uniquely designed, user-friendly, and easy to use.
A person's decision on hiring a planner is based on many factors, some of which is whether you are reliable, can deliver, and what the quality of your service is like.
Besides word of mouth, this type of information can be found on your website and especially on your feedback section and ratings given on your social media pages.
In addition, this collection includes themes like nuptials and wedding rituals, which are suitable for couples who want to design their wedding invites in form of a website.
If you are a wedding or event planner, coordinator, agency, or wedding service provider looking to make a mark in this bustling industry, these themes have been made for you.