This time we will share some useful waste management WordPress themes for environmental and nature friendly websites, sanitation companies, waste management and recycling services, junk removal agencies, garbage management units, eco friendly activities, etc.
Planning and organizing waste management, waste segregation and recycling is not just an average business.
It's a whole chain of activities and obligations, united efforts of many people, starting from strategists and planners to technical specialists and scientists with a relevant knowledge and expertise.
Taking care of the cleanliness and healthy atmosphere of the world surrounding us needs a special focus and people engagement to make real changes in the most effective and "greenest" way.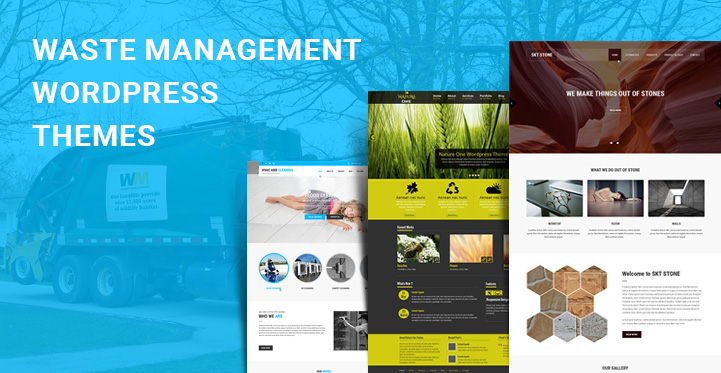 Therefore, using today's digital possibilities for finding co thinkers and supporters is of great importance.
Moreover, bringing such businesses and projects online can do lot lots of favors for all those who are engaged in promotion and marketing aimed at discovering new ways of cooperation, partnership, communication with clients, investors, donators and others.
Today there is no excuse for creating low quality and unsophisticated websites since there are top notch recycling WordPress themes you can acquire and enjoy throughout the whole period of your business profile's creation, development and maintenance.
These waste management WordPress themes are unequalled in their structural and functional base, with website user's positive experience and satisfaction being their primary concerns.
With the fierce competition flooding the digital market, these templates remain affordable and are frequently updated to offer the best correlation of price and quality for the average website owner.
It means that these waste management WordPress themes that will make you fall in love with their uniqueness in design and sustainability in performance, are perfect in between options with a cost effective price but high quality nature.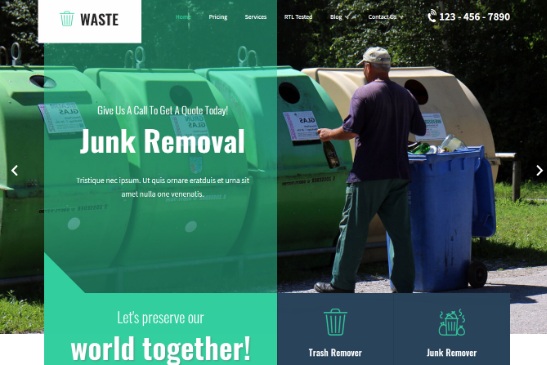 If you want your website to be of premium quality and client centric, there needs to be an equal focus on the look and functionality of your site. Hence, if you are on the lookout for the best unity of form and function, Junk Removal is what you need.
This template primarily caters to cleaning industry with all its dynamic branches and businesses. It means that you are free to use the default template or restyle it the way you need for matching your waste management and segregation, cleaning and garbage removal website.
This theme's responsiveness and Google approved fonts for superb legibility, HD and retina readiness for pixel perfect images and photos are all directed to make your customers feel that they are highly appreciated and respected.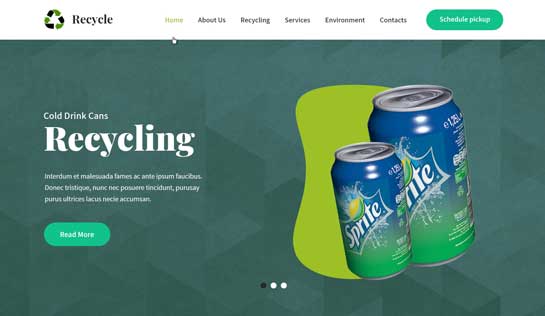 SKT Recycle is one of the purposeful and niche specific stone and waste management WordPress themes you can exercise for the creation of your waste management or garbage processing, stone manufacturing or cleaning services website.
For the majority of web users, the high quality website equates to the excellent readability and clear images, as well as nailing access both to the desktop and mobile versions of your content.
SKT Recycle has been created to share all the above mentioned qualities and as such is loaded with Google based fonts ready to make your content hassle free and perfect in reading, color management options for affecting your susceptible clients with colors and tones, and finally, cross mobile and browser compatible coding.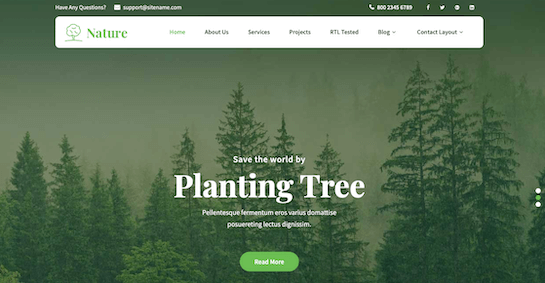 If you are planning to embark on a new WordPress powered project with your waste management, nature preservation or eco based agriculture business, Nature One Pro needs to be in the center of your attention.
In this dynamic stage of digital life where every single Internet user has come to require comfort and a reasonable speed in which he can consume your web content, satisfying these primary needs of your web guests should be one of the main issues to consider when building a website.
In this relation, Nature One Pro is both convenient in structure and content categorization, as well as operates at a speed hard to annoy your audience.
Moreover, it is both website admin and user optimized with a simple admin dashboard on the one hand, and a responsive layout for the web users on the other.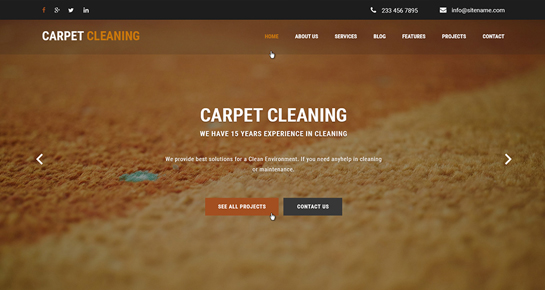 Cleaning Company is another elegant and businesslike solution you will certainly like while analyzing the WordPress repository for the best waste management WordPress themes.
Full documentation is provided with this responsive and widget ready, commercial ready and plugin compatible template that will walk you through a step by step guide to a contemporary and user centric profile.
Make sure your waste management or environmental protection website is rich with enough visual materials to figuratively describe your business objectives and mission.
You can use the given homepage slider or gallery section for conveying your message to the web users via large scale images and photos.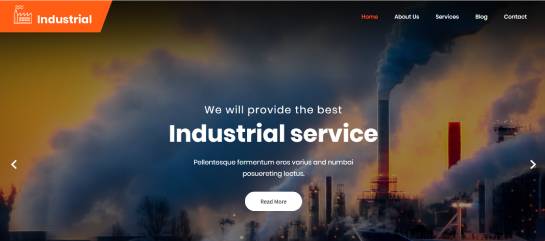 SKT Industrial is nurtured with the best coding and styling touches, multipurpose layouts to craft a website of any denomination, from nature, plants, nutrition and eco topics to the provision of waste disposal and curbside collection services.
This template provides a modern design with CSS3 animations available, homepage slider for displaying visual content of any nature, prebuilt homepage sections and areas for you to manage and show off your textual information, etc.
Unlimited color and font choices, shortcodes package, SEO friendly coding and SMO integration are also well done.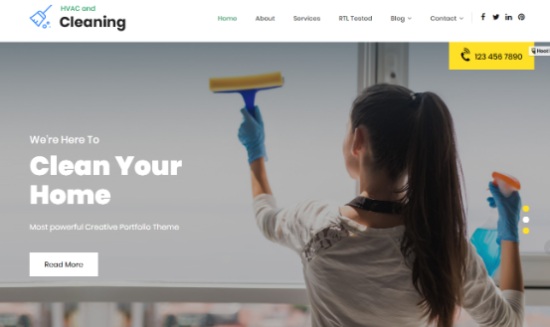 Another useful project catering to cleaning and waste management spectrum comes known as HVAC and Cleaning.
Take HVAC and Cleaning and tailor your website to the specific expectations of the groups of your audience with right color combinations and structural framework, call to actions and images, contact info and logo inserted into the header or footer areas.
Services section is also given within the theme for you to enlist all the available residential and business services, industry solutions, transportation and removal services, security systems installation to prove that your business is consistent in performing its duties perfectly.