A search based collection of vCard WordPress themes is discussed in this article for showcasing your vCards, CV or resume online and receive the attention you deserve.
The Internet based world of today plays a central role in how companies and organizations are looking for employees and how people are searching for appropriate jobs. It has become the place connecting two parties from every corner of the globe.
Hence, going online with your personal and professional information in the form of vCards or online resume can be the best investment in your reputation.
WordPress makes it uncommonly easy to create and showcase vCards online and issue it to the target audience. In particular, the developers of SKT Themes have not lingered to create and launch premium quality vCard WordPress themes for you.
Below, we will point you in the direction of such vCard WordPress themes ready to be an instant solution for your digital needs.
Choose any of them, add your information and be competitive in the current business world without putting a massive amount of efforts into it.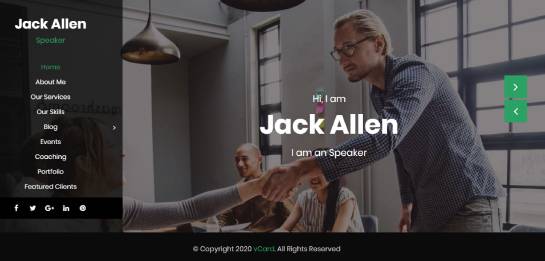 vCard is a top rated and highly popular product among vCard WordPress themes to conquer the online world easily.
In a nutshell, this template is launched as an amazing collection of handy features and customization options to make the most of your online personal or business presence.
Greet your potential partners with a conveniently deployed theme sections which are packed with useful information, give your contact details and display your works, projects and other portfolio items.
Armed with easy to use drag and drop interface, vCard is never hesitant to function responsively when it comes to mobiles or other portable devices.
More than 100 shortcodes, different blog layout options and prebuilt templates, SEO optimization and admin friendly backend based on customizer make this template more valuable.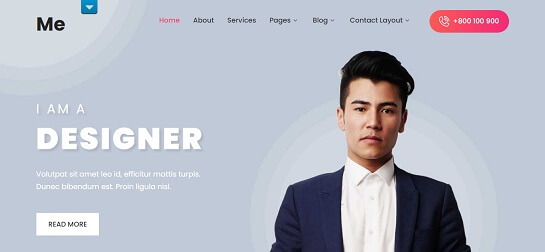 Resume pro is a simple to use and lightweight, responsive and mobile optimized vCard and CV WordPress template to steer your personal or business website any direction you want.
This theme is ready made to make it ultimately easy for you to exchange your virtual card with others and share your contact and other information with them.
Moreover, this template is cost conscious and will definitely cost you less than the print or purchase of thousands of traditional business cards.
Make use of the neat and accurate design of the theme or change it to match your taste and identity. Filterable gallery area is also added to the theme to share the pieces of your projects and portfolio.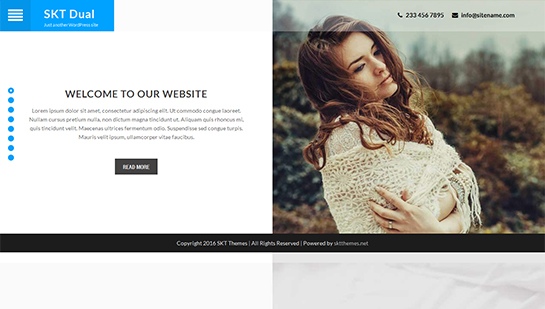 SKT Dual is designed to help passionate individuals and businesses to display their qualities and works online and make them shine.
Visually engaging, yet serious, functionally advanced and sophisticated, this template comes with easy installation and activation, as well as further customization controls from behind the scenes.
It's up to you to make all the relevant changes and personalize the theme to share your values and talents. SKT Dual has all the prerequisites to be used for other business or corporate, marketing, financial or commercial purposes as well.
You are also free to replace the default slider with any other compatible slider plugin and present your best images on the homepage.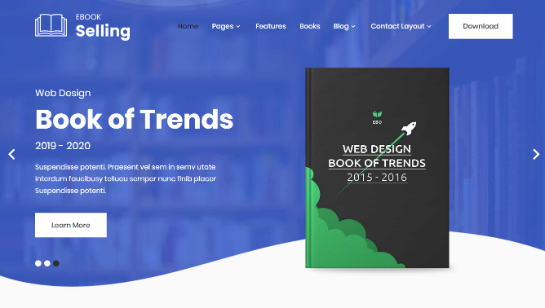 SKT Launch Pro is here to make sure that your website is presentable enough not to lose any potential cooperation or business.
It is one of the creative and zealous vCard WordPress themes you can get from WordPress repository and change or amend it in your preferred way.
It is developed in compliance with all WP standards and as such is totally responsive and mobile friendly, granting your mobile users with the best user experience.
This immensely versatile and sophisticated template hardly feels a shortage of pre enabled features and elements, including Google fonts and social icons, blog styles, color controls and more.
Ebook authors and writers will also appreciate SKT Launch Pro since this theme is also well optimized for them to launch and present their works.
Multipurpose and multifunctional, SKT Lens Pro will open up new horizons for your professional growth. Capture the opportunity of sharing your best expertise online via vCard or CV and enjoy dozens of its benefits. The codebase of the theme is well written and meets the demands of WordPress codex.
It means that this user and admin friendly template is powered with exceptional functionality and customizable framework to undergo all the required changes whenever you need.
Multilingual ready platform, smooth navigation controls and cross mobile compatibility, built in gallery, shortcodes, accordions and tabs will provide you with unlimited possibilities to share your vCards proudly.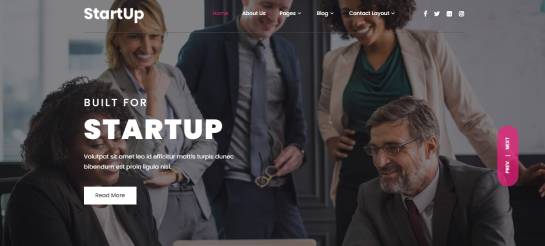 SKT StartUp Pro is another powerful template including in our list of vCard WordPress themes and is targeted to novices and small business representatives.
Whether you are launching a new project, building a digital company or want to present your online CV via your website, SKT StartUP Pro will be ideal for your needs.
Mix and match of multiple useful options are at your disposal to stylize your digital face in the most creative way.
Homepage prebuilt slider is an amazing tool to make your best images or photos stand out and attract your web visitor's attention.
There are also slider animation effects for better exposure, different page styles, color and font changing and styling options, cross mobile and device compliant nature, etc.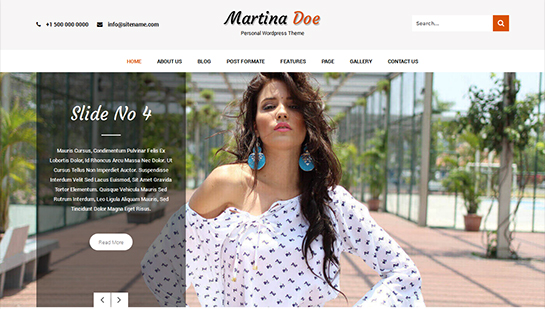 With Character you are not going to sacrifice simplicity for flexibility. Character seamlessly unites both and makes it surprisingly convenient for you to build your vCard website and keep it fresh faced all the time.
The authors of this theme have spent much time generating a beautiful assemblage of features that are all manageable and easy to customize. Among them are homepage slider, colors and fonts, as well as shortcodes which are more than 100 in number.
In the digital world, life as we know it is being transformed and increasingly integrated to the point that even companies and organizations have started relying heavily on the same to choose the right candidate for their company.
If you have just finished your graduation and entering the job arena, then you may want to think twice about checking out some of our vCard WordPress themes.
With the right theme, you should be able to share your vCard, CV and other pertinent information with employers instantly.
Given the intense competition that exists in almost all the fields, you may be better off by selecting one of the many vCard WordPress themes and setting up your website and get a leg up on the rest of the competition, in the process. Here are a few reasons why you should do so at the earliest.
Resume website: It is always a great idea to feature your resume front and center and with so many vCard themes to choose from, you should be able to do just that. Moreover, with the right theme, you should be able to personalize your vCard and your CV so that it makes the right impression.
While some still prefer to get on by with their word document, it is vital that you have an online format that's readily available to share with prospective clients and hence the vCard theme.
Business: It makes perfect sense to integrate vCard themes for your business website; after the entire first thing that any prospective client would want to know is how to contact you and any additional information regarding your products and services.
With the right vCard theme, you should be able to share these "digital" cards with them in real time and this in turn should help to increase customer engagement and lead to more conversions.
Make the right impression: Whether you are just a college grad on the lookout for a job or a new business owner in search of customers and new partners, the vCard theme should be just the thing you need to help make the right impression.

These themes are customizable and come with several add-on features so that you are able to share instantly with others all pertinent information regarding yourself, your work history, personal details, contact number and anything else that may seem relevant.

In short, with this theme in particular, it should help make you more visible and give a boost to your user engagement stats.

Chances are that you may need to customize your digital card to make it stand out from the rest and these themes come packed with a host of tools that enable you to do that and more.
This is why it is essential that you build your website using vCard theme as it can help you to reach out to prospective employers and others.
More importantly, it should certainly help enhance user experience which should start reflecting positively on your SEO rankings as well.