The road to success for any education or tutoring related website starts with one of the best tutoring WordPress themes available in the WordPress repository.
This time we'll shed light on some of them designed specifically for tutors and teachers, private coaches and instructors, educational and learning institutions, learning management systems, e learning classes and training, etc.
Distance learning or online education is becoming more and more widespread due to a number of factors, including lower cost as compared to traditional face to face or full time forms.
Moreover, the affordability of such method of learning is not the only factor determining the success of modern online courses and tutorials.
It provides more opportunities and more flexibility to the learners while letting them overcome all the geographical and time zones, as well as other barriers and obstacles, additional transportation and other costs, etc.
With the growing demand of such tutoring activities and courses online, we have decided to compile the list of the most useful tutoring WordPress themes for a wide range of online tutors and specialists, instructors and teachers who want to represent their tutorials and private lessons online and engage more and more learners from different corners of the globe.
All of the tutoring WordPress themes you will find in this article are time and security checked with their mistake free construction and fully fledged operational framework.
All you need to do is to remodel and restyle the default template to bring your own touches, images and content to the theme and serve it to your target audience.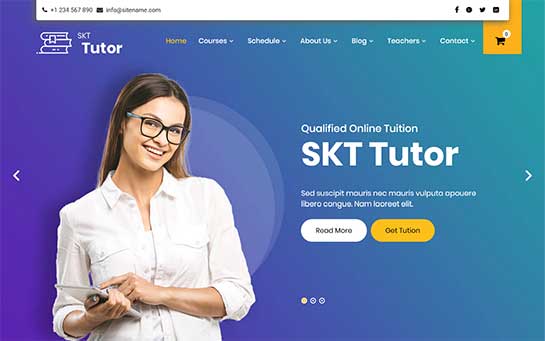 SKT Tutor is unique from the rest of the tutoring WordPress themes because it has a professional design and features that can be catered to learning centers and online education centers.
While creating a theme the designer has used the right color combinations and high-quality images to make a website look appealing and more professional.
Even if you are learning how to create a website then you can start directly with SKT Tutor as it is very easy to use and handle.
Additionally, the template offers you so many features as you can easily add a search bar to make your customers comfortable in searching specific tutorials or classes.
Some of the top features of SKT Tutor are responsive, RTL ready, awesome fonts support, page builder friendly, third party plugin support and more.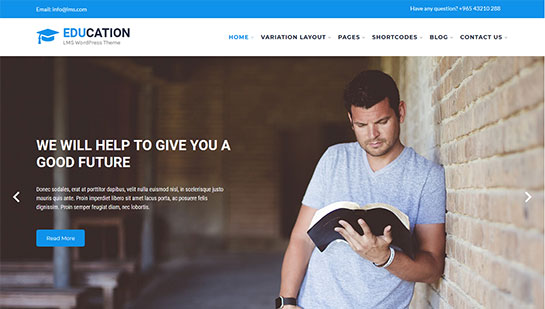 SKT Education is by far one of the leading tutoring WordPress themes checked for its stability and relevance, as well as competence in hosting any learning and education, personal development and tutoring, online coaching and other education and self improvement related websites and blogs.
Packed with every single detail and characteristic feature you will ever need, SKT Education shares the most convenient platform to fully demonstrate all the advantages of your learning center, tutors and team members, showcase the images of your successful learners and clients, share contact and location details and more.
The theme's flexible nature and all inclusive toolbox make it possible to alter and modify the theme's default form with fresh colors and overall skin, typography or new functionalities.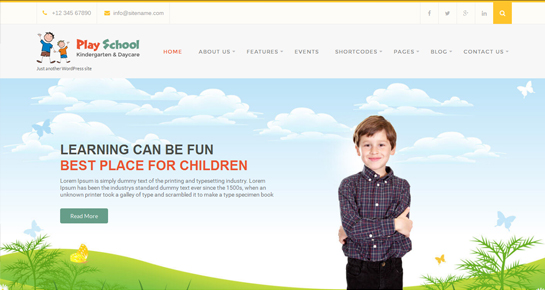 Play School is the next lively and motivational website builder to help you get started with any preschool and kindergarten, school and college, university or club, private tutoring or online courses websites.
Despite the distance between you and your learner, you need to establish a strong one to one connection with him while enabling the latter get in touch with you even when on the move.
In this connection, Play School comes with total responsiveness and mobile friendliness to meet all the requirements of your learners and website users.
This learning and tutorial management platform can smoothly work with any LMS plugin thus making your profile more powerful and wide scale.
Other plugins such as gallery and portfolio, cache and SEO, page builder and multilingual ones are all compatible with Play School as well.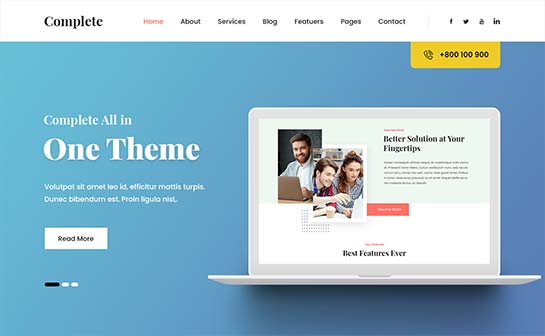 Wonderfully accomplished and well thought out, Complete Pro is never hesitant to grant you with complete and intelligent working platform to cover any kind of needs and business objectives.
Whether you are a private tutor offering your tutorials or academic support, or a manager of some educational center trying to attract the target groups of learners, Complete Pro knows how to assist you.
As one of the top rated education and tutoring WordPress themes you can give a try, Complete Pro is also surprisingly affordable.
It means that you don't need to spend more in order to achieve new heights in the educational field or enhance the sale of your services.
Let your learners get personalized support from the comfort zone of their homes and access your tutorials via their mobiles, laptops, gadgets and other portable devices.
This elegant and eye catchy template is also full with shortcodes, color and font controls, translation and RTL support for the international client base and more.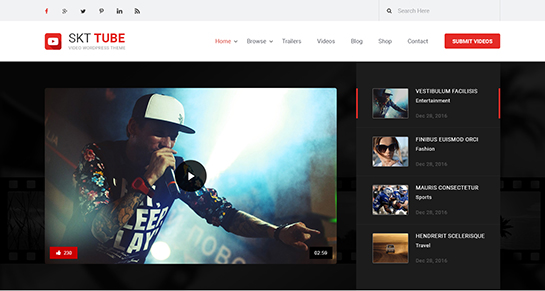 Set your availability to 24/7 and let your clients enjoy your video tutorials whenever wanted with the great assistance of SKT Tube.
Unleash the whole potential of your learning courses via the video tutorials and materials showcased in the homepage video slider or arranged in the video galleries, which are also available when you add relevant video gallery plugins to the theme.
Since your aim is to facilitate the learning process, SKT Tube celebrates the most stable performance with smooth navigation, responsive touches and fast loading rate.
It means that your website surfers will not be distracted by any error or technical drawback while nailing down your lessons.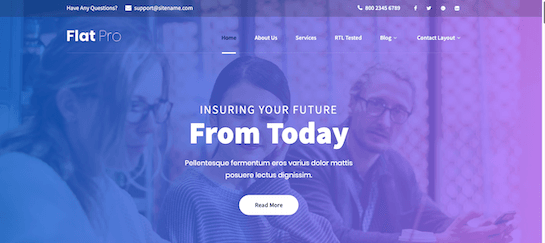 Flat Pro is also deservedly involved in our assemblage of the best tutoring WordPress themes for coaching and counseling thousands of learners online.
All in all, this amazingly resourceful and modern template can be the tutor's best friend while serving his diversified needs and objectives.
Keep your site fresh with new colors, tips and tricks and manage everything from the backend of the theme with preloaded features, elements and controls.
Use the convenient homepage sections to share your services, biography, business profile, membership and subscription plans, schedules and more.
You can even bring a whole new commercial system into your profile with WooCommerce or any other commercial plugin and start selling your tutorials and programs.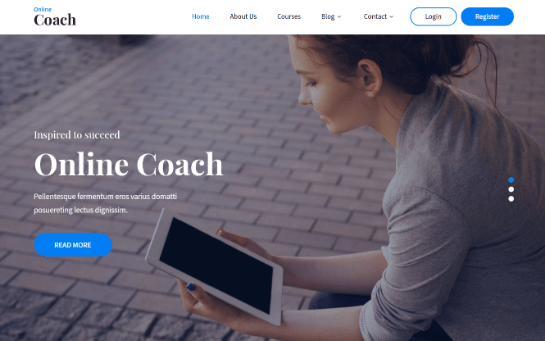 Online Coach Pro is strikingly versatile and dynamic e learning platform where seasoned tutors and coaches can meet their learner and customers.
Create the most affordable channel of communication with this flexible template and motivate your website guests.
It's a dialog and you need to keep the interaction stormy while following the flows of conversations, blog posts and their discussions, social media engagement and more.