Visiting fitness, yoga, gym and other health or body centers has become a popular trend for the last decades and nowadays many people are engaged in creating their own strong, healthy and beautiful body.
Subsequently, a corresponding market has been formulated with the introduction of relevant centers and clubs of any type, description, price range and special training facilities. Naturally, in this competitive situation each such organization tends to have better presentation and gain outstanding customer performance.
In the present case, there is a logical necessity to create also the virtual version of the business and keep it always up to date, giving the visitor a chance to access the required information about the relevant business activity, service, etc. in an easy and quick way.
There are dozens of WordPress themes brought forward in connection to creating, designing and developing fitness, gym, yoga and suchlike websites.
In order to prevent you from tangling up into that diversity of proposed themes, we have picked up highly customizable, easy in usage, technically and functionally reliable themes to call your attention. Jointly with these top 9 fitness trainer, yoga and gym WordPress themes it will never become a problem to build a successful, professional and popular website.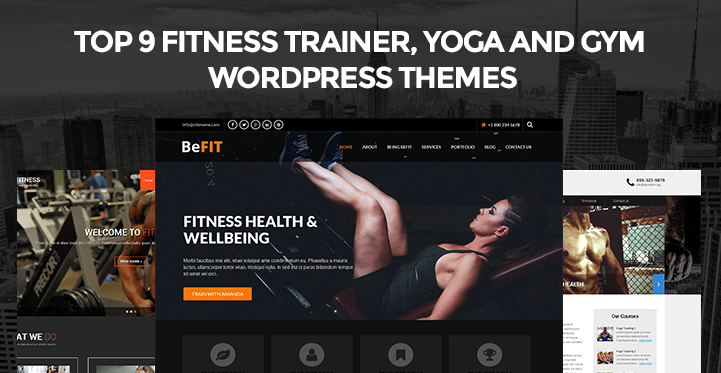 Top 10 Fitness Trainer Yoga and Gym WordPress Themes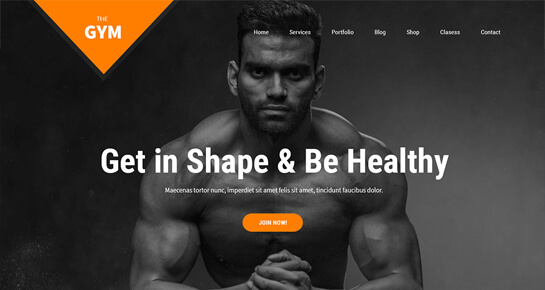 SKT Gym Pro comes under the top fitness trainer yoga and gym WordPress themes. This theme has an advanced feature to get the website translated into different languages via multilingual ready plugins.
Various gym sessions can be conducted by adding videos to the section on the homepage. The customization process is just at your fingertips. In the online documentation, no difficult procedure is mentioned.
You can style SKT Gym Pro to the business you have. The theme is available at minimum cost with lots of features that cost is just a myth.
To explain the working procedure of the gym, and yoga, you can use the 'Why Choose Workout' section to mention steps one by one. 'Read More' button will enable you from one page to another to explain procedure more in detail.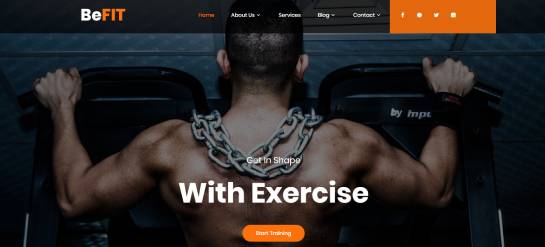 Befit is modern multipurpose theme with quality and motivational design. It can be a perfect alternative for each kind of fitness, health, yoga, jym, aerobics and other website.
Home, about, being befit and services sections on the homepage are designed accurately to hold all the claimed information, portfolio can display diverse motivational pictures, experienced trainers and customers in action or depicting their achieved goals.
Befit conforms to SEO and SMO standards, is integrated with more than 650 Google fonts and more than 100 shortcodes, suggests full color changing ability and functionality with WooCommerce, Nextgen Gallery and latest version of WordPress.
Some of its feature includes:
Section explaining about you and your bio and interests
Contact us area to help you get leads from the website instantly
SEO Friendly and SMO friendly
Integrated with 500+ Font Awesome Icons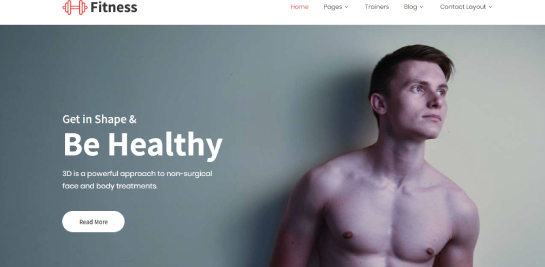 The next functional, challenging and reliable fitness trainer, fitness club, gym or yoga WordPress theme is SKT Fitness Pro.
This responsive and cross device compatible theme is presented by default content loaded automatically, so all you have to do is to undertake required modifications meeting the aims and objectives of your relevant website.
This easy to set up and customize theme includes ready slider with controllable different options, more than 675 Google fonts.
More than 500 social icons, diverse shortcodes including pricing table, gallery, testimonials, team members, etc. The theme is also checked with popular browsers and plugins.
Some of its feature includes:
Comes integrated with 675+ Google fonts
500+ social icons pack available
Compatible with WooCommerce making it an Ecommerce theme
Compatible with latest version of WordPress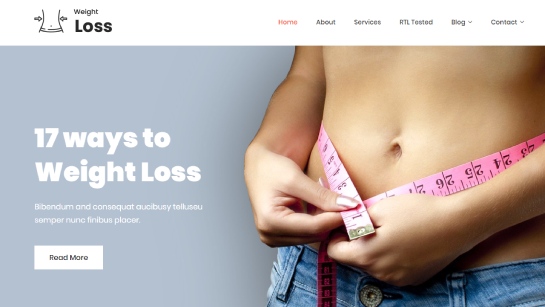 Fitt is energetic, beautifully and professionally designed and trustworthy health and fitness WordPress theme. When appearing on diverse devices, this responsive theme resizes and adjusts itself to fit to any relevant screen size.
Fitt incorporates diverse sections and areas to be presented in the best way, including home, about as, portfolio, blog, so that the website can be in the center of weight loss and fitness enthusiasts.
The theme comes with more than 100 shortcodes, full width, left aligned sidebar or right aligned sidebar page templates, social media integration and supports functionality with manifold useful plugins.
Some of its feature includes:
Responsive health WordPress theme
Social media icons at the bottom
Pricing table of various types to suit the type you need
Blog to add your posts/tips/news etc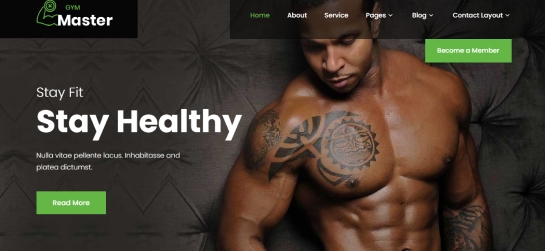 The next responsive, full color changing and suitable theme for any kind of fitness, yoga, gym clubs and trainers, health centre and other appropriate presentation is Gymmaster.
This outstanding and visually motivational theme, checked with cross device and moble experience and compatibility with qTranslate X, WordPress latest version, SEO and social media standards, includes almost 580 social and other icons.
More than 600 Google fonts, available PO file for theme translation into other languages, widgetized sidebar, footer and header areas and is coded with HTML5 & CSS3.
Some of its feature includes:
Full color changing theme with color picker in theme options
Social icons and other icons over 580 available
Bio area to showcase bios of your gym trainers
Multilingual theme as it is compatible with qTranslate X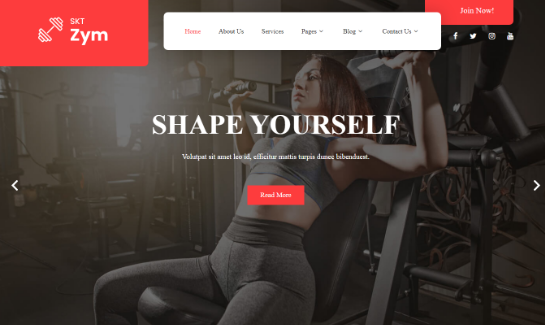 Zym is another popular and adaptable fitness trainer, yoga and gym theme, which seems to be a solid platform, on which it is possible to build and exercise an outstanding website.
Recognizable among the fitness enthusiasts and lovers thanks to its professional appearance and functionality, as well as easiness in usage.
The theme is praiseworthy for its powerful customization options, easy shortcodes, blog for the relevant information, new programs and exercises, timetable for arranging training's and class timing, homepage ready slider with control elements and checked irreconcilability with the latest version of WordPress.
Some of its feature includes:
Team section to display trainers bio
Timetable to showcase class timings
Contact Us shortcode having contact form
Animated fitness WordPress theme which looks good
Another useful and convenient theme will all-inclusive and highly reliable package of features and options to cover any kind of topics, including, but not limited, individual fitness, health, yoga, personal trainer and relevant activities.
This one page responsive and mobile and device optimized theme suggests helpful and applicable sectoions and blogs to be shown up accordingly, is combined with 500+ icons.
Default homepage slider with different effects, functions with HTML5 & CSS3 standards and SMO, SEO, WooCommerce, Contact Form 7, Nextgen gallery and WordPress latest version references.
Some of its feature includes:
Full color changing theme
Passes Google mobile friendly test
Fast loading theme
Looks fancy due to animated sections
Yogi Pro is also included in our list of top 9 fitness trainer, yoga and gym WordPress themes, as this popular, dependable and multipurpose theme is created and regulated in such a way, that it is possible to use for any kind of individual or corporate businesses, fitness and trainer- oriented businesses among them.
5 effective and visually stunning images can be showcased along the whole website.
This responsive and mobile, SEO and SMO friendly theme is presented with available ready portfolio, lots of shortcodes, social icons, overall easy to manage and use theme options.
Font and color change availability and 3 pages templates: full width with no sidebar, blog with full, right and left sidebar and ready template with left aligned sidebar.
Some of its feature includes:
Better Responsive.
50+ social icons.
Portfolio/Gallery display options.
600+ More options for fonts with Google Font integrated.
Online Couch has its particular place in our list, as apart from being a modern and all-inclusive foundation for fitness, yoga, health or other website of any description, it is also a perfect tool for demonstrating online classes, conferences, training's, group fitness programs, which is a growing phenomenon in our reality at present.
This responsive, adaptable and Google mobile, SEO and SMO friendly theme includes widgetized sidebar, header and footer areas, the latter with social media icons; default slider to give your website visually appealing and informative appearance and tested with event calendar, WooCommerce, qTranslateX and WordPress latest version standards.
Some of its feature includes:
Full color changing theme using color pickers
Images, text, and other elements can be easily altered
Icon friendly theme with over 580 icons available
WooCommerce compatible theme for online shop
Our handpicked list of best themes, intended for the usage by fitness centers, trainers and coaches, health clubs, personal fitness or yoga websites blogs and websites, is CutsNStyle Pro.
This responsive and elegantly designed theme with black and pink color combination comes with ready homepage slider with 12 effects, including pause time control, about 20 sections on the homepage, many available widgets, templates and fonts and is consistent with Google mobile, WooCommerce, qTranslate X, Contact Form 7, Nextgen Gallery and WordPress latest version standards.
Some of its feature includes:
Cross Browser compatible
Tested with popular plugins like WooCommerce for Ecommerce
Tested with Nextgen Gallery for photography and portfolio set up
Tested with qTranslate X for multi lingual
Present day modern lifestyle has given us comfort however it has led us to into living sedentary lifestyles. Due to this, there has been a realization of various physical and mental drawbacks and this has resulted in the manifestation of a number of lifestyle diseases.
As a result, there has been an increased awareness of health and to take care of one's own mind and body. We are witnessing a large number of Gyms, Yoga centers and other related fitness centers germinating into the city due to its availability and pleasurable routines.
Yoga has turned out to be a global phenomenon with more and more people turning towards practicing it for a healthier lifestyle and also acts as a regular vent for stress. Many fitness trainers and Yoga instructors have used their fitness knowledge and turning out to be successful business entrepreneurs.
If you are a fitness trainer or a Yoga instructor or planning to become one in near future, it is a must to promote your business on online platforms and social media. Today's world is practically fueled by technology and having an online website to promote your business is a must.
How to succeed when there numerous other business out there that are better funded? There may be various angles and factors to the perfect answer however marketing is one crucial factor. Back then marketing was expensive but in today's world, the use of Internet has highly mitigated it.
The cheap and free use of the Internet in every nook and corner of the globe will allow you to relay your message to any part of the globe.
In order to help you build the perfect online website for your business, we have collated a roster of Yoga and Gym WordPress Themes. These have been specially designed for Fitness Trainers.
Yoga Instructors, Personal trainers and other Fitness enthusiasts to set up websites for Gyms, Yoga centers, Fitness centers such as Workout, Lifestyle Wellness, Boxing, Aerobics and other related multipurpose business.
Our Yoga and Gym WordPress Themes is richly built with advanced functionalities and features to create visually appealing websites suitable to attract customers.
The theme is device friendly and can fit into a screen of any size be it mobiles, laptops or tablets. It is browser friendly and can be viewed across multiple browsers.
It has been technically built with secure and clean codes to make them user-friendly and to make it social media integrated.
If you are a fitness freak wanting to turn your fitness knowledge into a fruitful business then avail our easily available Yoga and Gym WordPress Themes to create your own beautiful website.
With the help of our combination of top quality blogs and customization capabilities keep your audience up to date by showcasing your classes, package deals, and pictures of different fitness and yoga positions in attractive artistic arrangements. Don't Be Late! Hurry up and grab your theme today!